Looking forward to getting away from the hustle and bustle of your daily life? No need to look anywhere else other than Dehradun. Sited in the Doon valley and contributing to the visual delights of India, Dehradun has a plethora of places in and around. If you're a travel enthusiast who's looking for tourist places near Dehradun, you've reached the right blog. So, get ready to step into the scenic beauty of the Himalayas as we're about to take you to the parts of Dehradun that you may not have discovered yet. 
Best Places to visit Near Dehradun
1. Sahastradhara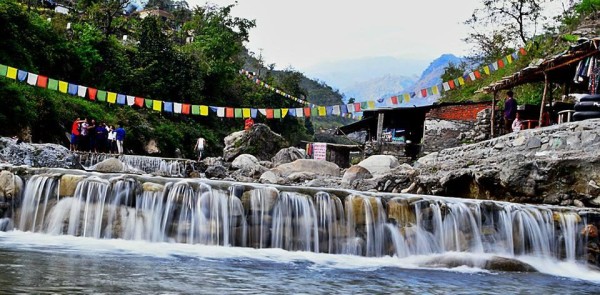 Known for its astounding beauty, sparkling rush of water, and serene aura, Sahastradhara, also called thousand-fold spring, undoubtedly has to be the first one on the list. This should be a must-visit destination for your Dehradun trip as it offers views that are breathtaking. The gleaming water not only gives a calming effect to the eyes but is also believed to have medicinal values. Make sure you stop by this one of the finest tourist places near Dehradun. Although the weather is pleasant all year long, the best time to visit Sahastradhara is between October to May as the waterfalls are in impulse effect.
How to reach: You can easily take a cab from Dehradun or opt for the Sahastradhara Ropeway
Cost: For cab: approx. Rs.600-700
Timing: 9 AM to 6 PM
For Sahastradhara ropeway: approx. Rs 200-300
Entry: Free
2. Shikhar Fall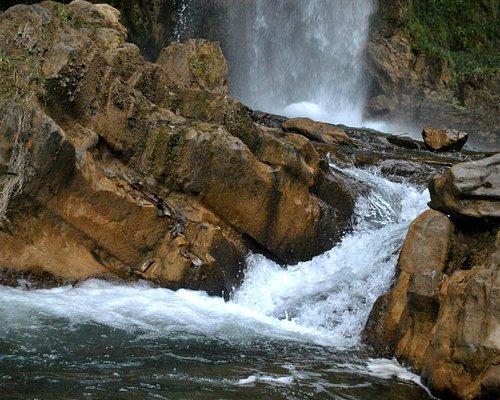 Nature lovers, you're in for a treat! Shikhar Fall is a true grace of nature and one of the best tourist places near Dehradun within 50 kms. Surrounded by dense forests and rare flora and fauna, nature adds its element to the beauty of this waterfall. The place is well liked by couples, families, and groups of friends for picnics as well. While planning a visit to Shikhar Fall, make sure you have your own vehicle as no local cabs go up there.
How to reach: From Dehradun, it approximately takes an hour for Shikhar Falls by road.
Cost: For cab: approx. Rs.300-400
Timing: 24-hour open
Entry: Free
Travel Tip: Wear your super comfortable shoes as there is a small trek to the fall. 
Also Read: Tourist places in Himachal Pradesh for your next trip 
3. Mindrolling Monastery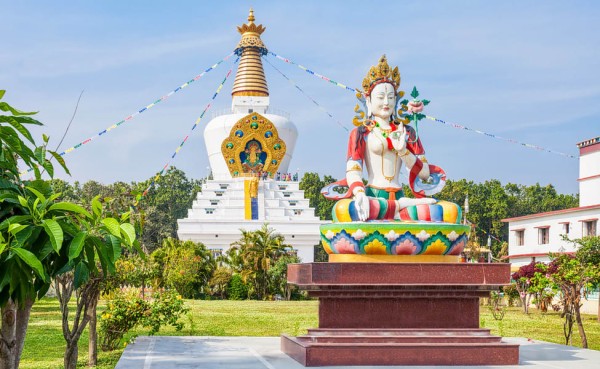 Founded in 1676 by Rigzin Terdak Lingpa, Mindrolling Monastery is India's foremost Buddhist Educational institute. It was set up to preserve the culture and teachings of the Buddhist community. With a touch of Japanese architecture, the Buddha temple complex has a Buddha idol of 190-feet long height. The monastery complex also has a lively shopping arena, with antiques and handicrafts for sale, along with gardens that are well-maintained.
How to reach: Hop on a local bus/auto/taxi to reach the monastery from Dehradun
Cost: For cab: approx. Rs.300-400
Timing: 9 AM to 7 PM (Open all days)
Entry: Free
4. Maldevta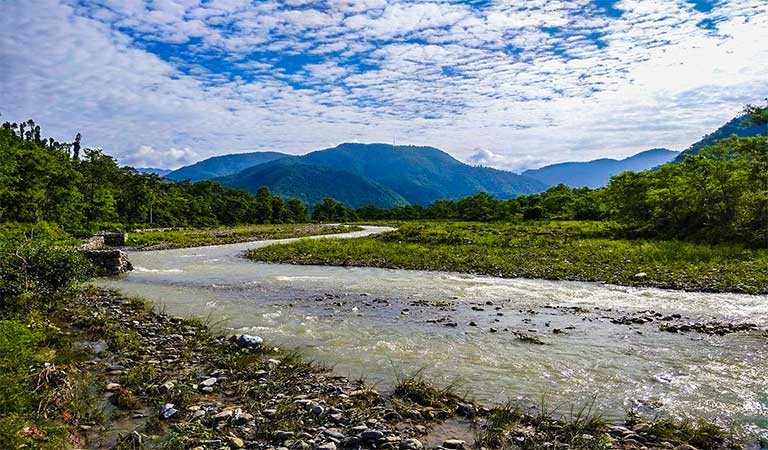 Located just 20 km from Dehradun, Maldevta is a serene haven for nature admirers. This riverine is one of the perfect places to unwind from the stress and hectic work life. Sited on the banks of the Suswa River, it offers a suspension bridge adventure and lush greenery, perfect for picnics and bird watching. Best time to visit Maldevta is between September and June, making it an ideal destination for those seeking respite from the scorching summer heat. As the winter months approach, Dehradun, and by extension, Maldevta, become a gateway to the snowfall in India, with nearby hill stations like Mussoorie and Dhanaulti receiving their fair share of snowfall, attracting snow enthusiasts and nature lovers alike. This lesser-known spot near Dehradun will work its nature-magic on you, making you feel rejuvenated while also offering a glimpse of the enchanting winter wonderland just a short drive away.
How to reach: Cabs/Taxis are easily available from Dehradun to Maldevta
Cost: For cab: approx. Rs.500-700
Timing: 10 AM to 7 PM (Everyday)
Travel Trip: If you're visiting with family, this is suitably the best place to plan a picnic. 
5. Daat Kali Temple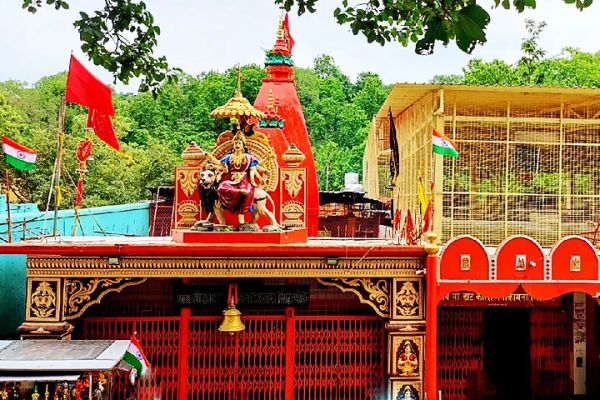 Get all your prayers answered at the famous Daat Kali Temple, a spiritual destination near Dehradun, dedicated to the goddess Kali. Tourists visit this ancient shrine for its mystical aura and breathtaking views of the Shivalik range. The temple holds immense spiritual significance, attracting devotees seeking blessings and solace. It is regarded as one of the famous tourist places near Dehradun when it comes to religious sites.
How to reach: You can either take a taxi from Dehradun or hop on a local bus for Daat Kali Temple
Cost: For cab: approx. Rs.300-400
Timing: 5:00 AM to 8:00 PM
Entry: Free
6. Jwala Ji Temple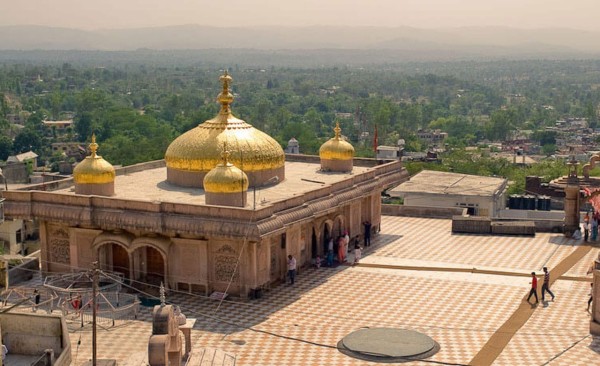 The very famous Jwala Ji Temple, located near Dehradun, is a cherished pilgrimage site and a popular tourist attraction. This temple holds a special and powerful spiritual significance as it houses a sacred eternal flame. The flame which is believed to be burning for centuries, symbolising the divine presence of Goddess Durga. Every year, thousands of devotees pay a visit to this temple to seek blessings of goddess Durga.
How to reach: Located approximately 9 kms from Dehradun, the best way to commute to Jwala ji temple is by road.
Cost: For cab: approx. Rs.300-400
Timing: 5:00 AM to 8:00 PM
Travel Trip: You can plan the visit to the temple along with a trek in the nearby forests to immerse in the lap of nature. 
7. Anand Van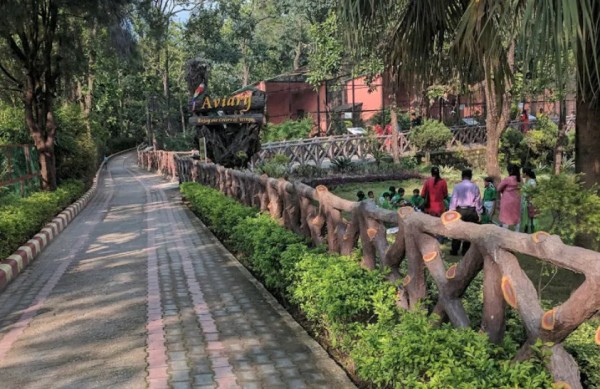 Time to step into one of the first urban forests of Uttarakhand. Situated in the lap of Jhara village, it took almost 3 years to develop the first. The aim behind the development of the Anand Van was devised to reduce the amount of air pollution in the vicinity. The woodland is spread over an area of 50 hectares. This van offers the perfect amalgamation of spirituality, nature and knowledge. Various fun activities are also there for children on low-prices.
How to reach: After reaching Dehradun, you can opt for any local transportation.
Cost: approx. Rs.300-500
Timing: 9:30 AM to 4:30 PM (Everyday)
Entry: For children below 10 years: free
Children from 10-15 years: Rs 20
Adults: Rs 50
8. Tapovan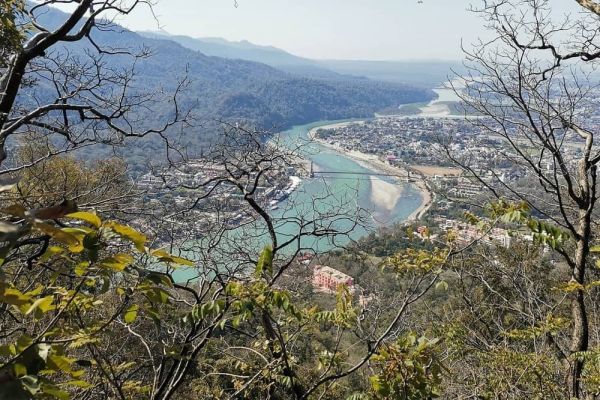 It wouldn't be fair to mention tourist places near Dehradun and not mention Tapovan. Positioned in the foothills of Himalayas, Tapovan is considered an alluring possession for travel lovers. Tapovan's unique features, such its spectacular hiking chances add to its charm. Adventure lovers will find paradise in the 'Valley of the Saints' hike, which takes you past historic landmarks, remote meadows, and old caverns.
How to reach: Easiest way to reach Tapovan is by private/rented vehicle.
Cost: approx. Rs.300-500
Timing: 6 AM – 8 PM (Everyday)
Entry: Free
9. Fun Valley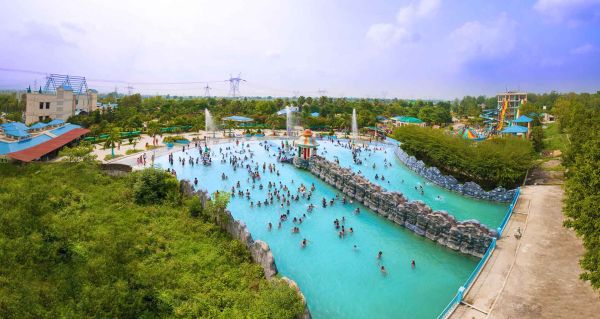 Who said travel cannot include fun and adventure? Fun Valley is a vibrant oasis that promises endless amusement for travellers. This water paradise echoes a range of thrilling water slides making it a perfect escape from the city's chaos. Visitors of all ages have access to water slides. With a play area dedicated to kids, adults can unwind in the serene surroundings. Fun Valley, with its joyful ambiance is a fantastic option for a day of family fun during your Dehradun vacation.
How to reach: You can use your own vehicle or rent a taxi from the centre of Dehradun
Cost: For cab: approx. Rs.400-600
Timing: 10 AM – 6 PM (Everyday)
Entry: Can vary from Rs 400-800
Also Read: Best resorts in Uttarakhand for a comfortable stay
10. Lachhiwala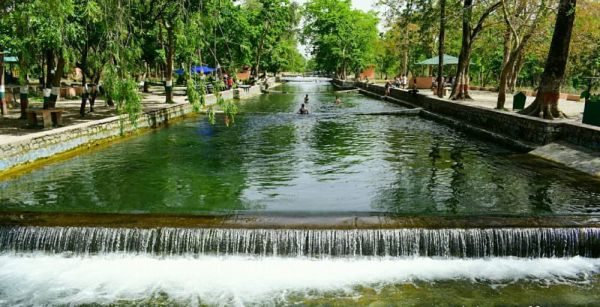 Looking for a relaxing yet fun travel haven near Dehradun? Your search ends at Lachhiwala. Adventure seekers can take a dip in natural pools, go on peaceful excursions in the forest, or enjoy a wonderful picnic by the lake. Lachhiwala can satisfy the needs of both outdoor adventurers and peace-seekers as a must-visit location for anybody admiring Dehradun's scenic surroundings.
How to reach: Lachhiwala is well-connected with central Dehradun by road. You can opt for a bus or a taxi.
Cost: For cab: approx. Rs.400-600
Timing: 8 AM – 5 PM (Everyday)
Entry: For children: Rs 30
For adults: Rs 60
11. Regional Science Centre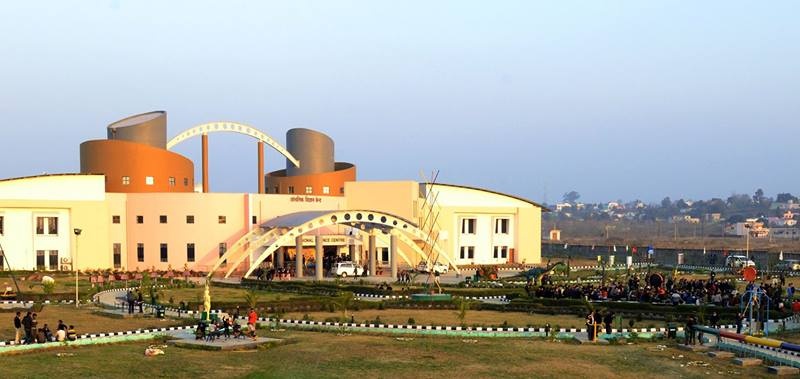 Science heads, where are you at? Regional Science Centre is an appealing tourist attraction situated near Dehradun. From interactive exhibits and hands-on activities, nothing is missed when it comes to making science interesting for visitors of all ages. Unravel the mysteries of the universe and explore the wonders of physics at this fun and educational center. It's the perfect stop for families, school groups, and curious travellers looking to combine entertainment with learning.
How to reach: With less than a distance of 18 kms, RSC can be easily reached by taxi aur shared local autos from Dehradun.
Cost: For cab: approx. Rs.300-400
Timing: 10:00 AM – 5 PM (Everyday)
Entry: Ticket price varies from Rs 25 to Rs 50
12. Rajaji Tiger Reserve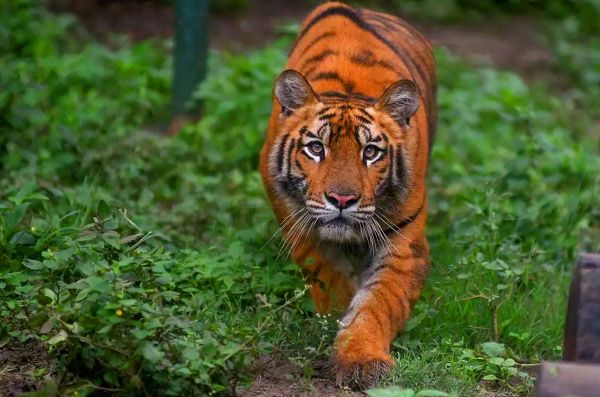 Rajaji Tiger Reserve in Dehradun is a top pick for travellers seeking adventure and wildlife encounters. Home to Bengal tigers and Asian elephants, it offers thrilling safaris and trekking opportunities. You can also enjoy the calming sound of the Ganges river running through the park. With its rich biodiversity and exciting experiences, Rajaji Tiger Reserve is a must-visit destination for nature lovers and adventure seekers alike.
How to reach: The best way to commute to Rajaji Tiger Reserve is by Road as taxis are easily available.
Cost: For cab: approx. Rs.300-400
Timing: 6:00 AM to 9:00 AM and 3:00 PM to 6:00 PM (Park is open from November 15 to June 15)
Entry: Ticket price for Indians: Rs 150
Ticket price for Foreigners: Rs 600
Charges for cameras and vehicles inside the reserve may vary
13. Forest Research Institute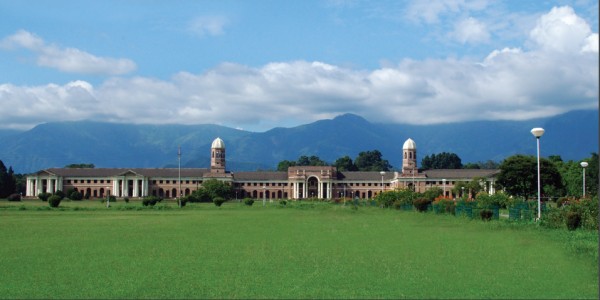 When visiting Dehradun, a visit to the Forest Research Institute is a must for travellers. This renowned institution features stunning colonial-era architecture with a chance to explore its impressive museum. A home to a wide range of forestry exhibits and a magnificent herbarium, the institute's expansive campus invites you for a peaceful retreat. It's an ideal destination for history buffs and nature lovers, offering a unique insight into India's forestry heritage. Ensure to capture the institute's magnificent charm and delve into the forestry legacy while exploring Dehradun.
How to reach: You can access local buses, autos, and taxis from any part of Dehradun.
Cost: approx. Rs.300-400
Timing: 9:00 AM to 5:30 PM (Closed on weekends)
Entry: Rs 50
14. Robber's Cave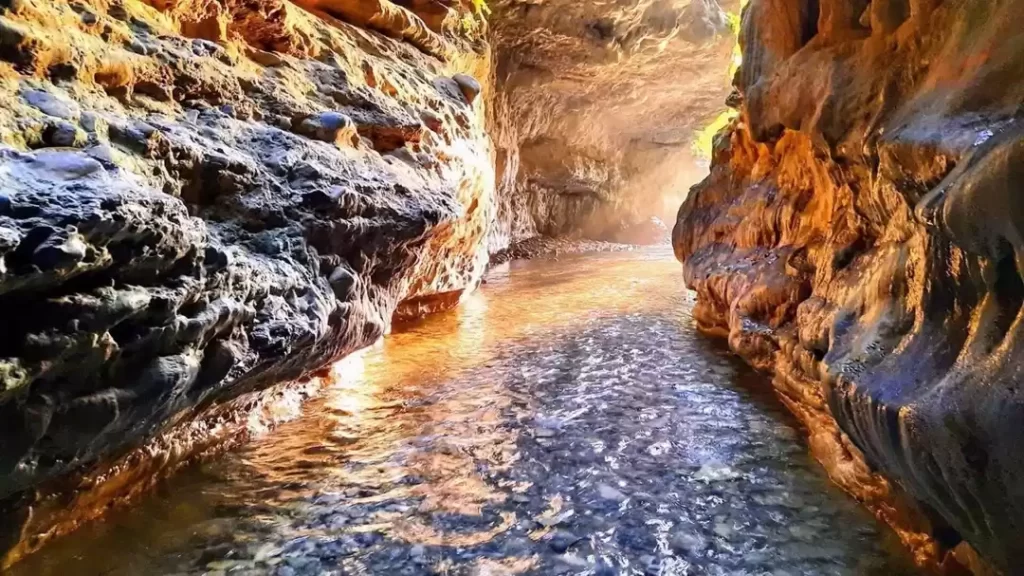 Last but not the least, Robbers Cave is a long, narrow natural cave located in Dehradun. Encircled by towering hills and featuring icy springs within, it is a fascinating destination for couples and groups to explore in a single day in Dehradun. Visitors come to the spot for day hikes and picnics. You can explore the cave and enjoy yourself in the freezing cold water. Carrying an additional set of clothes is always a good idea because playing with water can make one's clothes wet. If you're just in Dehradun for a day, the cave is undoubtedly among the top attractions.
How to reach: You can access local buses, autos, and taxis from any part of Dehradun.
Cost: approx. Rs.300-400
Timing: 7:00 AM to 6:00 PM
Entry: Rs 25
Final Thoughts
Dehradun and the surrounding area, can be defined as the perfect blend of alluring panoramas and cultural diversity in the centre of Uttarakhand. This area offers a unique and remarkable experience, from the peaceful charm of the Forest Research Institute to the exhilarating wildlife encounters in Rajaji Tiger Reserve. So make sure that you enjoy every moment of it.