Want to relax amidst the beautiful valleys of Himachal? Book a resort in Himachal and appreciate the best views of the Himalayan valleys while sipping your favourite coffee on the couch. Different resorts offer varied amenities and scenery. So, we've curated a list of the top 10 resorts in Himachal Pradesh that'll provide you with a long-wished escape in the mountains. Here's the list of resorts you must check out in the region.
Comfy Resorts In Himachal Pradesh
The Wildflower Hall Resort, Shimla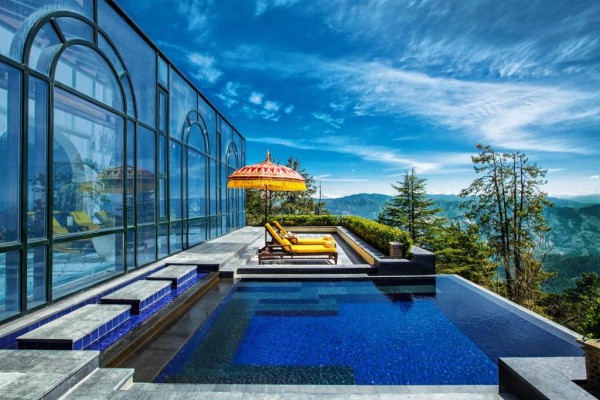 Part of the Oberoi Hotels, The Wildflower Hall Resort is a luxury residence in the lap of Shimla Valleys. The room options include deluxe and suites with valley, mountain, and garden views. The Superior Room also has an attached balcony overlooking the beautiful Himalayan Valley. They offer amenities such as a spa and yoga for wellness. You can dine under the stars or sit in the garden for a cup of coffee; the resort offers the best amenities whichever way you want to spend your holidays.
Location: Charabara, Shimla
Cost per night for two: ₹30,000
Contact: +91-177-2648585
Google Rating: 3.9
Woodays Resort, Kufri
Designed on the concept of traditional Himalayan houses, Woodays Resort offers a homely and cultural experience of the region. It perfectly blends luxury with culture. The wooden flooring and structure will give you a traditional feel. They offer two kinds of rooms, a superior room with a mountain view and a family room with an attic. Both the rooms include an electric kit, toiletries, and basic amenities. You can avail live music, sports broadcast, DJ, and more activities at an additional charge, making it a perfect place to host parties and functions. Experience luxury and tradition at Woodays Resort.
Location: Lambidhar, Kufri
Cost per night for two: ₹8000
Contact: 08580900494
Google Rating: 3.6
Larisa Resort, Manali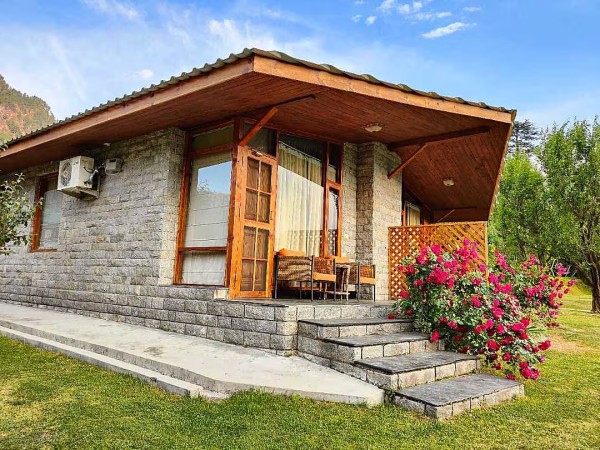 This resort is a paradise for nature and luxury lovers. It has a pool in the middle of the cottages, surrounded by the mountains. Larisa Resort is one of the best resorts in Himachal Pradesh for a luxurious vacation. It offers a Deluxe Garden & mountain View room and a Luxury Suite Mountain View room with all basic amenities. Additionally, the resort has a library, jacuzzi, and forest dine-in option, enhancing your overall stay experience. Larisa Resort is highly recommended to experience luxury and breathtaking mountain views.
Location: Kullu-Manali-Naggar Road
Cost per night for two: ₹11,000
Contact: 07788991297
Google Rating: 3.4
Echor Mandara TreeVilla, Dharamshala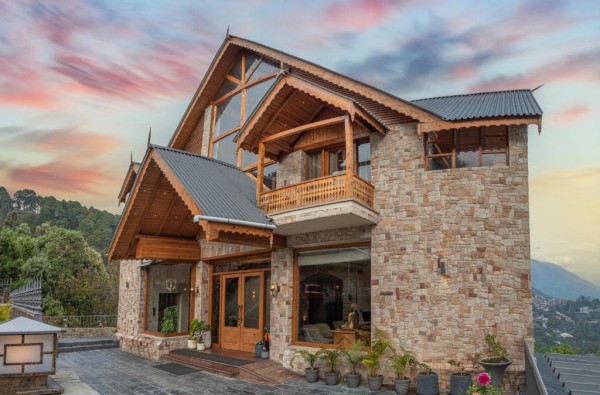 Echor Manadara TreeVilla is a luxury resort in Dharamshala that offers majestic views of the valleys. It offers many room options, King Room, a Family Room, a Chalet, and more. All rooms have ensuite bathrooms, air conditioning, and all basic amenities. The wooden structure of the resort gives it a unique look. The resort is perfect for a weekend getaway or to spend some time in solace.
Location: Sudher, Dharamshala
Cost per night for two: ₹13,000
Contact: 09817027800
Google Rating: 3.1
Koti Resorts, Mashobra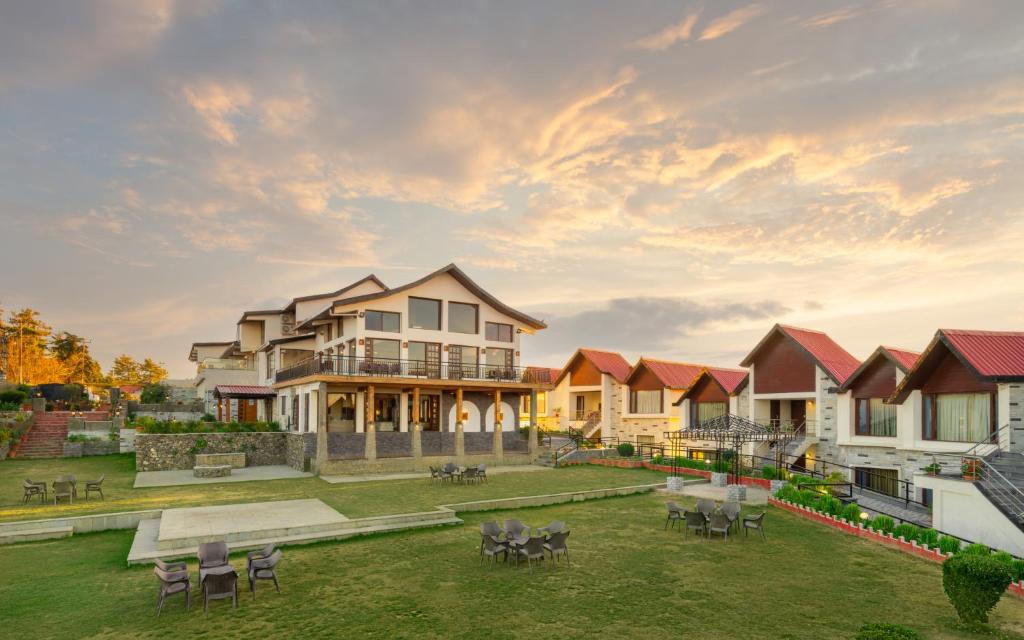 A serene and scenic gem in Mashobra, located just a few kilometres from Shimla, Koti Resorts is one of the budget-friendly and elegant resorts of the region. The rooms are spacious, offering a scenic mountain view. The bathrooms have a jacuzzi and other amenities. Their restaurant serves a variety of North Indian, South Indian, and continental cuisines. The resort is perfect for experiencing luxury and majestic mountain views in one place.
Location: Mashobra-Naldehra Road
Cost per night for two: ₹5000
Contact: 09218501601
Google Rating: 3.5
Snow Valley Resorts, Shimla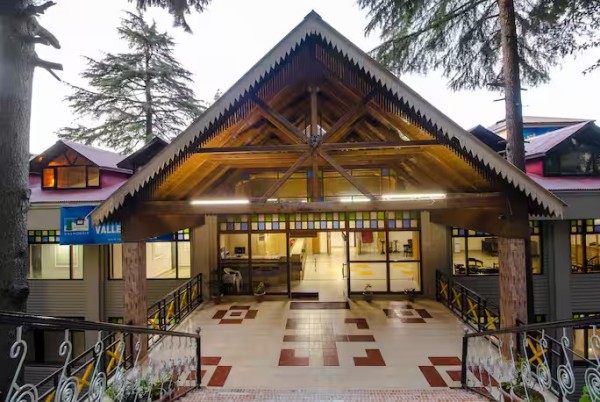 Located near Shimla city, the Snow Valley Resort is the perfect place to relax in the green valleys. The resort offers a range of accommodation options, including Double Rooms and Super Double Rooms. Each room is well-appointed with comfortable furnishings, modern amenities, and large windows that offer breathtaking views of the surrounding mountains and valleys. It also has a gym area, rooftop restaurant, and free parking space for the guests.
Location: Ghora Chowki, Shimla
Cost per night for two: ₹5000
Contact: 01772633322
Google Rating: 4.1
Brij Villa, Dalhousie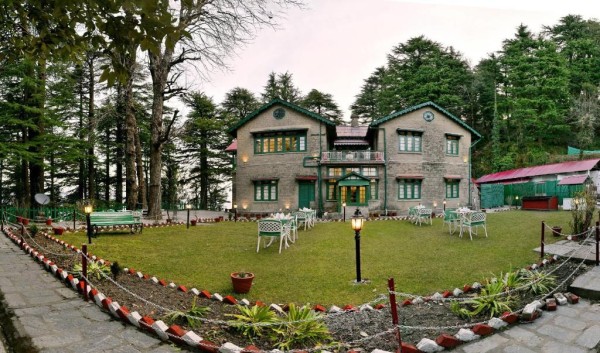 Brij Villa is a luxury resort themed on colonial architecture and settings. It features a terrace and garden for a leisurely stroll. Family rooms are accompanied with a children's playground and all the rooms have the basic amenities. It is one of the best hotels in Himachal Pradesh to spend a weekend with your family or friends. They offer a variety of Indian and continental cuisine to satisfy your taste buds amidst the serene mountains.
Location: Moti Tiba, Dalhousie
Cost per night for two: ₹10,000
Contact: 08069057705
Google Rating: 4.5
Moksha Riverside Resort, Kasol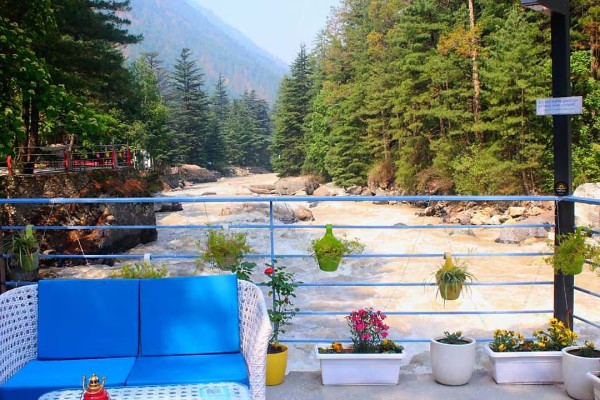 Moksha resort is located alongside the river, giving a fantastic views. In addition to the beautiful river views the resort has a restaurant, a lift, bar, garden, sun terrace and outdoor fireplace. Bring your friends or interact with fellow travellers to experience a vibrant vacation scene. The resort offers a variety of accommodation options, including Deluxe Rooms and Super Deluxe Rooms. Find your vibe along the Parvati River at Moksha Riverside Resort.
Location: Manikaran Road, Kasol
Cost per night for two: ₹8,000
Contact: 07087067676
Google Rating: 3.6
Chail Hamlet, Chail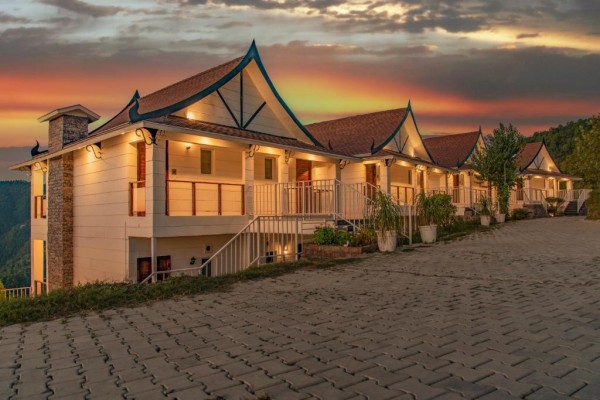 A luxury 4-star resort in Chail, The Chail Hamlet features an outdoor swimming pool, free private parking, a garden and a restaurant. The resort offers scenic valley views and terrace setting, perfect to spend a chilled and relaxed evening. The Chail resort has various rooms from Deluxe, Suite, Cottage, and more. You can book any depending on your requirements and budget. If you want luxury in the lap of the breathtaking Himalayan views, Chail Hamlet is the place for you.
Location: Jeet Nagar, Chail
Cost per night for two: ₹9,000
Contact: 09696720000
Google Rating: 3.2
Treehouse Chail Villas, Chail
One of the best resorts in Himachal Pradesh to spend a perfect weekend chilling & relaxing. Treehouse Chail Villas is situated away from crowds in the mountain valleys, offering a peaceful & serene escape from the city's hustle. The best part of this resort is its elegant interior and classy rooms. They offer various deluxe and suite rooms with a restaurant, bar, and garden. Pack your bags and escape the routine at Treehouse Chail Villas.
Location: Janedghat, Himachal Pradesh
Cost per night for two: ₹5,000
Contact: 08894783292
Google Rating: 3.5
Final Thoughts
Himachal Pradesh, known for its serene landscapes and majestic valleys, offers luxurious resorts to sit & view the mountains in your comfort. From Manali's enchanting valleys to Shimla's colonial charm, these retreats promise an unparalleled blend of opulence and natural splendour. Whether it's a romantic escape or a family retreat, Himachal's resorts cater to every traveller. So, plan & book the top resorts in the state and relax in luxury at your next vacation.
More To Explore