Indonesia is not just a place to be experienced with eyes. It's a place that captivates all your senses through landscapes, sounds of the ocean, cold breeze, lush rain forests, and delicious food. It consists of over 17,000 islands, including Sumatra, Java, Sulawesi, and parts of Borneo and New Guinea.
Uncover hidden gems, embark on thrilling adventures, and immerse yourself in the warmth of Indonesian hospitality as we unveil the best places to visit in Indonesia, tips, and experiences this tropical paradise offers. Let's begin our beautiful journey to Indonesia!
Top Places To Visit In Indonesia
Jakarta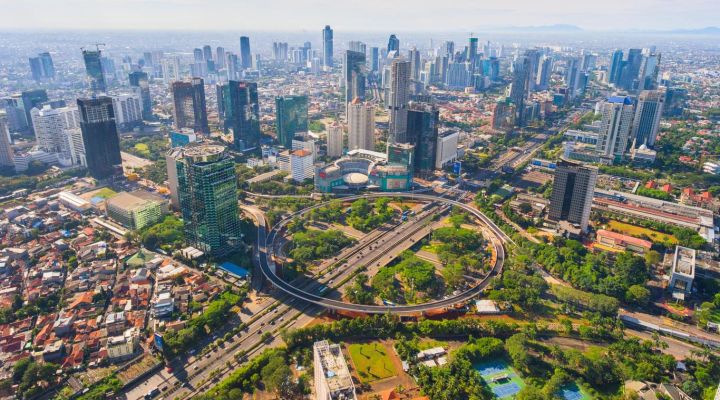 Jakarta is a dynamic fusion of modernity and tradition. Although Jakarta extends over only 661.23 km2 (255.30 sq mi) and thus has the smallest area of any Indonesian province, its metropolitan area covers 9,957.08 km2 (3,844.45 sq mi) with major satellite cities like Bogor, Depok, Tangerang, South Tangerang, and Bekasi.
The city offers a vibrant culinary scene, markets, and a diverse cultural landscape. Traffic and energy pulse through its streets, revealing a metropolis where traditional markets coexist with luxury malls. Amid the chaos, Jakarta's charm lies in its people, who warmly embrace visitors, making it one of the best places to visit in Indonesia.
Where To Stay?
Mandarin Oriental, Jakarta: A luxury retreat with elegant rooms, dining options, spa, and panoramic city views.
Ibis Styles Jakarta Tanah Abang: A budget-friendly option offering comfortable rooms, a restaurant, and convenient shopping access.
Shangri-La Hotel, Jakarta: A renowned establishment offering luxurious rooms, multiple dining venues, and a serene garden.
Things To Do In Jakarta
Kota Tua (Old Town): Wander through the colonial-era district, visit museums, and explore Jakarta's historical architecture.
Taman Mini Indonesia Indah: Experience Indonesia's diverse cultures, traditions, and architecture in a miniature park setting. The entry timings are 10 am to 7 pm with a fee of $1.63.
Thousand Islands: Escape to these picturesque islands for relaxation, water sports, and fresh seafood.
Cafes and Street Food: Indulge in Jakarta's culinary scene with street food like nasi goreng and explore hip cafes for local and international flavours.
Cultural Experiences: Attend traditional dance performances, puppet shows, and batik workshops to immerse yourself in Indonesian culture.
Nightlife: Discover Jakarta's nightlife with bars, clubs, and live music venues scattered across the city.
Visit Markets: Shop for souvenirs and local crafts at Pasar Santa, Tanah Abang, and Jalan Surabaya Antique Market. Their unique products, traditional accessories, and souvenirs place shopping among the best things to do in Indonesia.
Also Read: Things to do in Dubai
Bali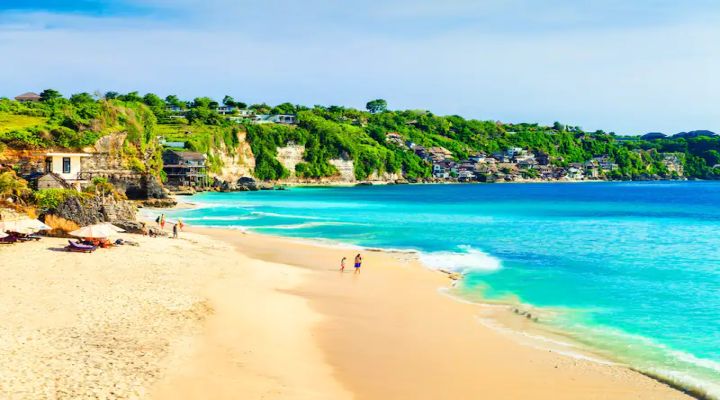 Bali, a captivating gem amid Indonesia's treasures, beckons with its enchanting allure. Renowned for its vibrant culture, lush landscapes, and pristine beaches, Bali is one of those places to visit in Indonesia that offers a harmonious blend of adventure and relaxation. The island boasts ancient temples, like Tanah Lot and Uluwatu, where spiritual reverence intertwines with breathtaking vistas.
Ubud's artistic heart pulsates with galleries and traditional crafts, while Kuta and Seminyak offer lively beaches and bustling nightlife. From emerald rice terraces to volcanic peaks, Bali's natural splendour captivates at every turn, making it an essential stop on any Indonesian odyssey.
Where To Stay?
Adi Dharma Hotel: Situated in the heart of Seminyak, this hotel offers affordable rooms, a swimming pool, and easy access to shops, restaurants, and the beach.
Green Garden Hotel: Nestled in a quiet area of Tuban, Green Garden Hotel provides a peaceful stay with lush gardens, a swimming pool, and proximity to the airport.
The Paica: Situated in Canggu, The Paica offers a blend of modern and traditional design, budget-friendly rooms, and easy access to beaches and cafes.
Things To Do In Bali
Visit Temples: Explore iconic Bali places like Uluwatu, Tanah Lot, Besakih, and Ulun Danu Beratan to witness intricate Balinese architecture and rituals amidst stunning landscapes. The average entry fee of the temples is between $1.31 to $1.96.
Rice Terraces: Immerse yourself in the beauty of Bali's rice terraces, such as Tegalalang and Jatiluwih, offering captivating green landscapes and opportunities for trekking.
Water Temples: Experience the unique water purification rituals at Tirta Empul and Goa Gajah, where locals and visitors seek spiritual cleansing.
Scenic Views: Trek up Mount Batur to catch the sunrise from its summit or hike to Mount Agung for a more challenging ascent and breathtaking panoramic views.
Explore Nusa Islands: Nusa Islands is among the most picturesque places to visit in Indonesia. Take a boat trip to the nearby Nusa Penida, Nusa Lembongan, and Nusa Ceningan islands for stunning beaches, snorkelling, and diving.
Water Sports: Engage in watersports like snorkelling, scuba diving, parasailing, and jet skiing along Bali's coast.
Yogyakarta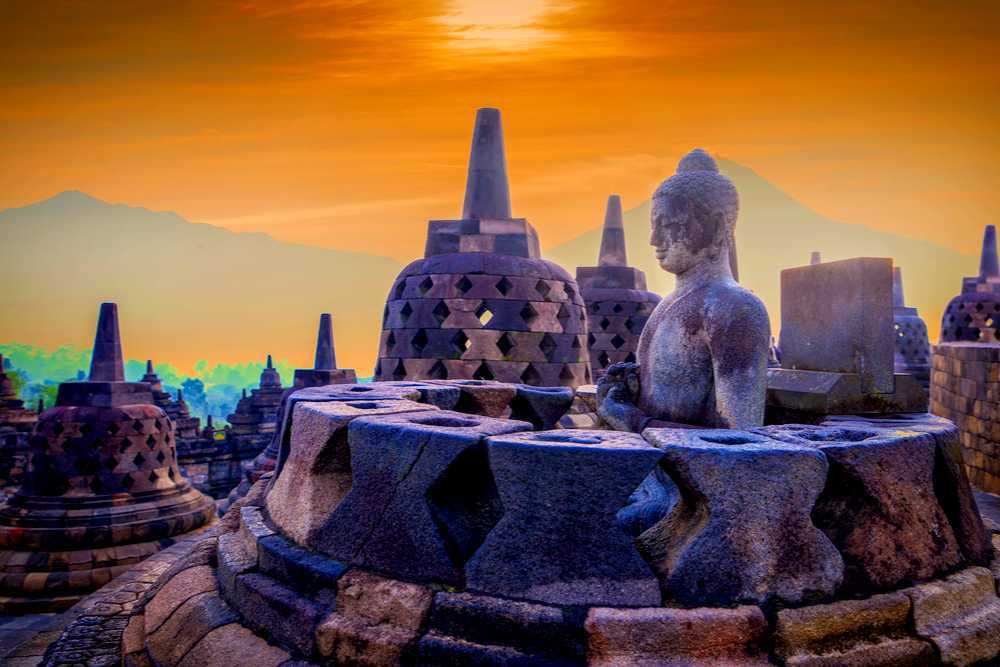 When looking for culture & heritage in Indonesia, head to Yogyakarta, the cultural paradise of the country. Home to the magnificent Kraton palace and UNESCO-listed Borobudur and Prambanan temples, Yogya captivates with its historical significance. The city's bustling Malioboro Street offers a sensory feast of markets, street food, and local crafts. With gracious locals, Javanese dance performances, and a thriving batik industry, Yogyakarta is a cultural gem among the places to visit in Indonesia.
Where To Stay?
Amanjiwo: A luxury resort located near Borobudur Temple, known for its stunning architecture, serene ambience, and panoramic views of the surrounding landscapes.
The 101 Yogyakarta Tugu: A contemporary hotel with a strategic location, offering modern amenities and easy access to Tugu Yogyakarta and Malioboro Street.
Jogja Village Inn: Known for its Javanese architecture and tranquil setting, this boutique hotel provides a serene escape.
Things To Do In Yogyakarta
Visit Borobudur Temple: Explore the majestic Borobudur, a UNESCO World Heritage site and the world's largest Buddhist temple, known for its intricate carvings and panoramic views. The one day pass costs $25 & $45 for two days. The timings to visit the temple are 7 am to 5 pm.
Explore Prambanan Temple: Admire the stunning Prambanan Temple complex, a UNESCO site dedicated to Hindu deities, featuring impressive architecture and captivating legends. The temple is open between 6:30 am to 5 pm and ticket costs around $25 for an adult and $15 for a child.
Malioboro Street: Shop for souvenirs, clothing, and local crafts along Malioboro Street, a bustling market area with vibrant street food and cultural experiences.
Ramayana Ballet: Attend a mesmerising open-air dance performance that brings to life the Ramayana epic with elaborate costumes and traditional music. The performance spans between 7:30 pm to 9:30 pm and is performed on Tuesday, Thursday, and Saturday.
Beringharjo Market: Experience a traditional Javanese market where you can find textiles, spices, and local products.
Street Food Tour: Indulge in Jogja's diverse culinary scene by trying local dishes such as Gudeg, Bakpia, and Sate Klathak.
Check Out: Things to do in Singapore
Medan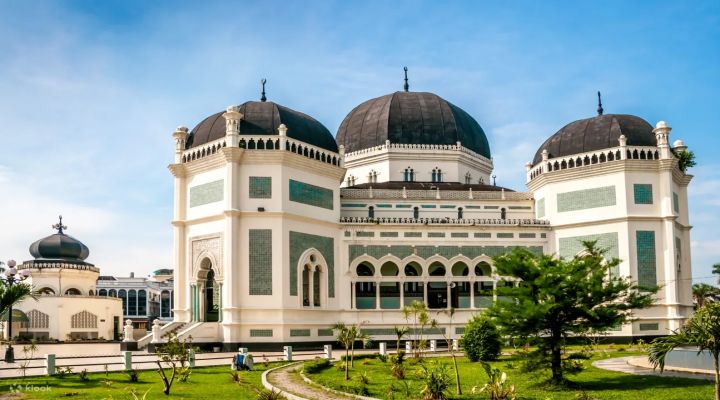 If you want to experience culture & beautiful landscapes in Indonesia, Medan is among the top places to visit in Indonesia. Nestled in North Sumatra, it fuses modernity with historical charm. Pulsating markets like Pasar Petisah and Masjid Raya captivate with local flavours and ornate architecture. Indulge in diverse culinary delights, from the famed Nasi Padang to street-side treats. Breathtaking landmarks like Maimun Palace and the Great Mosque mesmerise with their grandeur. Gateway to picturesque Lake Toba, Medan offers a gateway to the region's natural splendour. A melting pot of cultures, Medan immerses travellers in Sumatra's captivating essence.
Where To Stay?
Hermes Palace Hotel Medan: A stylish contemporary hotel offering comfortable rooms and a range of amenities.
Garuda Plaza Hotel: A centrally located hotel with basic amenities, suitable for budget-conscious travellers.
Aryaduta Medan: A well-regarded hotel with a mix of traditional and modern design, featuring spacious rooms and a central location.
Things To Do In Medan
Tjong A Fie Mansion: Step back at this elegant Chinese mansion-turned-museum, showcasing Medan's history and cultural diversity. The mansion is open for tourists between 9 am to 5 pm everyday and ticket price is approx. $2.28.
Vihara Gunung Timur Temple: Discover the vibrant Buddhist temple adorned with intricate carvings and colourful decorations, reflecting Medan's multicultural identity. The temple is open between 8 am to 5 pm.
Sipiso-Piso Waterfall: Explore this majestic sighting. Its breathtaking views & scenery make it one of the most beautiful places to visit in Indonesia.
Delve into Batik: Learn about the traditional art of Batik-making at local workshops and pick up unique handcrafted textiles.
Lake Toba Day Trip: Embark on a day trip to the stunning Lake Toba, one of the largest volcanic lakes in the world, surrounded by picturesque landscapes. It offers scenic views & peace, making it one of the best things to do in Indonesia.
Enjoy the Nightlife: Experience Medan's nightlife at various entertainment venues, bars, and clubs.
Bandung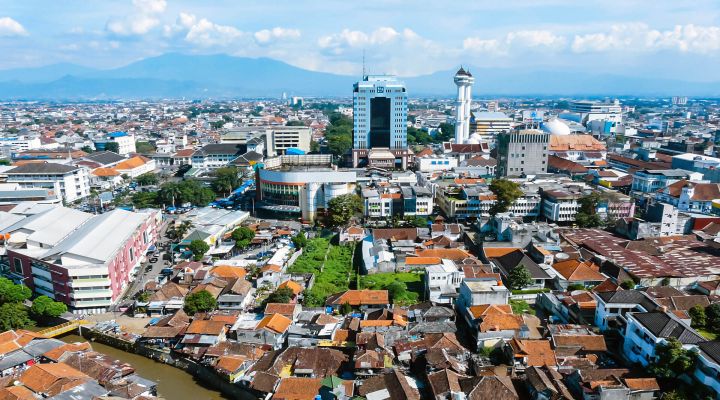 If you're looking for a calm & peaceful place in Indonesia, Bandung is a paradise. Lush landscapes surround Tangkuban Perahu volcano, offering surreal views. Artistry thrives in Dago's art galleries and Pasar Baru's fabric shops. Bandung embodies tradition with Saung Angklung Udjo's cultural performances. With its scenic allure, artistic spirit, and culinary delights, Bandung is an enchanting escape from urban life. Bandung is truly an escape to peace & one of the best places to visit in Indonesia.
Where To Stay?
Padma Hotel Bandung: A luxurious hillside retreat offering stunning views, spacious rooms, and a range of amenities, including a spa and outdoor pool.
Hilton Bandung: A well-known brand offering upscale accommodations, modern amenities, and a central location in Bandung.
Ibis Styles Bandung Braga: A stylish hotel with a unique design located in the historical Braga area.
Things To Do In Bandung
Visit Tangkuban Perahu: Explore the otherworldly landscape of this active volcano, known for its unique shape and picturesque crater.
Dusun Bambu: Enjoy family-friendly activities, dine in bamboo huts, and savour the scenic beauty of this eco-park.
Kawah Putih: Explore the ethereal beauty of this turquoise-coloured crater lake, surrounded by misty landscapes.
Gedung Sate: Admire the Dutch colonial architecture of this government building while learning about its historical significance.
Pangalengan: Embark on a scenic drive to Pangalengan, a serene area known for its tea plantations and picturesque landscapes.
Mount Patuha: Visit the tea plantations and Strawberry Farm in the Mount Patuha area, perfect for a leisurely day trip.
Batam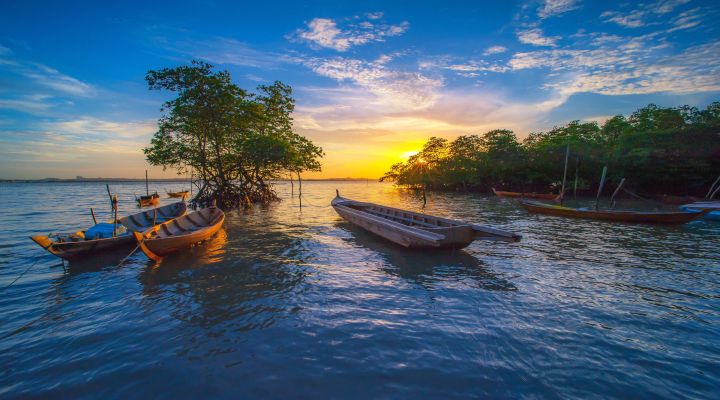 Batam, a bustling Indonesian island near Singapore, entices with its blend of modernity and leisure. An industrial hub and free-trade zone, it boasts vibrant markets, shopping centres, and golf courses. Explore Nagoya's nightlife, unwind on beaches like Nongsa, or indulge in water sports. Batam's allure also lies in its spa resorts, offering relaxation and rejuvenation, placing it among the top places to visit in Indonesia. A gateway to Riau Archipelago's natural beauty, it welcomes visitors with duty-free shopping, delectable seafood, and a strategic location for regional exploration.
Where To Stay?
Montigo Resorts Nongsa: A luxurious beachfront resort offering private villas, stunning sea views, and a range of amenities, including a spa and multiple dining options.
Harris Resort Barelang Batam: A family-friendly resort with a water park, activities for children, and various recreational facilities.
Things To Do In Batam
Golfing: Tee off at one of Batam's well-maintained golf courses, offering scenic views and challenging play, such as Tering Bay Golf & Country Club.
Barelang Bridge Tour: Take a tour of the iconic Barelang Bridge, among the most exquisite places to visit in Indonesia featuring a series of bridges connecting Batam with nearby islands, offering stunning views of the surrounding waters.
Explore Cultural Sites: Visit Maha Vihara Duta Maitreya Temple, a large Buddhist temple, or explore local markets to experience the island's culture.
Nightlife and Entertainment: Experience Batam's nightlife with bars, clubs, and live music venues offering a lively atmosphere, especially in the Nagoya area.
Mangrove Eco-Tourism: Discover the mangrove forests of Batam through guided eco-tours, where you can spot various wildlife and learn about the importance of conservation.
Lombok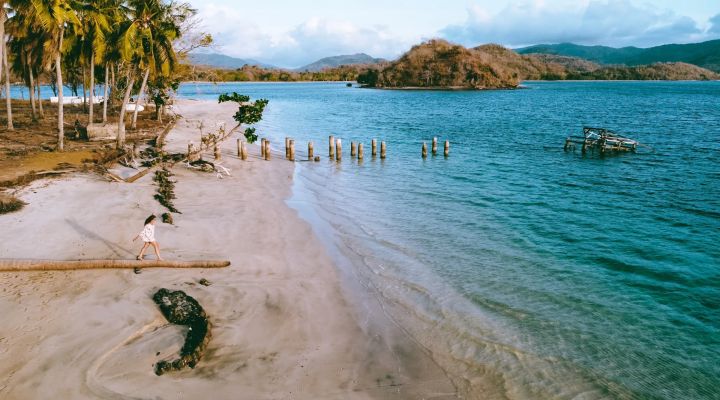 Nestled near Bali, Lombok is a land of breathtaking beaches like Kuta and Tanjung Aan, where turquoise waters meet golden sands. Explore Gili Islands for vibrant marine life and vibrant nightlife. Ascend Mount Rinjani for trekking adventures and stunning vistas. Lombok's allure lies in Sasak traditions, displayed in weaving villages and Pura Lingsar Temple. Experience tranquillity at Mandalika Resort, witness the majestic Sendang Gile Waterfall and relish local delicacies. With its blend of natural wonders and cultural treasures, Lombok is among the best places to visit in Indonesia.
Where To Stay?
Svarga Resort: A mid-range resort offering comfortable rooms, a pool, and beautiful views of Senggigi Beach.
Sempiak Villas: A secluded villa complex offering privacy and tranquillity, ideal for a romantic getaway.
Scallywags Resort: A boutique resort in Gili Trawangan offering comfortable accommodations and a beachfront location.
Things To Do In Lombok
Mount Rinjani Trek: Embark on a challenging trek up Mount Rinjani, an active volcano, for breathtaking views, hot springs, and a sense of accomplishment.
Pura Lingsar Temple: Immerse yourself in local culture at this unique temple, which combines Hindu and Wektu Telu beliefs, surrounded by lush gardens.
Kuta Beach: Discover the laid-back charm of Kuta Beach, a surfing haven with golden sands and a vibrant local atmosphere.
Tiu Kelep Waterfall: Trek through forests to reach this stunning waterfall, known for its enchanting beauty and invigorating pool.
Banyumulek Village: Witness pottery-making traditions and shop for intricately crafted clay wares in this charming village.
Senggigi Beach: Relax on this beautiful beach, offering a mix of tranquillity and a range of watersports.
Pink Beach: Venture to this unique beach in Asia, known for its pink-hued sands caused by coral fragments.
Gili Trawangan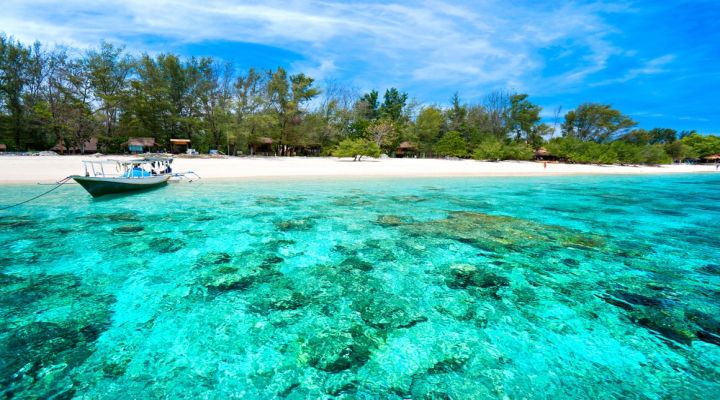 Gili Trawangan, a tropical haven near Lombok, Indonesia, beckons with pristine white sands, azure waters, and vibrant coral reefs. This idyllic island offers a relaxed escape, free from motorised vehicles, where bicycles and horse-drawn carts are the main modes of transport. Snorkel in crystalline seas to discover diverse marine life, dive into underwater wonders, and indulge in stunning sunsets. Lively beach bars, charming cafes, and beachfront accommodations create a laid-back atmosphere. Gili Trawangan blends tranquillity with a hint of nightlife, placing it among the best places to visit in Indonesia for both relaxation and exploration.
Where To Stay?
Karma Reef: An eco-friendly resort with beachfront accommodations offering tranquillity and stunning ocean views.
Ombak Sunset Hotel: A mid-range hotel with a pool and beachfront access, perfect for enjoying Gili Trawangan's famous sunsets.
Things To Do In Gili Trawangan
Beach Relaxation: Unwind on the stunning white-sand beaches, soaking in the sun, and enjoying the crystal-clear waters.
Sunset Watching: Witness breathtaking sunsets on the island's western side. Join the famous sunset swings or relax at beachfront bars.
Party and Nightlife: Gili Trawangan has a lively nightlife scene. Dance the night away at beach parties and enjoy live music at the best beach clubs.
Stand-Up Paddleboarding (SUP): Glide on the calm waters while enjoying beautiful coastline views and the surrounding islands. Fare starts from $65.
Glass-Bottom Boat Tours: Take a glass-bottom boat tour to observe the underwater world without getting wet.
Local Markets: Visit the local markets to experience the island's culture and shop for souvenirs, handmade crafts, and clothing.
How To Reach & Travel Around Indonesia?
Indonesia, a diverse and sprawling archipelago, offers various transportation options for reaching and travelling around its islands. Here's a guide on how to navigate this beautiful country:
Reaching Indonesia
By Air: Most international travellers arrive in Indonesia by air. Major international airports include Soekarno-Hatta International Airport (Jakarta), Ngurah Rai International Airport (Bali), and Juanda International Airport (Surabaya). Many other airports across the country also serve international flights.
By Sea: Indonesia has numerous ports, and you can reach major islands by ferries, cruise ships, or private yachts. Ports like Tanjung Priok (Jakarta) and Padang Bai (Bali) are popular entry points.
Getting Around
Domestic Flights: Air travel is the quickest way to hop between islands. Airlines like Garuda Indonesia, Lion Air, and AirAsia connect major cities and tourist destinations.
Ferries and Boats: Ferries connect many islands, particularly within regions like Sumatra, Java, Bali, and the Nusa Tenggara islands. Fares start from $16 of speedboats & ferries.
Trains: Java and Sumatra have well-developed train networks. The island of Java, in particular, has a comprehensive rail system that connects major cities. The fare is $0.2 for any 25 km distance.
Buses and Minibuses: Buses and minibuses (bemos or angkot) are common for short distances and within cities. Long-distance buses serve intercity routes. The fare starts from $0.23 & varies according to the distance & route.
Car Rentals: Renting a car is an option for exploring less-travelled areas or travelling in groups. Ensure you have an international driving permit. Average fare for car rental ranges from $53 to $57 a day.
Jakarta MRT: The Mass Rapid Transit system is a fast way to travel between key locations. It's expanding, so check route maps. Fare starts from $0.2
Best Time To Visit Indonesia
The best time to visit Indonesia is during the dry season, which typically spans from May to September. This period offers pleasant weather with less rainfall, making exploring the country's diverse attractions ideal. From Bali's pristine beaches to Java's cultural treasures and Komodo National Park's unique wildlife, you can enjoy outdoor activities, diving, and trekking with minimal disruptions.
However, remember that specific regions may have different weather patterns, and some destinations, like Raja Ampat and Komodo, experience their dry season from October to April. Consider your preferred activities and regions when visiting this beautiful tropical paradise.
Indonesian Currency
The official currency of Indonesia is Indonesia Rupiah. The approx conversion rates are:
1 INR = 183.45 Indonesian Rupiah
1 USD = 15188.96 Indonesian Rupiah
1 EURO = 16602. 40 Indonesian Rupiah
15 Days Budget For Indonesia
Creating a budget for a 15-day trip to Indonesia can vary based on your travel style, preferences, and destinations. Indonesia offers a wide range of options for different budgets. Here's a general breakdown:
Accommodation: Budget accommodations like hostels or guesthouses can cost around $15-30 per night. Mid-range hotels or Airbnb options might range from $40-100 per night. Luxury resorts could start from $150 and go upwards.
Food: Street food and local eateries are affordable, averaging $3-10 per meal. Dining in restaurants may cost around $15-30 per meal, depending on the type of restaurant.
Transportation: Domestic flights between major islands can vary widely, but budget around $50-150 per flight. Local transport like buses and trains are relatively cheap, and taxis or ride-sharing services might cost around $10-20 for short rides.
Activities and Sightseeing: Entrance fees to attractions, tours, and activities can vary. Budget around $20-50 per day for various excursions and experiences.
Miscellaneous: Allocate some funds for shopping, souvenirs, and unexpected expenses. Around $10-20 per day should suffice.
Overall, a budget traveller might spend around $40-70 per day, totaling $600-1050 for 15 days. Mid-range travellers might spend $100-150 per day, totaling $1500-2250. Luxury travellers could spend $200-300+ per day, amounting to $3000-4500 or more for the entire trip.
Some Tips To Save In Indonesia
Travelling becomes more fun when you are able to save on your travelling costs and enjoy the trip to its fullest. Here are some tips to save more in Indonesia.
Local Transportation: Utilize affordable transportation options like local buses, trains, and ride-sharing services instead of expensive taxis.
Street Food: Enjoy delicious and budget-friendly street food from local markets and vendors.
Accommodation: Consider staying in guesthouses, hostels, or budget hotels for cost-effective lodging.
Negotiate Prices: Practise bargaining in markets and with street vendors to get better deals on goods.
Free Attractions: Explore free or low-cost attractions like temples, beaches, and natural sites.
Local Markets: Shop for souvenirs and gifts at local markets for more affordable prices than tourist-oriented shops.
Use Apps: Use travel apps to find discounts, deals, and promotions on dining, transportation, and activities.
Budget Tours: Opt for budget or group tours for exploring attractions and activities.
Water Refills: Carry a reusable water bottle and refill it at restaurants or your accommodation to avoid buying bottled water.
Public Beaches: Enjoy some of the most beautiful beaches in Asia that are often free to access or have minimal entrance fees.
Avoid Peak Seasons: Plan your visit during off-peak seasons to find better deals on flights and accommodations.
Local SIM Card: Get a local SIM card for data and calls, which can be more economical than using international roaming.
Avoid Airport Currency Exchange: Exchange currency at local banks or authorized exchange offices for better rates than at airports.
Things To Keep in Mind
Although Indonesia is a safe country for solo & female travellers, here are some points to keep in mind to stay safe & sound in the country.
Petty thefts in MRTs, trains, and public spaces are quite common so stay alert & keep checking for your belongings while using local transport.
Police Helpline number 112.
Indonesia is safe but follows generic guidelines: Don't roam alone at night, don't get too drunk, and keep all your contacts & police helpline handy.
Languages
More than 700 languages are spoken in Indonesia including Javanese, Sudanese, and more. The official language of Indonesia is Bahasa spoken by 70% of the total population & rest speak mostly Javanese. The Indonesian languages are influenced by Malay, Arabic, Dutch, and more foreign languages. However, locals in popular tourist locations speak & understand English, so tourists can communicate with them easily.
More To Explore