Nestled in the crystal-clear waters of the Indian Ocean, the Maldives is a dream destination that captivates travellers with its pristine beaches, turquoise lagoons, and vibrant marine life. Comprising 26 atolls with over 1,000 coral islands, it's renowned for its stunning white-sand beaches, crystal-clear turquoise waters, and vibrant coral reefs.
In this comprehensive travel guide, we'll embark on a journey to uncover the wonders of this tropical archipelago. From choosing the perfect hotel for your stay to delving into local culture and cuisine, we leave no sandy shore unexplored. Let's dive into the enchanting world of the Maldives and unlock its secrets.
Top Places To Visit In Maldives
Male Atoll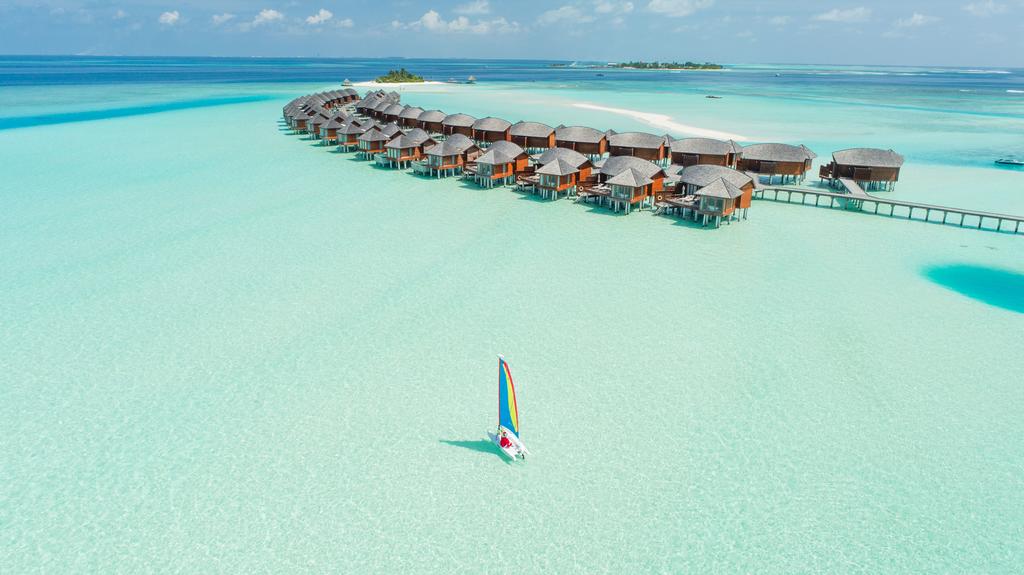 Male Atoll, a gem among places to visit in Maldives, boasts a captivating blend of culture and modernity. Explore the bustling streets of the capital city, Male, where vibrant markets and historic mosques await. Immerse yourself in the local way of life while savouring authentic Maldivian cuisine.
The azure waters offer snorkelling, diving, and water sports opportunities, revealing a world of marine wonders. With golden beaches inviting relaxation, Male Atoll is an enticing gateway to the Maldives, promising unforgettable adventures and cherished memories.
Things To Do
Hulhumale: A reclaimed island located near Malé, offering beautiful beaches and a relaxed atmosphere. It's a great place for swimming, water sports, and sunset views.
Villingili (Villingili Island): A nearby island that can be accessed by a short boat ride from Malé, costing $2. Villingili is a serene island with lush greenery, a golf course, and beautiful beaches.
Gulhi Island: Another budget-friendly option with a relaxed atmosphere, crystal-clear waters, and pristine beaches.
Alimatha Island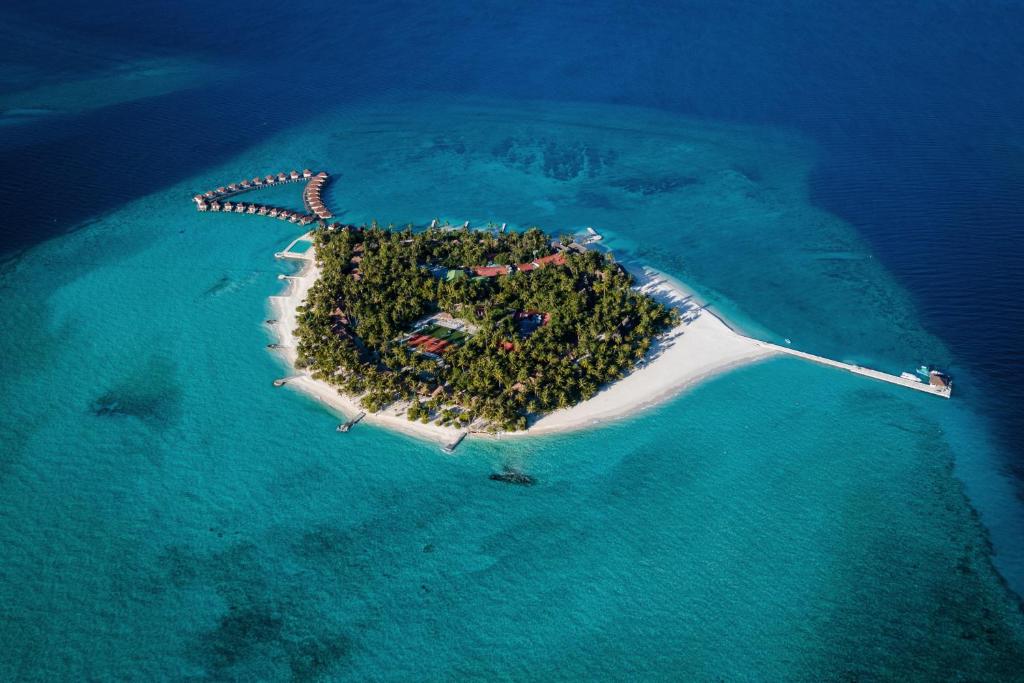 Nestled in Vaavu Atoll, this captivating island boasts powdery white beaches, crystal-clear waters, and lush palm-fringed landscapes. Alimatha offers a perfect blend of relaxation and adventure with its luxurious resorts, best beach clubs, exciting water sports, and unforgettable underwater encounters. It is one of the most breathtaking places to visit in Maldives for those seeking a slice of heaven on earth.
How To Reach Alimatha Island?
Domestic Flights: $150 to $540
Seaplanes: $250 to $700 per person
Ferry: $20 to $180 per person
Things To Do
Snorkeling and Diving: The entire Vaavu Atoll is a paradise for snorkelers and divers. There are numerous dive sites with vibrant coral reefs, abundant marine life, and the chance to encounter sharks, rays, and other fascinating creatures.
South Male Atoll: Some resorts offer day trips to the nearby South Male Atoll, where you can explore other beautiful islands and reefs.
Sandbanks and Uninhabited Islands: Nearby sandbanks and uninhabited islands offer secluded and picturesque settings for relaxation and private beach experiences.
HP Reef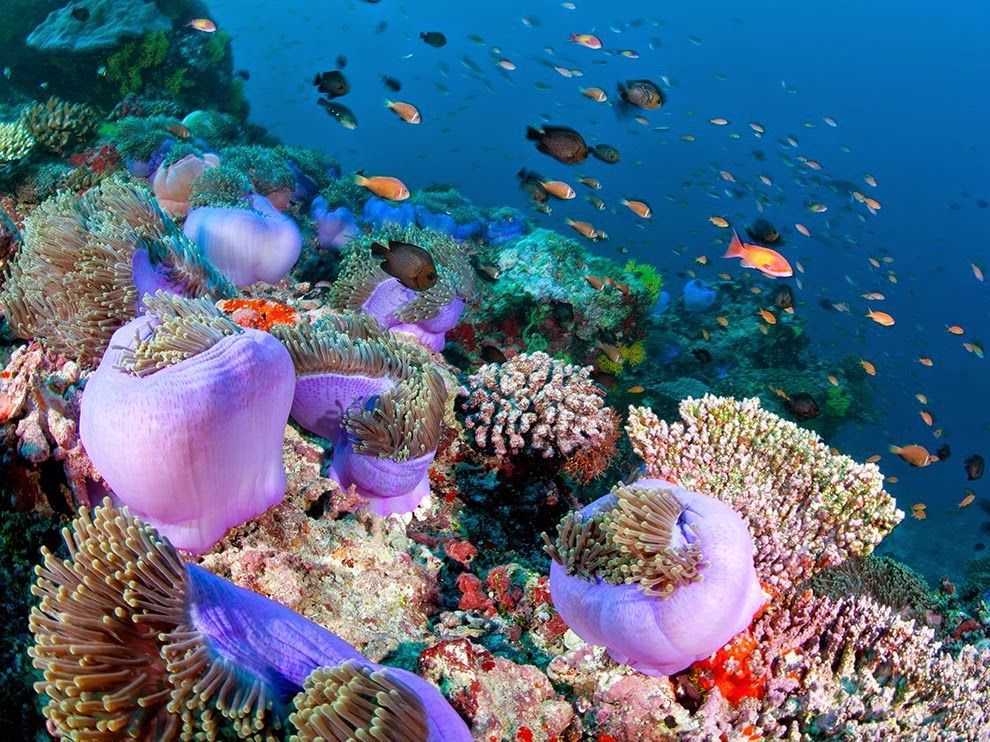 If you're an adventure enthusiast, you cannot miss the sight of HP Reef. This underwater wonderland in North Male Atoll offers an unforgettable diving experience. Drift through clear waters as schools of colourful fish dance around you, and encounter graceful sea turtles and majestic rays. The breathtaking biodiversity and the sheer thrill of exploring the depths make HP Reef an essential destination for every nature enthusiast and adventure seeker visiting the Maldives.
How To Reach?
Things To Do
Diving: HP Reef is renowned for its excellent diving opportunities. Dive into the crystal-clear waters to explore the colorful coral gardens and encounter various marine species, including reef sharks, rays, turtles, and an array of tropical fish.
Relax on Himmafushi Island: After your underwater adventures, spend some time relaxing on the beautiful Himmafushi Island. Enjoy the sun, the sand, and the pristine beaches.
Visit Local Villages: Explore nearby local islands like Himmafushi and get a glimpse of the Maldivian culture and way of life.
Fihalhohi Island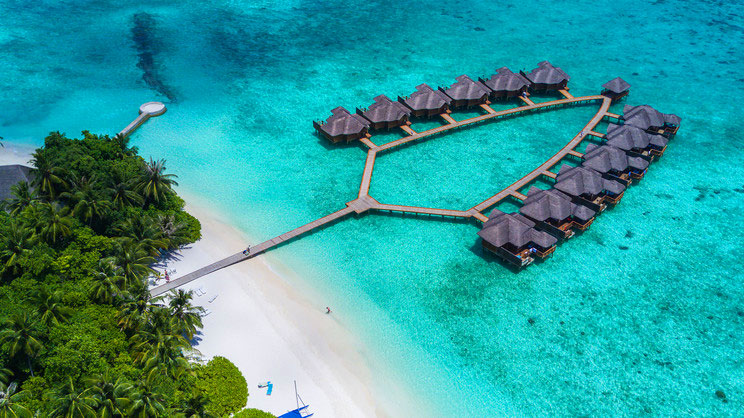 Fihalhohi Island, an enchanting destination among places to visit in Maldives, welcomes travellers with its postcard-perfect scenery and tranquil atmosphere. Situated in South Male Atoll, this secluded paradise boasts powdery white beaches and crystal-clear turquoise waters. As the sun dips below the horizon, the island transforms into a romantic haven, perfect for a serene evening stroll. With its warm hospitality, Fihalhohi Island offers a dreamy escape where serenity and nature's beauty unite in perfect harmony.
How To Reach?
Things To Do
Sunset Cruise: Take a romantic sunset cruise around the atoll and witness breathtaking sunsets over the Indian Ocean. Price is approximately $40.
Beach Relaxation: Unwind on the white sandy beaches, soak up the sun, and enjoy the stunning views of the turquoise waters.
Yoga and Meditation: Some resorts on Fihalhohi Island offer yoga and meditation classes, allowing you to rejuvenate both your body and mind.
COMO Cocoa Island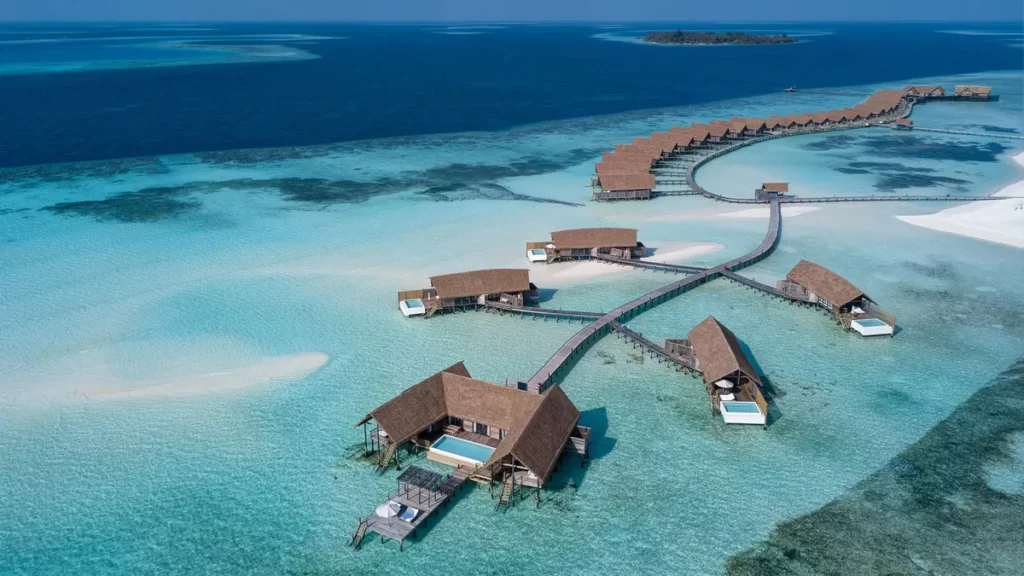 Como Cocoa Island, a luxurious private resort in the Maldives, is an oasis of calm and indulgence. This exclusive island retreat is located in South Male Atoll and offers pristine white beaches, turquoise waters, and stunning overwater villas that epitomise tropical luxury. The resort's holistic wellness approach invites guests to unwind at the Como Shambhala Retreat while the vibrant coral reefs beckon for snorkelling and diving adventures. Delectable cuisine and personalised service add to the enchanting experience. Como Cocoa Island is a haven and among the best places to visit in Maldives for discerning travellers seeking a harmonious blend of nature's beauty, relaxation, and refined indulgence in the Maldives.
How To Reach?
Speedboats: $350 per adult & $175 per child
Things To Do
Cooking Classes: Learn how to prepare traditional Maldivian dishes with cooking classes offered at the resort.
Star Gazing: Enjoy the clear night skies and stargazing on the peaceful beaches of Como Cocoa Island.
Picnics on Private Islands: The resort offers exclusive picnics on nearby private islands, where you can enjoy a secluded beach experience.
Vaadhoo Island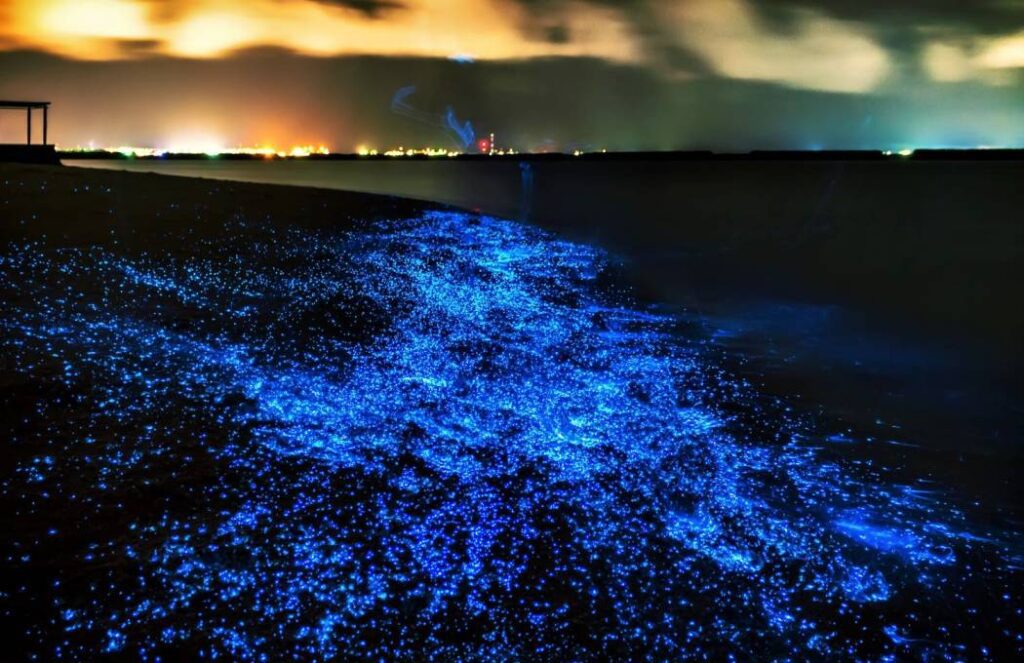 Sitting in Raa Atoll, Vaadhoo Island, a secluded paradise is famed for its bioluminescent beach, where the shores shimmer with ethereal blue light under the night sky, creating an otherworldly spectacle. By day, the island reveals its pristine sandy beaches, inviting azure waters and vibrant coral reefs for snorkelling and diving. Vaadhoo Island offers a unique and unforgettable experience, blending the allure of the Maldives' natural beauty with a touch of enchantment that leaves visitors spellbound and captivated.
How To Reach?
Domestic Flight: $260 to $550
Things To Do
Bioluminescent Beach: Vaadhoo Island is famous for its bioluminescent beach, where the water glows with a mesmerising blue light at night. Witness this magical natural phenomenon during a peaceful stroll along the shore.
Island Hopping: Arrange guided tours to visit nearby local islands and experience the unique culture and lifestyle of the Maldives.
Biyadhoo Island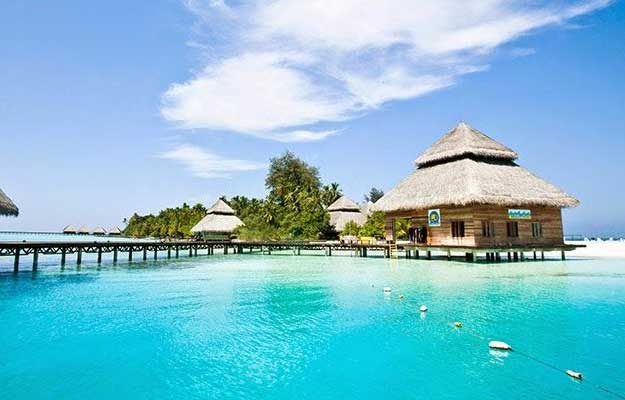 Tucked away in South Male Atoll, Biyadhoo Island is an idyllic paradise that boasts powdery white beaches, swaying palm trees, and clear turquoise waters. With a laid-back vibe and lush tropical surroundings, Biyadhoo Island offers a perfect escape for those seeking relaxation, natural splendour, and a chance to connect with the pristine wonders of the Maldives.
How To Reach?
Things To Do
Water Sports: Engage in various water sports activities such as windsurfing, canoeing, and paddleboarding to enjoy the crystal-clear waters.
Nature Walks: Explore the island's natural beauty by taking leisurely walks through its lush vegetation and tropical gardens.
Baros Island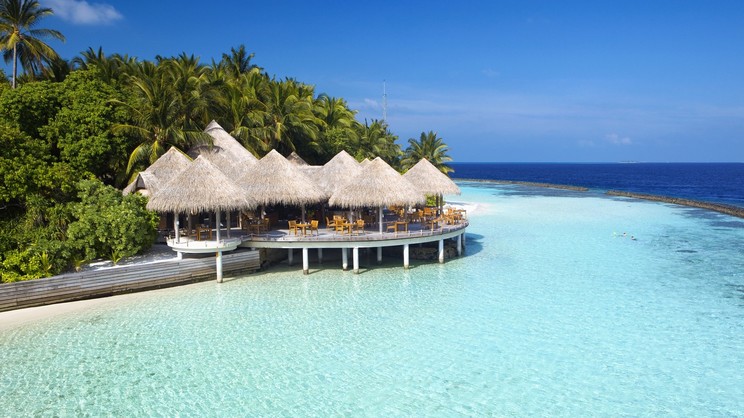 Lose yourself in the luxury of Baros Island through spa, wellness, and food. Located in North Male Atoll, this private paradise mesmerises with its pristine white sand beaches and turquoise lagoon. Exquisite overwater and beachfront villas offer opulent comfort and stunning ocean views. Gourmet dining, spa indulgence, and personalised service make it among the ultimate destinations among the best places to visit in Maldives. Baros Island is an idyllic escape where the beauty of nature and refined luxury merge to create an unforgettable, intimate getaway in the heart of the Maldives.
How To Reach?
Speedboat: $260 for adults & $130 for children
Things To Do
Dolphin Watching: Book a dolphin-watching excursion to see these playful creatures in their natural habitat.
Private Dining: Indulge in intimate and romantic private dining experiences on the beach or overwater, enjoying exquisite meals with stunning ocean views.
Maafushi Island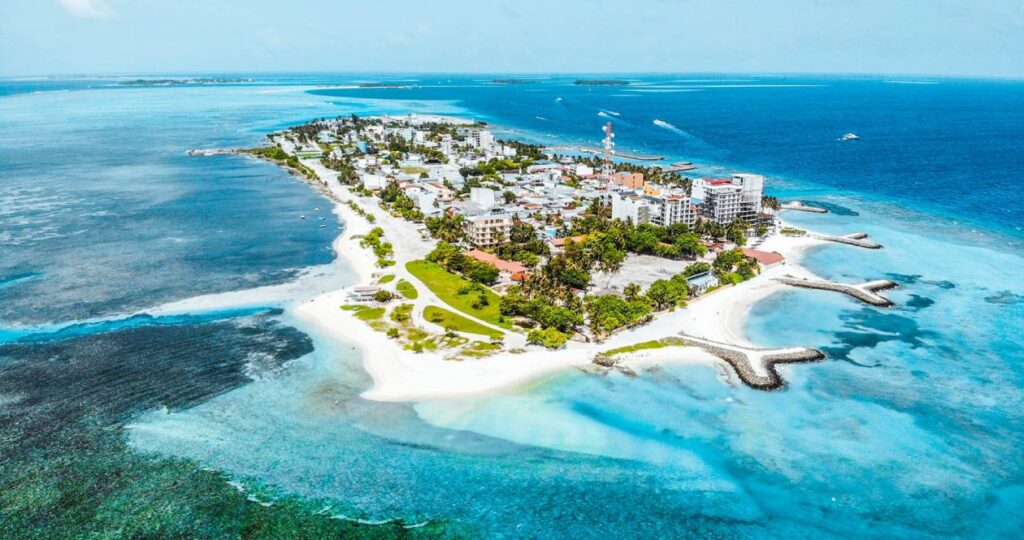 Immerse in the blue ocean waves & forget yourself in the enchanting beauty of Maafushi Island. This local island is located in South Male Atoll and offers stunning white beaches, azure waters, and a relaxed ambience. Experience the warm hospitality of the locals and savour authentic Maldivian cuisine. Participate in water sports, snorkel with colourful marine life, and discover nearby sandbanks. Maafushi's blend of natural beauty and cultural encounters makes it an ideal destination for those seeking an authentic and affordable Maldivian experience.
How To Reach?
Things To Do
Visit a Sandbank: Take a boat trip to a nearby sandbank, a small isolated island of sand, for a private beach experience.
Local Island Experience: Immerse yourself in the local Maldivian culture by visiting the nearby local villages, interacting with locals, and trying traditional Maldivian food.
Addu Atoll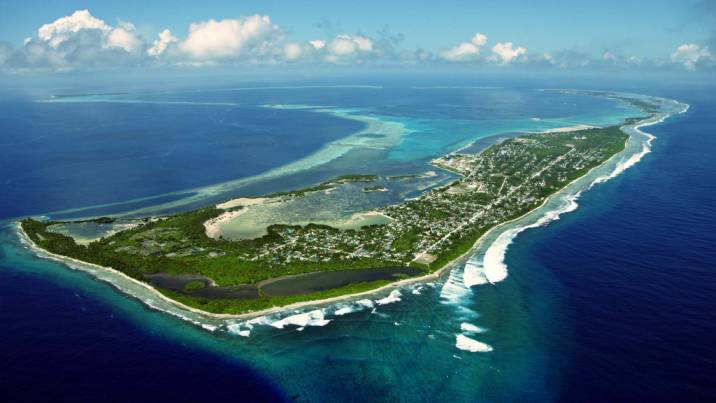 Experience the history & scenic beauty of Maldives in Addu Atoll. It comprises multiple islands and boasts lush greenery, serene beaches, and sparkling lagoons. History comes alive with remnants of British colonial times and World War II relics to explore. Addu's waters are a haven for diving, where vibrant coral gardens and marine life await. Rich culture, warm hospitality, and a tranquil atmosphere make Addu Atoll one of the ideal places to visit in Maldives for an off-the-beaten-path paradise, perfect for those seeking a genuine and immersive Maldivian experience.
How To Reach?
Things To Do
Scuba Diving: Explore the underwater world of Addu Atoll through scuba diving. The atoll features several dive sites with pristine coral reefs, abundant marine life, and the chance to encounter large marine species like manta rays and reef sharks.
Visit Hithadhoo: The largest island in Addu Atoll is Hithadhoo, where you can explore local markets, historical sites, and experience the laid-back island life.
Visit the British Loyalty Shipwreck: Explore the remains of the British Loyalty shipwreck, a fascinating site for divers and history enthusiasts.
Rangali Island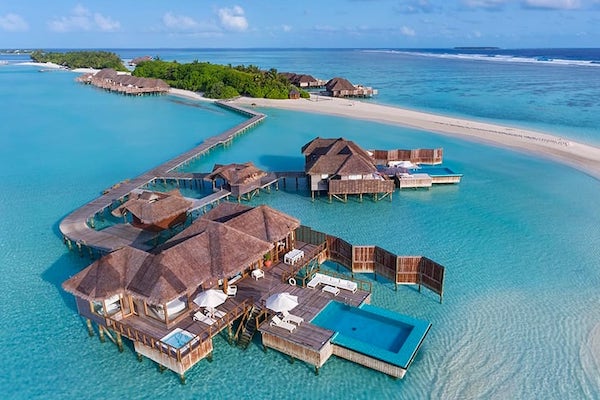 This secluded retreat is located in Alifu Dhaalu Atoll and offers pristine beaches, crystal-clear waters, and captivating marine life. It is home to the iconic Conrad Maldives Rangali Island resort, where guests can indulge in overwater villas, underwater dining experiences, and rejuvenating spa treatments. Rangali Island is a paradise for discerning travellers seeking an opulent escape amidst nature's wonders and world-class hospitality.
How To Reach?
Domestic Flights: $590 per adult & $295 per child
Seaplanes: $6300 for one way
Things To Do
Underwater Restaurant: Dine at the famous Ithaa Undersea Restaurant, a unique experience where you can enjoy a meal surrounded by the marine life of the Indian Ocean.
Marine Discovery Centre: Visit the resort's Marine Discovery Centre to learn about marine conservation efforts and the local marine ecosystem.
Majeedhee Magu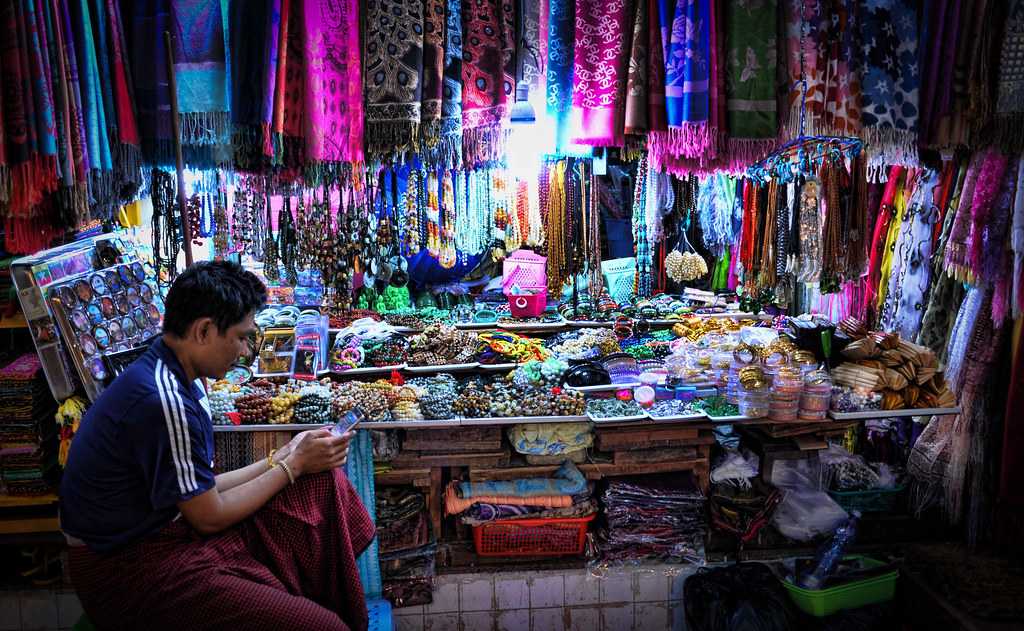 Craving for some Maldivian street food & souvenirs? Visit Majeedhee Magu for the Maldivian local market experience. Stretching through the city's heart, it bustles with local markets, boutique shops, and lively stalls selling everything from clothes and electronics to handicrafts and souvenirs.
As the central commercial artery, it offers a vibrant glimpse into the Maldivian way of life, where locals and tourists alike come together to explore, shop, and immerse themselves, making Majeedhee Magu one of the exciting places to visit in Maldives.
Things To Do
Shopping: Explore the numerous shops and boutiques lining Majeedhee Magu. You'll find a variety of products, including clothes, accessories, electronics, souvenirs, and local handicrafts.
Cafe Hopping: Enjoy a coffee or tea break at one of the cosy cafes in the area.
Visit Sultan Park: Located near Majeedhee Magu, Sultan Park is a historical park with beautiful gardens, perfect for a leisurely walk.
Activities In Maldives
In addition to the best places to visit in Maldives, this exotic island offers many fun things to do. Here are some of the must-do things in Maldives for an unforgettable experience.
Snorkelling
Snorkelling is an exhilarating underwater adventure where you swim near the water's surface with a mask and snorkel. Witness the magical world beneath the waves, encountering colourful coral reefs, tropical fish, and other marine creatures. The price is around $100 per person and it's a fantastic activity for all ages, allowing you to explore the ocean's beauty with ease and awe.
Where To Do Snorkelling?
Some top places to do snorkelling in the Maldives include:
Baa Atoll: A UNESCO Biosphere Reserve with diverse marine life and pristine coral reefs.
Ari Atoll: Known for its abundance of whale sharks and manta rays, providing incredible snorkelling encounters.
North Male Atoll: Close to the capital, Male, it offers easily accessible and beautiful snorkelling spots.
Vaavu Atoll: Famous for its night snorkelling experiences to witness the magical bioluminescent plankton.
Scuba Diving
Scuba diving is an unforgettable adventure, revealing a vibrant underwater realm. Dive into crystal-clear waters to explore magnificent coral reefs, encounter majestic mantas, curious sharks, and a kaleidoscope of marine life. The dive costs between $50 – $80 per dive. With world-class dive sites, the Maldives is a diver's paradise waiting to be explored.
Where To Do Scuba Diving?
Here are some top places to do scuba diving; however, you can also indulge in this once-in-a-lifetime experience at Male, Baa, and other beaches.
Vaavu Atoll: Offers exhilarating channel dives and the opportunity to spot sharks and rays.
Laamu Atoll: Features underwater pinnacles, caves, and channels for adventurous diving.
Noonu Atoll: Remote and pristine dive sites with vibrant coral reefs and diverse marine species.
Island Hopping
Island hopping in the Maldives is a tropical odyssey of paradise exploration. Hop between idyllic atolls and islands to encounter pristine beaches, crystal-clear waters, and diverse marine life. Each island offers a unique experience, from serene relaxation to thrilling water activities, providing a dreamy escape and a chance to immerse yourself in the natural wonders of this enchanting archipelago.
Must-Visit Islands in Maldives
Island hopping in the Maldives offers a fantastic opportunity to explore the diverse beauty and unique characteristics of different islands in the archipelago. Here are some popular island hopping options in the Maldives:
Malé Atoll: Explore the capital city Malé and nearby islands in the North Malé Atoll. You can visit resorts, enjoy water sports, and experience the local lifestyle.
South Malé Atoll: Visit islands in the South Malé Atoll for a more tranquil and secluded experience away from the bustling capital city.
Laamu Atoll: Laamu Atoll boasts picturesque islands with local communities and opportunities to interact with the Maldivian culture.
Vaavu Atoll: Vaavu Atoll is famous for its stunning underwater landscapes, making it a paradise for divers and snorkellers.
Dolphin & Whale-Watching
Embark on boat tours to spot playful dolphins leaping alongside, and during certain seasons, encounter majestic whales as they migrate. Witnessing these magnificent creatures in their natural habitat adds a touch of magic and wonder to your Maldivian adventure. The Dolphin watching cruise starts from $65 which varies according to the cruise providers.
Where To Do Dolphin & Whale-Watching?
Lhaviyani Atoll: Lhaviyani Atoll is another excellent location for dolphin watching in the Maldives. The atoll is home to various dolphin species, including spinner dolphins.
Ari Atoll: The Ari Atoll is famous for its abundant marine life, including dolphins. It's a popular spot for dolphin watching excursions, and the chance of spotting dolphins here is relatively high.
Visit Local Markets
Local markets in the Maldives offer a glimpse into the vibrant island culture. From bustling street markets in Male, the capital city, to smaller markets on local islands, you can find an array of goods, including souvenirs, handicrafts, clothing, and fresh produce. Engage with friendly locals, sample traditional snacks, and immerse yourself in the authentic charm of Maldivian life while shopping at these bustling marketplaces.
Local Markets In Maldives
Malé Night Market: The Night Market in Malé is a great place to experience the local food culture. Open in the evenings, it offers a wide range of Maldivian

street food

and snacks.
Kulhudhuffushi Market: Situated in the northern atoll of Haa Dhaalu, Kulhudhuffushi Market is a significant local market serving the island's residents with a variety of goods.
Thoddoo Island Market: Thoddoo, known for its agriculture, hosts a market where you can find locally grown fruits like watermelon, papaya, and bananas.
Seaplane & Helicopter Rides
Experience the aerial view of the ocean in seaplanes & helicopters. Soar above the turquoise waters and coral reefs, witnessing the stunning beauty of this tropical paradise from a unique perspective. A thrilling and unforgettable experience, these scenic flights provide a captivating way to explore the Maldives' natural wonders and create lasting memories of your island getaway. The price ranges from $250 to $450.
Where To Do Seaplane & Helicopter Rides?
Malé International Airport: Many seaplane operators offer scenic flights departing from Malé International Airport, taking you over the beautiful atolls and resorts in the vicinity.
North Malé Atoll: Several seaplane operators and resorts in the North Malé Atoll offer sightseeing flights over the atolls and islands.
Visit Underwater Restaurants
Delight in exquisite cuisine while surrounded by the mesmerising marine world through expansive glass windows. Admire colourful fish and coral reefs dancing before your eyes, creating a magical ambience that elevates your meal to an extraordinary and unforgettable event.
Some underwater restaurants to visit are:
Ithaa Undersea Restaurant at Conrad Maldives Rangali Island: Approx $400+ (Dinner) & $200+ for two (Lunch)
SEA Underwater Restaurant at Anantara Kihavah Maldives Villas: Breakfast at $ 200 / person, a 7-course tasting menu – $ 345 / person; 4 courses – $ 295 / person.
5.8 Undersea Restaurant at Hurawalhi Island Resort: Approx $ 225.00 – $ 280.00
Subsix at Niyama Private Islands Maldives: Approx $200 per person for lunch
OZEN Reserve Bolifushi – M6m (Minus Six Meters):
Best Hotels In Maldives
Maldives is the home to many luxurious hotels & resorts, and in addition to luxurious resorts, Maldives also has many budget hotels. So, budget travellers buckle up to explore the Maldives.
Whiteshell Beach Inn: A cosy guesthouse with affordable rooms on a local island, offering an authentic Maldivian experience.
Kaani Lodge: A budget-friendly option with comfortable rooms and a convenient location on a local island.
Rashu Hiyaa: An affordable guesthouse with basic amenities and friendly service, providing a budget-friendly stay on a local island.
Serene Sky Guest House: A budget accommodation option with simple rooms and a laid-back atmosphere on a local island.
Faza View Inn: A budget guesthouse with cosy rooms on a local island, offering a glimpse of local life and affordable prices.
Some luxurious & best hotels In Maldives are
Gili Lankanfushi Maldives: A secluded sanctuary offering luxurious overwater villas, private butlers, and an eco-friendly approach, providing an intimate and eco-luxury experience amid turquoise waters.
Soneva Jani: A stunning resort featuring lavish water villas with slides, a private cinema, and a breathtaking observatory for stargazing, blending luxury with eco-consciousness.
One&Only Reethi Rah: An opulent escape with private pools, world-class dining, and pristine beaches, offering unparalleled luxury and indulgence in a serene setting.
Cheval Blanc Randheli: A lavish hideaway boasting elegant villas, exceptional service, and refined dining, delivering a blend of French art de vivre and Maldivian beauty.
Best Time To Visit Maldives
The best time to visit Maldives is between December to March when the temperature ranges between 27°C to 30°C. This is the perfect weather to experience scuba diving, snorkelling and other fun activities in Maldives. In the dry season, you can also visit from November to April to experience pleasant weather sitting on the seashore.
If you're planning for a budget trip to Maldives, the cheapest months to visit the country are from May to November. These are off season months when you'll find less prices on hotels, flights, and activities. If weather is not an issue for you, visiting Maldives during May to November is the best way to enjoy the country on a budget.
7 Days Budget For Maldives
Creating a budget for a trip to the Maldives can vary greatly based on factors such as travel style, accommodation preferences, activities, and personal spending habits. Here's a rough breakdown of potential expenses for a 7-day trip:
Flights: Flight prices can vary greatly depending on your departure location, time of booking, and airline choice. However, flights from major international cities to Malé, the capital of Maldives, can range from $600 to $1500 or more round trip.
Accommodation: The Maldives is famous for its overwater bungalows and luxury resorts. Prices per night can range from a few hundred dollars to several thousand, depending on the level of luxury and exclusivity. Budget travelers might find guesthouses on local islands to be more affordable, typically ranging from $50 to $150 per night.
Food: Food expenses can vary based on where you choose to dine. Resorts usually offer meal packages, and a meal at a mid-range restaurant could cost around $20 to $50 per person.
Activities: The Maldives offers various water-based activities such as snorkeling, scuba diving, water sports, and excursions to nearby islands. Prices vary, but budgeting around $50 to $150 per activity is a reasonable estimate.
Transportation: Transportation between islands can be costly due to the reliance on speedboats or seaplanes. Budget around $100 to $300 for inter-island transfers.
Miscellaneous: Don't forget to account for additional expenses such as souvenirs, tips, and any unplanned activities or purchases. Budgeting an extra $100 to $200 should be reasonable.
Approximately $1000 to $2500 will be the total cost for a 7 days trip to Maldives. However, this budget is a rough estimate and the ideal value depends on your choice of hotels, flights, food, and activities.
Must-Try Flavourful Dishes In Maldives
Maldives offer many dishes that'll tingle your tongue & will give you ultimate delight. Some must-try dishes are:
Kuli Boakibaa: A vegetarian version of the traditional fish cake, made with coconut, rice, and spices, and often enjoyed on special occasions.
Mas Huni (Vegetarian): A flavorful mix of grated coconut, onions, chilli, and spices, without adding tuna, served with flatbread or rice.
Bis Keemiya: Vegetable-filled samosas, usually served as a savoury snack or appetiser.
Sai: A traditional Maldivian dish made with grated breadfruit, coconut, and spices, providing a unique and tasty vegetarian option.
Coconut Roshi: A traditional flatbread (roshi) version incorporating grated coconut for added flavour.
Maldivian Vegetable Curry: A comforting curry made with a variety of vegetables, coconut milk, and aromatic spices.
How To Reach & Transportation in Maldives
The most common way to reach the Maldives is by flying to Velana International Airport (MLE) in Male, the capital city. Many major international airlines operate direct flights to Male from various countries.
Transportation in Maldives
Speed Boats and Ferries: Speedboats and ferries are commonly used to travel between islands. They are operated by local transport companies and resorts, providing access to nearby islands. Price ranges between $20 to $50.
Seaplanes: Seaplanes offer a scenic and efficient mode of transportation between distant islands and resorts. They provide stunning aerial views of the atolls and are often used by luxury resorts for their guests. The price ranges between $250 – $450.
Domestic Flights: Some remote atolls have domestic airports, and short flights are available to connect travellers between different regions of the Maldives.
Taxis and Shuttles: In Male and some resort islands, taxis and shuttle services are available for convenient transportation within the areas.
Currency
The national currency of Maldives is Maldivian Rufiyaa. The approx conversion rates are:
1 Maldivian Rufiyaa: 5.34 INR
1 Maldivian Rufiyaa: 0.065 USD
1 Maldivian Rufiyaa: 0.058 EURO
Languages
The official language of Maldives is Dhivehi, but mostly all locals know English, so you can easily navigate the country through English.
Tips To Have A Budget-Friendly Maldives Trip
If you're planning a budget trip to Maldives, here are some tips to help you save on your trip.
Travel during the low season: Consider visiting during the shoulder or low season (May to October) when prices for accommodation and flights may be lower.
Look for flight deals: Keep an eye out for flight promotions and discounts from airlines and travel websites.
Choose guesthouses or local islands: Opt for budget-friendly guesthouses on local islands instead of luxury resorts. Local islands offer a more authentic experience and are generally more affordable.
Book in advance: Plan and book your trip well to secure better accommodation and activities deals.
All-inclusive packages: Look for all-inclusive packages that include meals, activities, and transfers, as they can sometimes offer better value for money.
Travel with a group: If possible, travel with friends or family to share costs for accommodations and activities.
Use public transportation: Use affordable public transportation like ferries or local boats instead of expensive seaplanes for short trips on local islands.
Eat at local cafes and restaurants: Explore local eateries and cafes instead of dining at high-end resort restaurants to save on food expenses.
Final Take Away
Maldives is an enchanting island surrounded with majestic natural beauty. The Maldives caters to all desires, whether you seek adventure through scuba diving and watersports, cultural immersion on local islands, or pure relaxation in luxury resorts. The warm hospitality of the locals and the breathtaking landscapes create an unforgettable experience that lingers in the heart and soul. From its pristine white-sand beaches and turquoise waters to the diverse marine life beneath, the Maldives truly lives up to its reputation as a dream destination.
More To Explore