Located at the eastern edge of Southeast Asia, Vietnam is famed for its diverse landscape of lush rice fields, enticing coastline, and rugged mountains. It is spread across the area of 331,212 square kilometres with a population of 100 million. The country has a rich history of Chinese & French colonisations and the Vietnam War.
Today, the country boasts about its culture, culinary delights, and sceneries that attract visitors from all over the world. Its bustling cities, like Hanoi and Ho Chi Minh City offer various tourist attractions, activities, and street food and the serene Islands like Phu Quoc offer views of pristine beaches and adventurous activities.
Vietnam has a lot to offer and if you're planning a vacation to Vietnam, this guide will help you plan the perfect trip covering the best places to visit in Vietnam, bustling markets, street food centres, and serene Islands. Follow the guide to capture the best of Vietnam.
Top Places To Visit In Vietnam
Hanoi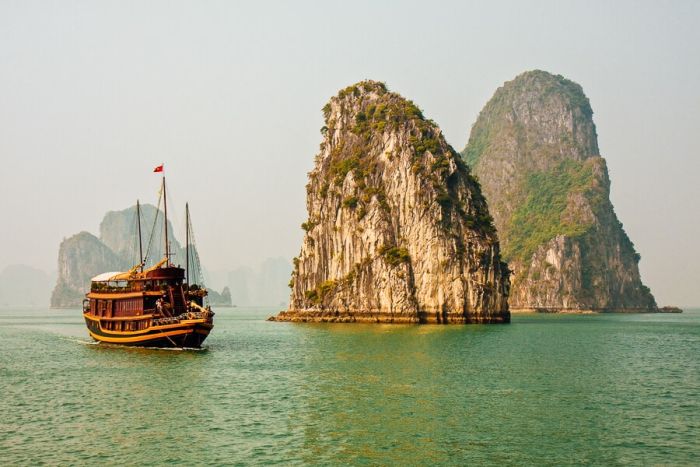 Hanoi is the capital of Vietnam and one of the best places to visit in Vietnam featuring a blend of Vietnam's history & natural wonders. Witness colonial architecture, ancient temples, and the famous Hoan Kiem Lake. Indulge in its dynamic cultural scene, from traditional water puppetry to contemporary art galleries, and enjoy its delicious street food scene, where flavours like bun cha and egg coffee delight the senses.
Things To Do In Hanoi
Hoan Kiem Lake: Also known as the Sword Lake attracts worldwide vistors. Its scenic beauty makes it a must-visit destination in Hanoi. The nearest bus station to the lake is 28 Duong Thanh. There's no entry fee for this lake.
Pillar Pagoda: An elegant Buddhist temple on a single pillar amid a serene lotus pond. The timings are 7 am to 6 pm with no entry fee.
Old Quarter: A vibrant maze of narrow streets and markets showcasing centuries-old architecture, bustling shops, and a lively atmosphere, offering a glimpse into the city's historical and cultural roots.
Bach Ma Temple: This historic shrine is known for its intricate architectural details and spiritual significance, representing the enduring cultural heritage of the city. The nearest bus station to Bach Ma is 56 Hang Con, and the timings of the Temple are 9 a.m. to 5:30 p.m.
Visit Craft Villages: Explore traditional craft villages on the outskirts of Hanoi, such as Bat Trang (ceramics) and Van Phuc (silk).
Ho Chi Minh City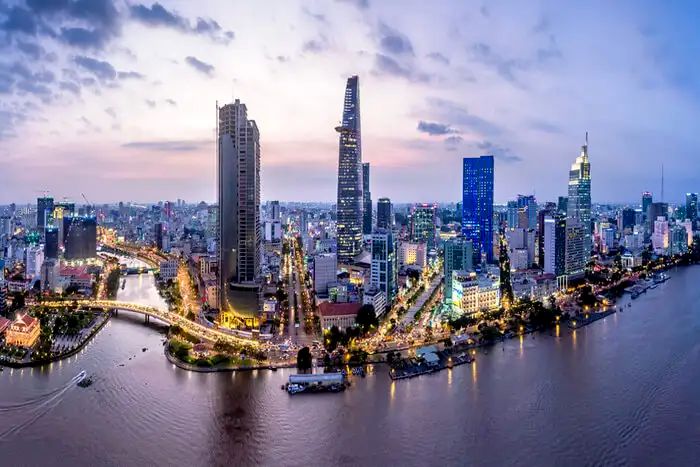 Another happening city of Vietnam is Ho Chi Minh City. Home to some of the exciting places to visit in Vietnam, Ho Chi Minh City has a lot to offer. It's nightlife, food, and culture will make you want stay in the place forever. Visit the famous Cu Chi Tunnels, Ben Thanh Market, Saigon Skydeck, or take a Mekong Delta boat ride to experience the best of the city.
Things To Do In Ho Chi Minh City
Cu Chi Tunnels: Take a day trip to the Cu Chi Tunnels, an extensive underground network used by Viet Cong soldiers during the war stretching 310 miles. The tunnel is open to tourists from 7 a.m. to 5 p.m. with an entry fee of $8.46.
Ben Thanh Market: Shop for souvenirs, clothing, handicrafts, and local food at this iconic market in the city's heart.
Mekong Delta River & Boat Ride: The Mekong Delta boat ride is among the best things to do in Vietnam. Explore the waterways & beautiful forests of the Mekong Delta through the boat ride. The booking starts at 8 a.m. with a fee of $20.54.
Binh Tay Market: Experience the local market scene in Chinatown, where you can find a variety of goods and ingredients.
Saigon Skydeck: Saigon Skydeck offers breathtaking views from the Bitexco Financial Tower, an iconic Ho Chi Minh City skyscraper. Experience panoramic vistas of the city's skyline and beyond. It operates between 9:30 a.m. to 9:30 p.m. with an entry fee of $7.25.
See Also: Top 12 Enticing Things To Do In Lisbon
Phu Quoc Island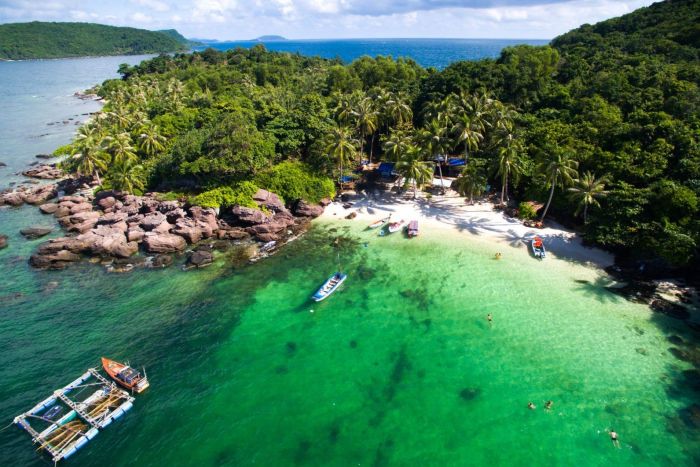 Located just about 50 km from the main Vietnam, Phu Quoc Island is a gem among the places to visit in Vietnam. Home to stunning beaches, lush forests, and vibrant coral reefs, Phu Quoc Island should be a must-visit destination in your itinerary. This tropical paradise in the Gulf of Thailand offers relaxation and adventure, with attractions like Sao Beach's white sands, Dinh Cau Night Market's local flavours, and Vinpearl Safari's wildlife encounters. Uncover the best of Vietnam at the Phu Quoc Island.
How To Reach Phu Quoc Island?
Flights: Board direct flights from Hanoi or Ho Chi Minh City to Phu Quoc Island Airport.
Ferries: You can board ferries from the Mekong Delta towns of Ha Tien & Rach Gia to Bai Vong Port of Phu Quoc Island. The charges range from $9.52 to $14.5. They take 1 to 3 hours to reach the Island.
Things To Do In Phu Quoc Island
Relax on Beaches: Spend time on the island's beautiful beaches, such as Long Beach, Ong Lang Beach, and Bai Sao Beach, known for their white sands and clear waters.
Sunset Watching: Witness breathtaking sunsets from Dinh Cau Night Market or other coastal spots on the island.
Visit Ham Ninh Fishing Village: Immerse yourself in local culture at Ham Ninh Fishing Village, known for its fishing community and seafood restaurants.
Visit Pearl Farms: Discover the process of pearl cultivation and jewellery-making at one of Phu Quoc's pearl farms.
Also Read: Exciting Things to do in London
Sapa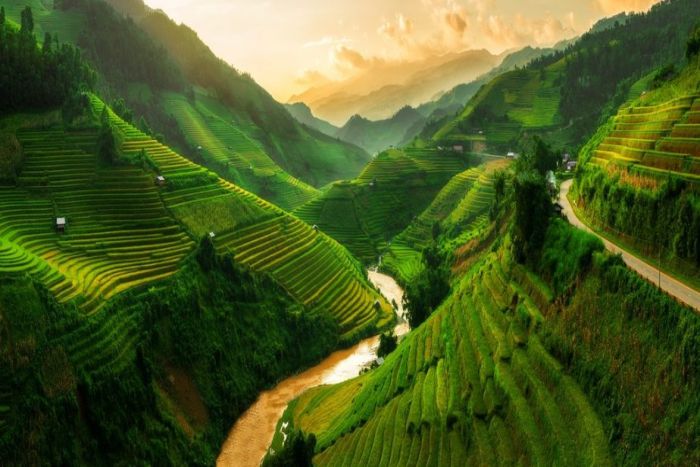 If you want to visit a calm place , away from the city's hustle & bustle, a trip to Sapa will be the perfect getaway for you. Sapa is a picturesque town in northern Vietnam surrounded with emerald terraced rice fields, mist-shrouded valleys, and vibrant hill tribe cultures. Renowned for trekking adventures, it offers breathtaking scenery, traditional markets, and encounters with Hmong, Dao, and other ethnic communities. The Fansipan Peak, Vietnam's highest, beckons adventurers, while the town's charm, colourful festivals, and local crafts make it a unique destination amidst the places to visit in Vietnam.
How To Reach Sapa?
Cab or Taxi: Sapa is located 315 km from Hanoi. You can board a cab or taxi to reach this destination in 5-6 hours. The fare can vary from $15 to $200 depending on the service provider & type of the car.
Bus: Buses can take 5.5 to 6 hours to reach Sapa. The fare ranges from $13 – $19.
Train: The nearest railway station from Sapa is Lao Cai, 22 miles from Sapa town. The train takes approximately 8 hours from Hanoi to Lao Cai & it takes 1 to 1.5 hours more to reach Lao Cai to Sapa town. The fare ranges from $6.22 to $187.48.
Things To Do In Sapa
Local Markets: Visit vibrant markets like Bac Ha Market (on Sundays) and Sapa Market (daily) to experience the unique cultures and purchase local handicrafts.
Waterfalls: Explore stunning waterfalls like Silver Waterfall and Love Waterfall, which offer scenic beauty and refreshing spots for relaxation.
Trekking and Hiking: Indulge in one of the exciting things to do in Vietanm. Explore the breathtaking landscapes by embarking on treks or hikes through the terraced rice fields, lush valleys, and ethnic minority villages. The trail operates between 6 am to 6 pm at $2.62.
Fansipan Cable Car: Take the cable car to the summit of Fansipan, the highest peak in Vietnam, for panoramic views of the surrounding mountains and valleys. The cable car timings are 7 a.m. to 7 p.m., and charges are $26.23.
Halong Bay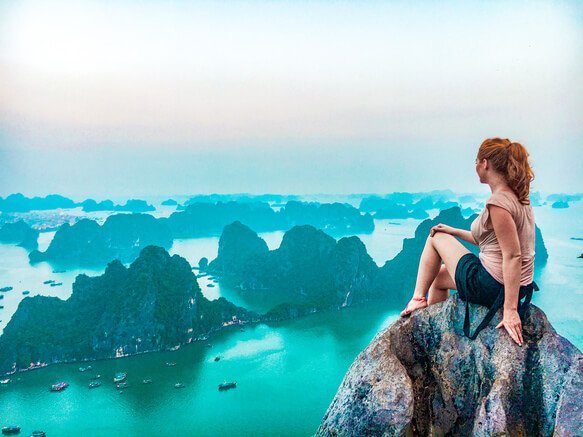 Designated a UNESCO World Heritage site, Halong bay is among the most beautiful places to visit in Vietnam with 2000 islands & many beaches. The Bay features hidden caves, natural view points, and a bustling night market. Its ethereal beauty results from millions of years of erosion, creating a stunning seascape of towering karsts and hidden caves. You can tour the island through cruise & enjoy the wonders of nature.
How To Reach Halong Bay?
Halong Bay is approximately 125 km from the capital city of Hanoi. You can consider the following transportation options to reach this wonder.
Motorbike: Rent a motorbike & explore the unknown streets. The rent ranges from $5 to $50 a trip.
Bus: Hop on a bus to Halong Bay, with ticket prices ranging between $10 – $50.
Shuttle: You can book a shuttle bus or private transfer to Halong Bay from Hanoi. The journey takes around 3-4 hours, and the fare ranges between $10 – $20.
Private Car: If you want to travel privately, book a private cab or taxi with a fare of approximately starting from $150.
Seaplane: For a more unique experience, consider taking a seaplane from Hanoi to Halong Bay. The ticket price is approximately $400 per person.
Train: You can also budget- travel from the train, tickets from $4.5.
Things To Do In Halong Bay
Cruise the Bay: Take a cruise to explore the stunning seascape of limestone karsts and emerald waters. You can take a day trip, 3 days or 4-day cruise trip on Halong Bay. The fare ranges from $65 – $500 depending on number of days & stay choices.
Swim and Relax on the Beaches: Some cruises stop at beaches in Halong Bay, where you can swim in crystal-clear waters and sunbathe on sandy shores. You can explore some of the best beach clubs on the island.
Visit Sung Sot Cave (Surprise Cave): Explore one of the largest and most impressive caves in Halong Bay, known for its stunning stalactites and stalagmites formations.
Visit the Night Market: A vibrant and bustling waterfront marketplace offering a variety of handicrafts, souvenirs, local street food, and a lively atmosphere for evening shopping and dining.
Check Out: Unmissable Things To Do In Edinburgh
Hoi An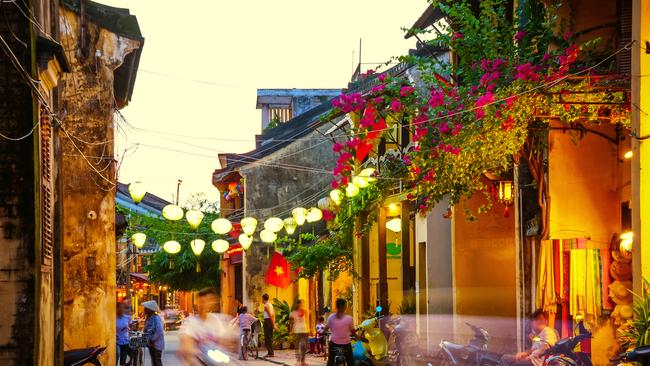 If you wish to explore the traditional Vietanamese culture, visit Hoi An, a UNESCO World Heritage Site & one of the best places to visit in Vietnam. Hoi An is famous for its beautifully preserved historical architecture, ancient streets, and lantern-lit evenings. The town's riverside setting, delicious street food, and tranquil beaches are a must-visit to have a once-in-a-lifetime experience.
How To Reach Hoi An?
Hoi An is located approximately 800 km from the capital city of Hanoi. Here are some top & time-saving transportation options to reach this destination.
Flights: The most accessible & time-saving method to reach Hoi An is to fly. The nearest airport to Hoi An is in Da Nang, 45 minutes from Hoi An. The ticket price from Hanoi to Da Nang is $35 with 1 hour 15 minutes of flying time.
Bus: Hop on a bus from Hanoi to Hoi An. The fare is approx. $16 & the journey takes 17-hours.
Train: Board a train & reach Da Nang station in 16 hours. The ticket price is around $40. Consider a cab or shuttle from Da Nang to reach Hoi An in 45 minutes.
Things To Do In Hoi An
Visit Local Temples and Pagodas: Explore Hoi An's temples and pagodas, like PhucKien Assembly Hall and Quan Cong Temple.
Hoi An Night Market: Night markets are some of the best places to visit in Vietnam. Stroll through the vibrant Hoi An Night Market along the river, where you can shop for souvenirs, try street food, and enjoy cultural performances.
An Bang Beach: Relax on the sandy shores of An Bang Beach, just a short bike ride or taxi trip from Hoi An's centre.
Thanh Ha Pottery Village: Visit Thanh Ha Pottery Village to observe the art of traditional pottery-making and try to make your pottery.
Best Time To Visit Vietnam
The best time to visit Vietnam depends on the specific regions you plan to explore, as the country experiences varying weather patterns throughout the year. Here's a breakdown of the best times to visit Vietnam by region:
Northern Vietnam (Hanoi, Halong Bay, Sapa)
The best time to visit Northern Vietnam is from October to April. This period experiences cooler, drier weather, making exploring northern Vietnam the most pleasant time. October and November are particularly beautiful, with comfortable temperatures and clear skies. December to February can be cold, especially in mountainous regions like Sapa.
Central Vietnam (Hue, Hoi An, Da Nang)
Visit Central Vietnam from February to August, as Central Vietnam has a distinct wet season from September to January. From February to August, when you'll find warm and dry weather. February to April is ideal for pleasant temperatures, while May to August can be hot.
Southern Vietnam (Ho Chi Minh City, Mekong Delta, Phu Quoc)
The best time to visit this region is between November and April. Southern Vietnam has a more consistent tropical climate. The dry season is the best time to visit from November to April, with lower humidity and less rainfall. December to February may experience slightly cooler temperatures.
How To Reach Vietnam & Getting Around In Vietnam
Reaching Vietnam By Air
Tan Son Nhat International Airport (SGN) in Ho Chi Minh City: This is the busiest airport in Vietnam and a major gateway for international travellers.
Noi Bai International Airport (HAN) in Hanoi: Noi Bai is another key international entry point in the capital city.
Da Nang International Airport (DAD): This airport in central Vietnam is also accessible for international flights.
Phu Quoc International Airport (PQC): If you're heading to Phu Quoc Island, there's also an international airport.
Airlines like Vietnam Airlines, Qatar Airways, Singapore Airlines, and many others operate flights to Vietnam.
Reaching Vietnam By Land
Vietnam shares land borders with China, Laos, and Cambodia. You can enter Vietnam by bus, train, or car from these countries. Border crossings are well-established, but check visa requirements and travel advisories beforehand.
Getting Around In Vietnam
Domestic Flights: Travel internally in the country & nearby Islands through various domestic flights operating from different airports in Vietnam.
Buses: You'll find buses in nearly every city & town of Vietnam, making internal & inter-city travel easy for the tourists & locals.
Cabs & Taxis: Taxis are readily available in most cities and are a convenient way to get around locally.
Domestic Ferries & Boats: In areas with rivers or coastal access, you can find domestic ferry services and boat tours for transportation and sightseeing.
Bikes & Scooters: Motorbike rentals are popular in Vietnam, especially in cities like Hanoi and Ho Chi Minh. You can rent a scooter or motorbike for short-term use.
Trains: Vietnam has an extensive railway network that connects major cities and regions. Train travel can be scenic and comfortable.
Languages
The national language of Vietnam is Vietnamese, spoken by the majority of the urban & rural population of the country. The minority group of the country also speak a variety of languages, including Tày, Mường, Cham, Khmer, Chinese, Nùng and Hmong. Vietnamese speak & understand English in major tourist destinations. Fun Fact: More than 50% of Vietnam's population communicates in English.
7-Day Budget & Itinerary For Vietnam Trip
While the itinerary depends on your preferred locations & budget, here's a rough 7-day itinerary covering the major tourist spots in the country that may help you plan your trip conveniently.
Day 1: Arrival At Hanoi
Accommodation: Budget hostel or guesthouse in Hanoi's Old Quarter.
Meals: Street food or local restaurants.
Activities: Explore the Old Quarter and Hoan Kiem Lake.
Budget: $30-40 USD
Day 2: Hanoi Sightseeing
Accommodation: Same as Day 1.
Meals: Local eateries.
Activities: Visit Ho Chi Minh Mausoleum, One Pillar Pagoda, and Temple of Literature.
Budget: $25-35 USD
Day 3: Halong Bay
Accommodation: Overnight cruise on Halong Bay.
Meals: Included in cruise package.
Activities: Cruise, kayaking, cave visit.
Budget: $100-150 USD (for the cruise)
Day 4: Return to Hanoi
Accommodation: Same as Day 1.
Meals: Meals on the cruise.
Activities: Return to Hanoi to relax.
Budget: $30-40 USD
Day 5: Flight to Ho Chi Minh City
Accommodation: Budget hostel or guesthouse in Ho Chi Minh City.
Meals: Local restaurants.
Activities: Flight to Ho Chi Minh City, explore District 1.
Budget: $50-60 USD
Day 6: Ho Chi Minh City Sightseeing
Accommodation: Same as Day 5.
Meals: Local food.
Activities: Visit the War Remnants Museum, Cu Chi Tunnels, and Ben Thanh Market.
Budget: $25-35 USD
Day 7: Flight to Phu Quoc Island
Accommodation: Budget guesthouse or hostel on Phu Quoc Island.
Meals: Local meals.
Activities: Flight to Phu Quoc Island, relax on the beach.
Budget: $50-60 USD
Additional Expenses:
Transportation between cities (flights, buses, etc.): $200-250 USD
Miscellaneous (souvenirs, entrance fees, water, etc.): $50-70 USD
The Total Budget for 7 Days may come approximately $560-700 USD (excluding international flights). You can take an idea from this itinerary & plan your own according to your budget, hotel preferences, destinations to cover, and other important factors.
Currency & Visa Requirements
The official currency of Vietnam is the Vietnamese Dong. The approximate conversion rates are:
1 VD: 0.000042 USD
1 VD: 0.0034 INR
1 VD: 0.000038 EURO
Visa Requirements
The citizens of the UK can travel visa-free for 15 days in Vietnam. The citizens of India and the USA will need a visa to travel in the country. Along with the UK, citizens of some more countries are exempted from visas for the first 15 & 30 days of their arrival. You can check the list here. Also, you can get an E-visa by applying online on this website. Just register & pay a fee between $25 & $50 to get your e-visa.
Tips To Save In Vietnam
Saving money while travelling in Vietnam is possible with smart budgeting and spending strategies. Here are some tips to help you save money during your trip:
Opt for budget accommodations like hostels, guesthouses, and homestays. These are often clean and comfortable at a fraction of the cost of luxury hotels.
Street food is not only delicious but also very affordable. Explore local markets and street stalls for authentic Vietnamese cuisine.
Use ride-sharing apps like Grab that offer cost-effective and convenient transportation options. They also provide transparent pricing, reducing the risk of overcharging by taxi drivers.
Bargaining is common at local markets and small shops. Politely negotiate prices for a better deal, but be fair and respectful.
Buses and public transportation are affordable ways to get around cities. They offer insight into local life and culture.
Many attractions, like temples and parks, are free or have minimal entrance fees. Take advantage of these options for entertainment.
Some Points To Keep In Mind
Although Vietnam is a safe country to travel to, here are some general points to remember:
Book cabs & taxis from reputed companies & stay alert during the ride.
Keep track of your changes when shopping from the local markets as the currency notes look the same, and the shopkeeper may hand you a lesser amount than the actual.
Don't roam alone at night or in small colonies.
More To Explore