If you're seeking adventure, rich history, and breathtaking landscapes, look no further than Portugal. This captivating country on the western edge of the Iberian Peninsula offers a delightful blend of vibrant cities, charming coastal towns, and picturesque countryside. Whether you're a culture enthusiast, a nature lover, or a foodie seeking culinary delights, Portugal has something to offer everyone. In this blog, we've covered 13 breathtaking places to visit in Portugal for an extraordinary experience. So pack your bags and join us as we explore Portugal's diverse beauty and cultural treasures.
01: Top Exciting Places To Explore In Portugal
Lisbon
Lisbon, the radiant capital of Portugal, enchants visitors with its captivating blend of old-world charm and vibrant modernity. Nestled on the banks of the Tagus River, this picturesque city boasts a tapestry of narrow cobbled streets, colourful tiled buildings, and magnificent hilltop viewpoints. From the grandeur of Belém Tower to the medieval São Jorge Castle, Lisbon's rich history unfolds at every turn. Explore the lively neighbourhoods of Alfama and Bairro Alto, indulge in delicious pastéis de nata, and immerse yourself in the soulful sounds of Fado. Lisbon is a truly unforgettable destination with its warm climate, welcoming locals, and myriad cultural delights.
Leiria
Dominated by the impressive medieval castle, which stands majestically atop a hill, Leiria invites visitors to step back in time and explore its rich heritage. Stroll through the narrow streets of the historic centre, adorned with picturesque tiled buildings and quaint cafes. Immerse yourself in the local art scene at the Leiria Museum or enjoy a leisurely walk along the banks of the River Lis. With its welcoming atmosphere, fascinating landmarks, and proximity to stunning beaches and nature reserves, Leiria is an extraordinary destination that leaves a lasting impression.
Madeira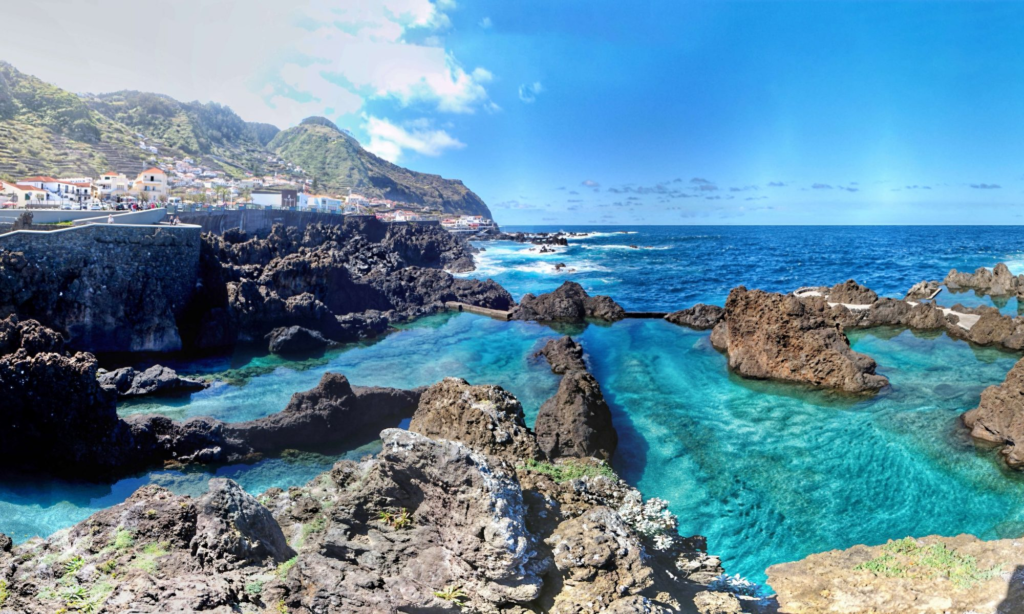 Madeira, a breathtaking island paradise in the Atlantic Ocean, offers a unique blend of natural wonders and luxurious hotels. Known as the "Pearl of the Atlantic," this Portuguese archipelago boasts stunning landscapes, including lush mountains, rugged coastlines, and enchanting forests. Amidst this idyllic setting, Madeira offers many exquisite hotels that cater to every traveller's desire for comfort and indulgence. From upscale resorts with panoramic ocean views to charming boutique hotels tucked away in picturesque villages, the accommodation options in Madeira are as diverse as the island itself. Experience impeccable service, world-class amenities, and unrivalled hospitality while immersing yourself in the beauty and tranquillity of this island paradise.
Sintra
Just a short distance from Lisbon, this UNESCO World Heritage Site transports visitors to a realm of romantic palaces, mystical gardens, and historic charm. Sintra, a fairytale-like town nestled in the hills of Portugal, is a place of enchantment and wonder. The town's crown jewel is the breathtaking Pena Palace, perched high on a hilltop, boasting vibrant colours and intricate architecture. Explore the whimsical Quinta da Regaleira with its secret tunnels and mystical symbolism, or wander through the lush grounds of Monserrate Palace. Sintra's misty forests, charming streets, and rich cultural heritage make it an ethereal destination that captivates the imagination and leaves an indelible mark on every visitor.
Porto
Known for its picturesque setting along the Douro River, Porto offers a blend of old-world charm and vibrant energy. Stroll hand in hand across the iconic Dom Luís I Bridge, taking in panoramic views of the city's colourful Ribeira district. Explore the romantic alleyways of the historic centre, visit charming wine cellars for tastings of world-renowned Port wine, and indulge in candlelit dinners at intimate riverside restaurants. Porto provides the perfect backdrop for couples to create lasting memories together with its stunning architecture, captivating river cruises, and cosy cafes.
Cascais
Cascais boasts stunning sandy beaches that invite sun-worshippers and water sports enthusiasts alike. Located just a short distance from Lisbon, this picturesque town offers a perfect blend of natural beauty, cultural heritage, and a vibrant atmosphere. Wander through the charming streets of the historic centre, lined with colourful buildings, trendy boutiques, and inviting cafes. Explore the imposing Cascais Citadel and take panoramic views of the Atlantic Ocean. With its thriving marina, bustling promenade, and a wide array of fresh seafood restaurants, Cascais captures the essence of coastal living and promises an unforgettable experience for every visitor.
Aveiro
Aveiro, often called the "Venice of Portugal," is a captivating city along the country's picturesque Ria de Aveiro lagoon. Known for its charming canals, colourful moliceiro boats, and Art Nouveau architecture, Aveiro offers a unique and enchanting experience. Explore the city's historic centre, adorned with ornate buildings and charming squares, and indulge in delicious local specialities such as ovos moles and sweet egg-based treats. Take a leisurely boat ride through the canals, admiring the quaint bridges and vibrant houses that line the waterways. With its rich maritime heritage, delightful cuisine, and a blend of traditional and contemporary attractions, Aveiro delights visitors with its charm and allure.
Botanical Garden Of Lisbon
The Botanical Garden of Lisbon is a verdant oasis nestled within the bustling city. Located in the heart of the city's university district, this serene garden spans over four hectares and offers a peaceful retreat for nature lovers and plant enthusiasts. As you wander through the garden's winding pathways, you'll encounter lush greenery, vibrant flowers, and towering trees that provide shade and tranquility.
The garden is divided into various sections, including themed areas like the Mediterranean Garden, the Tropical Greenhouse, and the Systematic Garden, each showcasing a diverse range of flora. Whether you're a nature enthusiast, a photography lover, or simply seeking a serene retreat in the heart of the city, the Botanical Garden of Lisbon offers a delightful experience where you can connect with nature's beauty and appreciate the wonders of the plant kingdom.
The Azores
An archipelago of nine volcanic islands in the middle of the Atlantic Ocean, is a breathtaking destination that captivates visitors with its untouched natural beauty. Each island in the Azores offers a unique landscape, characterized by lush green hills, dramatic cliffs, pristine lakes, and volcanic craters. From São Miguel, the largest island with its stunning Sete Cidades crater lakes, to Pico Island, home to Portugal's highest peak, Mount Pico, the Azores offer a haven for outdoor enthusiasts and nature lovers.
The Azores also boast a rich cultural heritage. Explore charming towns with cobbled streets, historic churches, and vibrant local markets, where you can sample traditional Azorean cuisine and fresh seafood. The island's remote location and unspoiled landscapes make the Azores a paradise for those seeking tranquillity and adventure.
Lisbon Cathedral
Located in the Alfama neighbourhood, Lisbon Cathedral dates back to the 12th century and bears the marks of various architectural styles, including Romanesque, Gothic, and Baroque. The exterior of Lisbon Cathedral is characterised by its sturdy fortress-like appearance, featuring massive stone walls, a robust bell tower, and a striking rose window. One of the cathedral's notable features is the cloister, a peaceful courtyard adorned with arches and elegant tiles, providing a tranquil oasis in the heart of the bustling city. The archaeological site beneath the cathedral allows visitors to explore the remnants of a Roman building and Moorish ruins, providing glimpses into Lisbon's rich history.
Alfama
Alfama, one of Lisbon's oldest and most charismatic neighbourhoods, is an enthralling labyrinth of narrow winding streets, steep hills, and traditional Portuguese charm. Nestled between the Lisbon Cathedral and the São Jorge Castle, Alfama exudes an enchanting atmosphere that transports visitors back in time. As you meander through the cobblestone streets, you'll encounter colourful buildings adorned with charming tiles, picturesque squares, and laundry hanging from the windows. Exploring Alfama is like stepping into a living museum, where the past intertwines with the present. Its charming streets, historic landmarks, and vibrant atmosphere make it a must-visit neighbourhood that encapsulates the essence of Lisbon's rich cultural heritage.
Bairro Alto
Situated on a hill overlooking the city, Bairro Alto comes alive as the sun sets, transforming into a hub of entertainment and socialising. The neighbourhood's nightlife scene offers something for everyone. You can find cosy traditional taverns serving local drinks and petiscos (Portuguese tapas), stylish cocktail bars with innovative mixology, and clubs hosting DJ sets and live performances. Whether you're seeking a memorable night out, unique shopping experiences, or an opportunity to soak up the neighbourhood's artistic spirit, Bairro Alto offers an unforgettable experience that captures the essence of Lisbon's dynamic and eclectic cultural scene.
Monte Palace Madeira
Set on a hillside overlooking Funchal, Monte Palace was initially built as a luxurious hotel in the late 19th century. Today, it has been transformed into a museum and botanical garden that showcases the rich cultural heritage of Madeira. One of the most iconic features of Monte Palace is its impressive tile panels. The intricate azulejo tiles depict historical and cultural scenes, telling stories of Madeira's past. Whether you're a nature lover, an art enthusiast, or simply seeking a peaceful retreat, Monte Palace provides a captivating blend of botanical wonders and cultural treasures. It invites visitors to immerse themselves in the beauty of Madeira and discover the island's rich heritage in a truly enchanting setting.
Final Thoughts
Portugal has revealed itself as a country of contrasts, where ancient history blends harmoniously with modern innovation, and serene natural landscapes coexist with bustling urban centres. It is a destination that caters to every traveller's desire, offering many experiences that satisfy both the adventurous spirit and the longing for relaxation. This blog covered the top 13 must-visit destinations in Portugal that'd take your breath away. Find the best deals on hotels in Portugal at Odisseias.