With its rich cultural heritage and picturesque landscapes, Jammu is a famous destination among travellers seeking a blend of history, spirituality, and natural beauty. Amidst this vibrant tapestry, the city offers a selection of luxurious hotels that elevate the travel experience to a new level.
If you love classy & elegant stays and budget isn't a constraint, book any of these 8 five-star hotels in Jammu & Kashmir to enjoy your vacation sitting on the lap of luxury. From heritage-inspired establishments to contemporary marvels, each hotel promises an unforgettable stay.
Best Hotels in Jammu & Kashmir
Radisson Blu, Jammu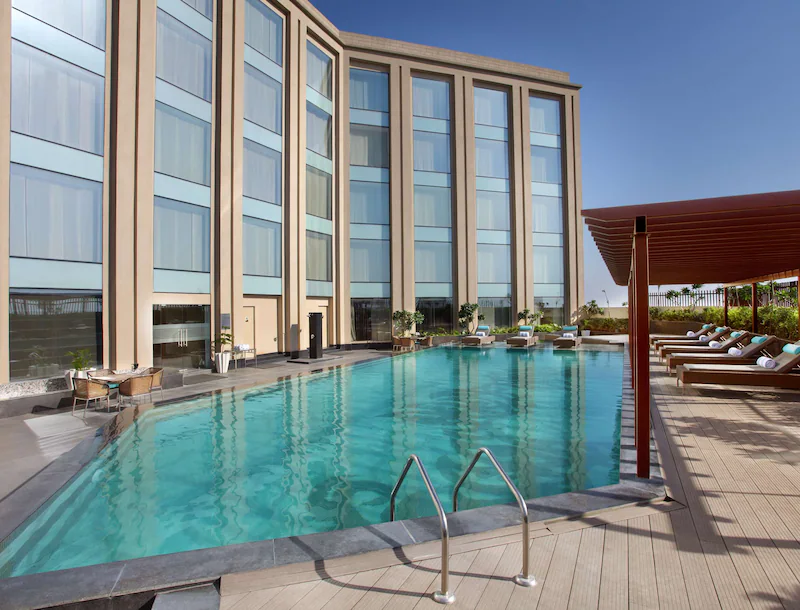 The Radisson Blu in Jammu is a pinnacle of luxury and comfort. Boasting elegant rooms and suites with contemporary amenities, it ensures a lavish stay. It is located 7 km from Jammu Tawi station and 8 km from the Jammu Airport. Some of the hotel's offerings include luxurious suites, a fitness centre, a spa & wellness centre, a bar, and an Airport shuttle. The hotel's central location places it among the best 5 star hotels in Jammu city to explore & get around in the region without any hassle.
Viraj Sarovar Portico, Jammu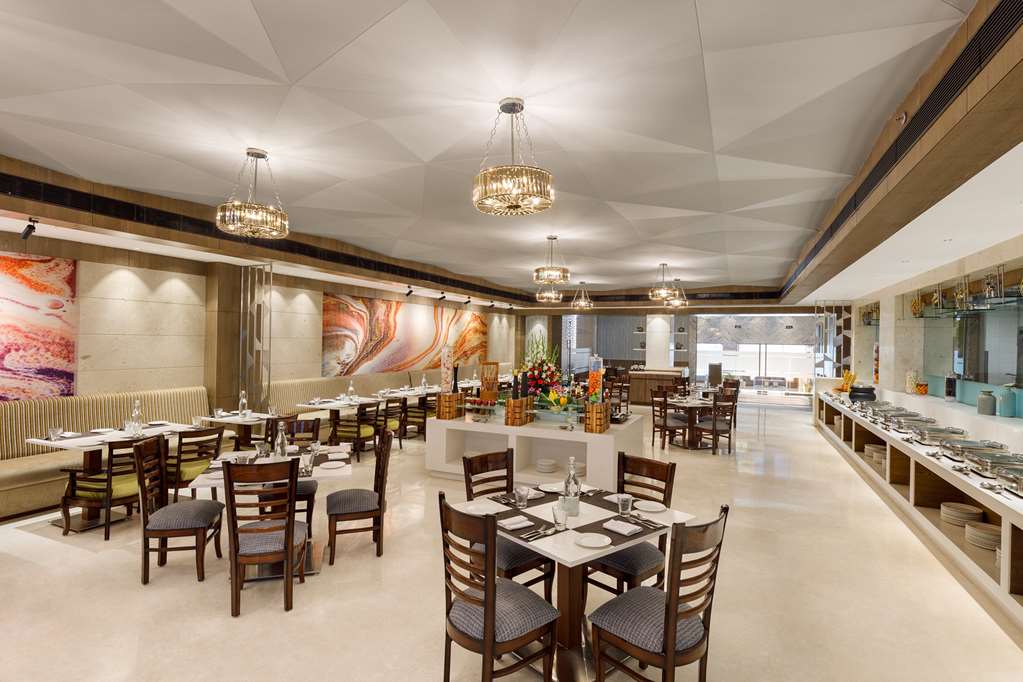 Viraj Sarovar Portico is a 4 star hotel 10.5 km from the Jammu city centre. It is 6.6 km from Jammu Tawi railway station and 8.2 km from Jammu Airport. The hotel has all the modern amenities, including a spa, gym, and facilities of differently abled. The restaurant serves continental & vegetarian cuisine. Some nearby attractions include Kunjwani Park, Baag-e-Bahu Park, and MA Stadium Park. You can enjoy a serene and peaceful walk in these parks in the evening.
Eden Resorts & Spa, Pahalgam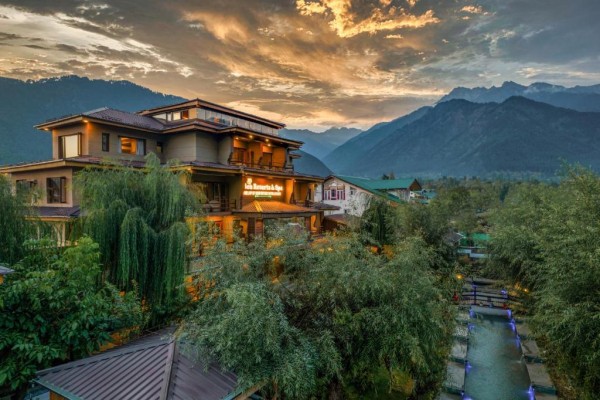 Nestled amidst the serene landscapes of Pahalgam, Eden Resorts & Spa is a 4 star hotel offering breathtaking views of the surrounding Himalayan mountains and the Lidder River. The nearest airport to the property is Srinagar Airport, approx. 79 km. It offers a range of amenities such as a spa and wellness centre, fitness facilities, Jacuzzi washrooms, a Hookah bar, a coffee shop, multi-cuisine dining, and a pool. Sitting in a luxurious room with a majestic valley view is an experience you do not want to miss.
The Lalit Grand Palace, Srinagar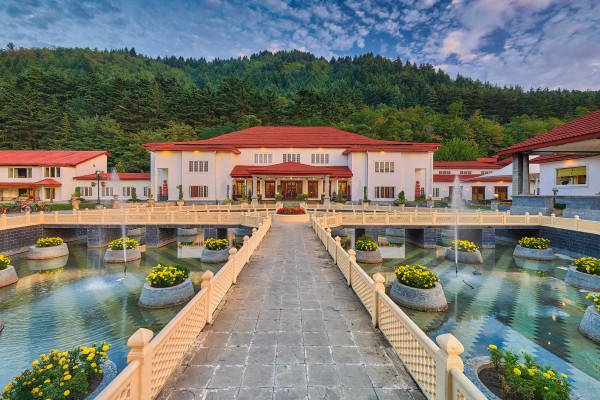 The Lalit Grand Palace is an architectural marvel and a 5-star hotel that exudes regal grandeur. Initially built in the early 20th century, it was once the residence of the Maharaja of Jammu and Kashmir. It is located approx. 22 km from the Srinagar Airport. The Lalit Grand Palace boasts stunning Mughal, British, and Kashmiri-style architecture. The rooms, corridors, and balconies take you back to the bygone era. Coming to the amenities, the hotel offers an indoor pool, tennis court, spa, and an all-day coffee shop in the Chinar garden. Enjoy the breathtaking view of Dal Lake while sipping coffee in the garden.
The Vintage Gulmarg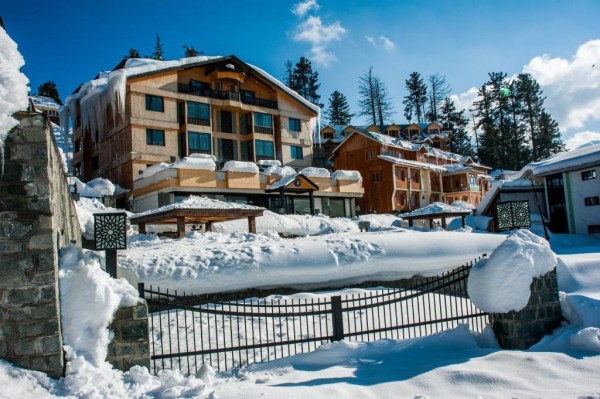 Situated 2739 m above sea level, The Vintage Gulmarg gives off the traditional European-style house vibe. It is approx. 35 km from the Srinagar Airport. The hotel offers a spectacular view of the Apharwat mountains and the Gulmarg Golf course. It offers world-class amenities like a spa, a business centre, and adventure activities like skiing. It also has some of the top restaurants in India, 1860, honouring the hospitality of the Maharaja, The Cafe, to relax with family and friends, The Terrace, outdoor seating; and The Garden Grill, hot & spicy barbecue in the garden. Its location, amenities, and varied restaurant ambience makes it one of the best 4-star hotels in Jammu & Kashmir that you must check out.
Apple Orchard Resort & Spa, Srinagar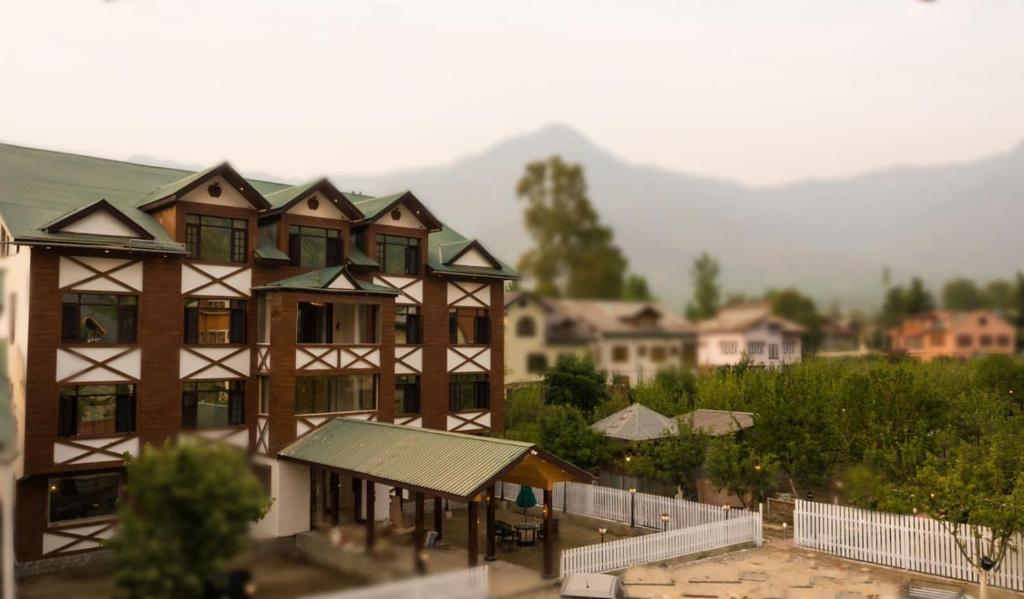 Nestled amidst an Apple orchard, this 4 star resort offers a calming and peaceful atmosphere to its guests. It is approx. 25 km from Srinagar Airport. Apple Orchard Resort & Spa features a fitness centre, 24-hour cafe, business centre, and a serene and beautiful Apple Orchard dining & bonfire to make your vacation unforgettable. If you're looking for a complete package of luxury amidst an awe-inspiring garden, Apple Orchard Resort & Spa is an ideal place for you.
Holiday Inn Katra, Vaishnodevi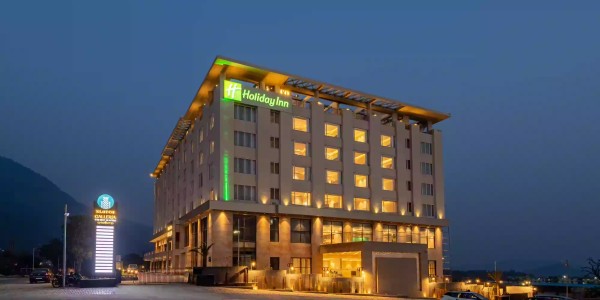 Located just 350 m from Katra Railway Station, Holiday Inn is among some of the best 4 star hotels in Katra Jammu, offering top-in-class services and accessibility to their guests. The hotel is just 3.5 km from BanGanga. It features a restaurant, air-conditioned rooms, and free wifi. It's a comfortable and luxurious option to stay and prepare for the trek of Vaishno Devi in Katra.
The White Hotel, Katra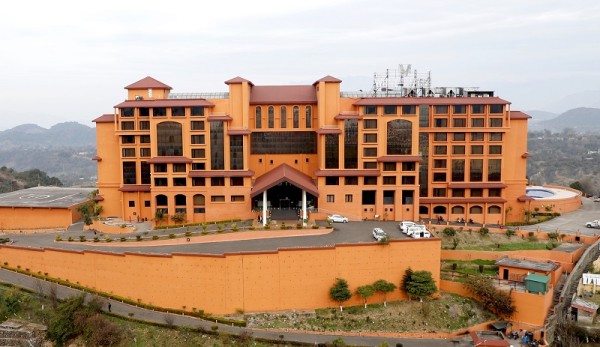 The White Hotel is a part of Radisson group and one of the most luxurious 5-star hotels in Katra. It is located just 2 km from the Katra Railway station. The hotel features a pool, free parking, a spa, a kids-free area, and more amenities to make your stay comfortable & memorable. They also offer complimentary shuttle service to the Banganga Check Post and the Katra Helipad. If you want a comfortable & luxurious stay at Vaishnodevi, check out The White Hotel for the best services.
Final Thoughts
In the lap of picturesque Jammu and Kashmir, luxury reaches its zenith with these eight best hotels in Jammu & Kashmir. From the regal Lalit Grand Palace in Srinagar to the urban elegance of Radisson Blu in Jammu, each promises a blend of opulence and warm hospitality. These hotels pamper with lavish amenities and offer a gateway to this northern paradise's rich cultural tapestry and natural splendour. If you want to experience luxury in the beautiful Himalayan valleys, check out these 8 hotels in Jammu & Kashmir for a rejuvenating & memorable experience.
More To Explore
Are you a foodie in Ahmedabad? Don't forget to check out the Top Rooftop Cafes in Ahmedabad to satisfy your appetite with a scenic city view.
Take a look at the Best rooftop Cafes in Bangalore to experience great delights and vibrant city culture.
Exploring the national capital and haven't been to any of the cafes? You're missing out a lot. Check out the Best Cafes In CP, offering a cool vibe & atmosphere to its guests.