Europe is a treasure trove of enchanting landscapes, rich history, and vibrant cultures. From ancient cities steeped in mediaeval charm to breathtaking natural wonders that will leave you in awe, there's something for every type of traveller. Whether you love mountains, beaches, or lakes or are a fan of historical monuments, museums, and culture, Europe has everything to suit your preferences. In this blog, we'll cover the top 12 best places to visit in Europe that you must see at least once.
Amsterdam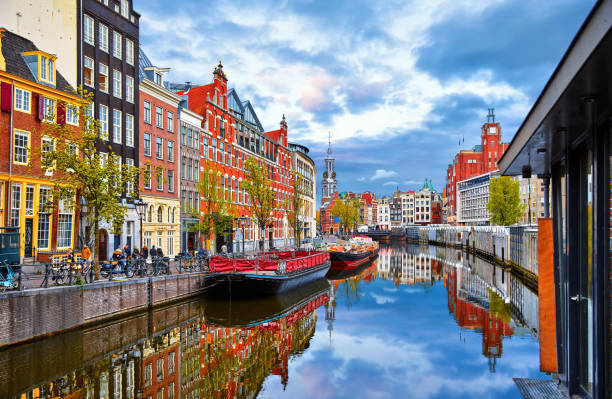 Amsterdam's extensive canal system, museums, and delicious cuisines, make it one of the best places to visit in Europe. Explore the city through the canals in beautiful boats. Lined with beautiful gabled houses and crossed by numerous bridges, these canals create a postcard-perfect setting.
Amsterdam's culinary scene is diverse and enticing. The city offers various dining options, from traditional Dutch treats like stroopwafels and bitterballen to international cuisines. Take the chance to visit local markets such as Albert Cuypmarkt or sample the famous Dutch cheese at one of the cheese shops scattered throughout the city.
How To Reach Amsterdam?
Air: Amsterdam Airport Schiphol is one of Europe's major airports and a hub for international and domestic flights. The city centre is 15 km away from here. You can check out various efficient flights at low price on Kayak.
Train: Amsterdam Central is the city's central train station in the city's heart. High-speed trains like the Eurostar and Thalys operate services to and from cities like Paris, Brussels, London, and Berlin. You can easily purchase train tickets for these routes and more through online platforms, a convenient online platform for booking train tickets."
Bus: Buses arrive at Amsterdam Sloterdijk Station or Amsterdam Amstel Station, from where you can easily reach the city centre by public transportation.
Car: Amsterdam is well-connected to the European highway network, making it accessible by car. Park your car in one of the Park and Ride (P+R) facilities located on the city's outskirts and use public transportation to reach the city centre.
Athens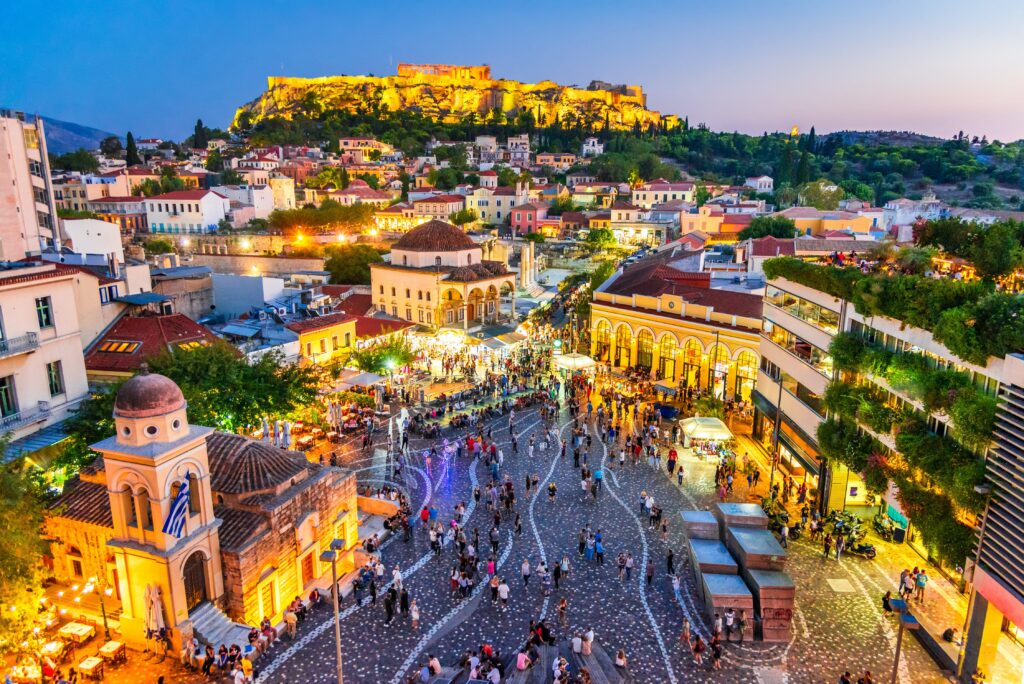 Home to the iconic Acropolis, the Pantheon, and ancient Greek architecture, Athens offers an exquisite blend of history & modernity to its visitors. Exploring the Acropolis and its surrounding archaeological sites, including the Temple of Zeus and the Odeon of Herodes Atticus, offers a fascinating glimpse into ancient Greek civilisation. The Plaka neighbourhood offers delightful cuisines, neoclassical houses, and cosy taverns.
With its ancient history, architecture, and cuisine, Athens is among the best European cities to visit. To experience the city's vibrant energy, head to Monastiraki Square and explore its bustling flea market, where you can find everything from traditional crafts to trendy boutiques. Taste the local cuisine in the local markets, indulge in souvlaki and moussaka, and sweets like baklava.
How To Reach Athens?
Air: Athens International Airport, or Eleftherios Venizelos Airport (ATH), is Athens' primary international airport. The city centre is 20 km from here.
Train: Greece is well-connected to the European rail network, and Athens is accessible by train from various European cities. International trains operated by EuroCity or InterCity connect Athens to neighbouring countries like Bulgaria and Turkey.
Bus: Athens is connected to several European cities by long-distance bus services. The main bus terminal in Athens is KTEL Kifissou, located in the western part of the city.
Barcelona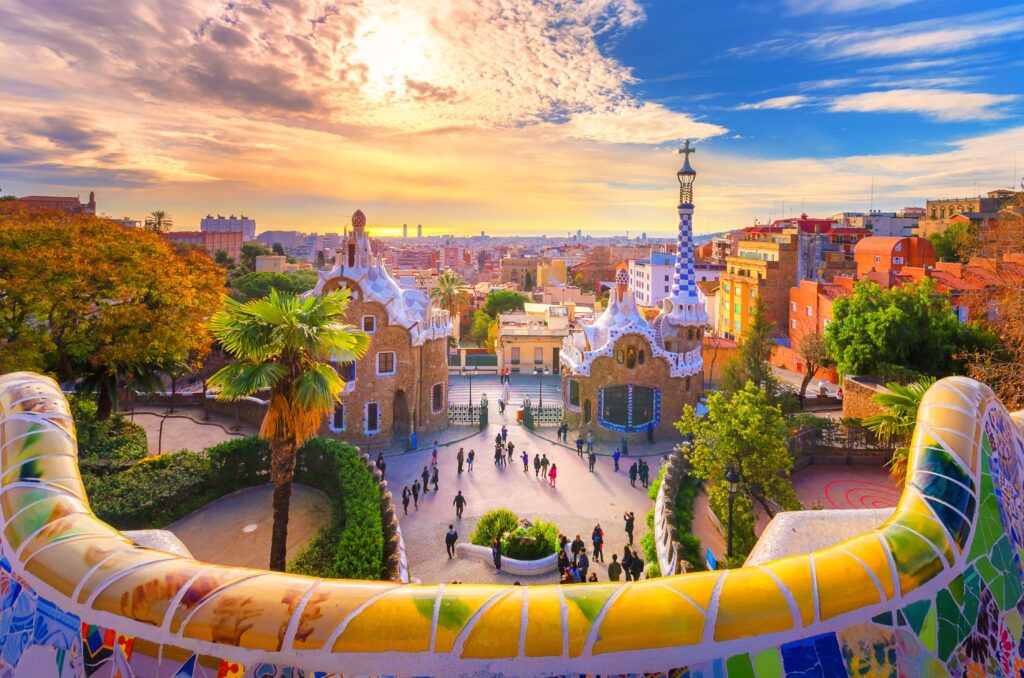 If you want to visit a place with natural wonders, history, and architecture, Barcelona is your destination. With its Mediterranean climate, beautiful beaches, and dynamic ambience, Barcelona is one of the best places to visit in Europe. The city's historic heart lies in the Gothic Quarter (Barri Gòtic), a labyrinth of narrow mediaeval streets brimming with charming plazas, Gothic churches, and hidden squares.
Barcelona's artistic heritage is visible in its numerous museums and galleries. The Picasso Museum showcases the works of the legendary Spanish artist, while the Fundació Joan Miró houses an extensive collection of modern art. The city also breathes Football. A visit to Camp Nou, the club's home stadium, provides an opportunity to explore its rich history. Visit the stadium and immerse yourself in the electric atmosphere of a live match.
How To Reach Barcelona?
Air: Barcelona-El Prat Airport (BCN) is the city's main international airport, 12 km from the city centre. It is well-connected to major cities worldwide and is a hub for domestic and international flights.
Train: The city's main train station, Barcelona Sants, is a central transportation hub with high-speed trains. It is well-connected with the cities like London, Madrid, Paris, and Lyon. Check out the latest Barcelona train schedules, ticket prices, and availability.
Bus: Barcelona is well-connected to other Spanish cities and European destinations through an extensive bus network.

Car: Spain's road network is extensive, connecting Barcelona to other major cities and neighbouring countries.
Copenhagen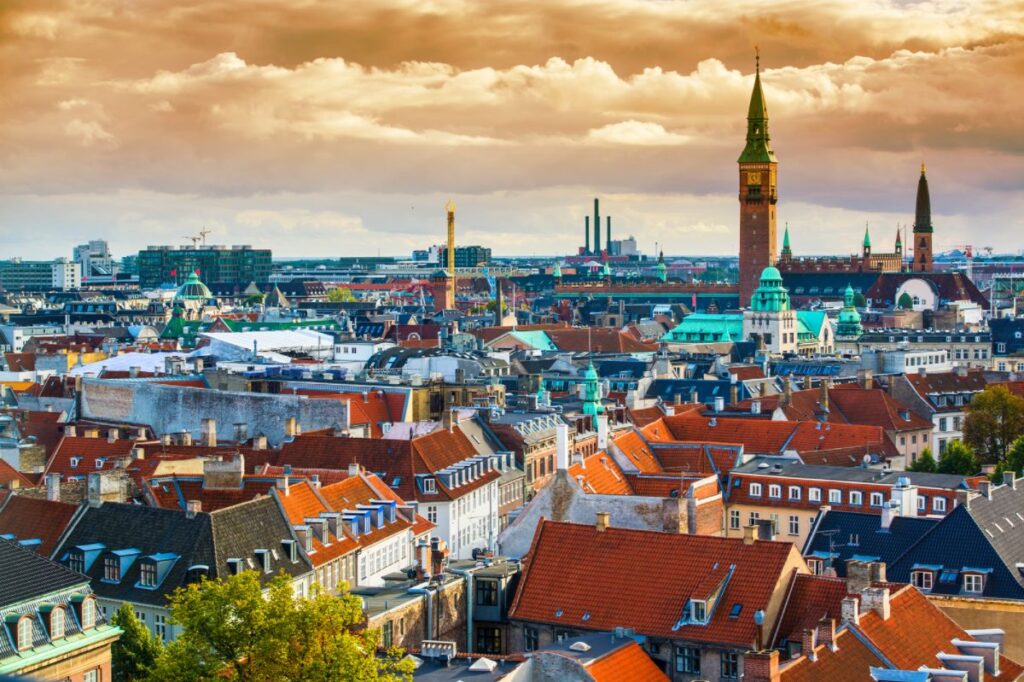 The capital city of Denmark, famous for its progressive social policies, cycling culture, and picturesque waterfront, offer visitors a unique experience. One of the city's most iconic landmarks is the Nyhavn Harbor, a vibrant waterfront district with colorful 17th-century townhouses. This picturesque area is a popular gathering place, filled with restaurants, cafes, and bars where locals and tourists can enjoy a meal or a refreshing drink while watching the boats pass by.
With its charming canals, historic sites, innovative design, and commitment to sustainability, Copenhagen is one of the best European cities to visit. Explore the Litle Mermaid statue, Copenhagen Opera House, and Christiansborg Palace to get a glimpse of the city's architecture and history. Indulge in Nordic cuisine at various Michelin-starred restaurants, trendy cafes, and street food markets.
How To Reach Copenhagen?
Air: Copenhagen Airport, Kastrup (CPH), is the city's main international airport. It is approximately 8 km from the city centre.
Train: Copenhagen Central Station (Københavns Hovedbanegård) is the main railway station in the city and serves as a central transportation hub. It is well-connected with cities such as Hamburg, Berlin, and Stockholm.
Car: Denmark has excellent road infrastructure, and significant highways connect Copenhagen to other cities in Denmark and neighbouring countries like Germany and Sweden.
Edinburgh
Situated on the southern shore of the Firth of Forth, Edinburgh is renowned for its stunning architecture, literary heritage, lively festivals, and breathtaking landscapes. The mesmerising mountains, rich history, and delicious cuisines make Edinburgh the best places to visit in Europe.
The city's centrepiece is the iconic Edinburgh Castle, perched atop Castle Rock and offering panoramic views of the surrounding area. This magnificent fortress has played a significant role in Scotland's history and houses the Crown Jewels and the Stone of Destiny. The city is also renowned for its annual festivals, which attract visitors from around the world. The most famous is the Edinburgh Festival Fringe, the world's largest arts festival, where performers showcase a wide range of theatrical, musical, and comedic talents.
How to Reach Edinburgh?
Air: Edinburgh Airport (EDI) is the city's primary international airport. It has connections to major cities across Europe, the United Kingdom, and several long-haul destinations.
Train: Waverley Station is the central railway station in the city centre's heart. It offers direct train services to and from cities such as London, Glasgow, Manchester, and many other destinations.
Bus: Several bus companies operate services to and from Edinburgh, connecting it to cities across the United Kingdom. The main bus terminal is Edinburgh Bus Station, conveniently located near the city centre.
Car: The city is well-connected to the rest of Scotland and the United Kingdom by highways and motorways. The M8 motorway connects Edinburgh to Glasgow, while the A1 and A702 provide access from the south.
London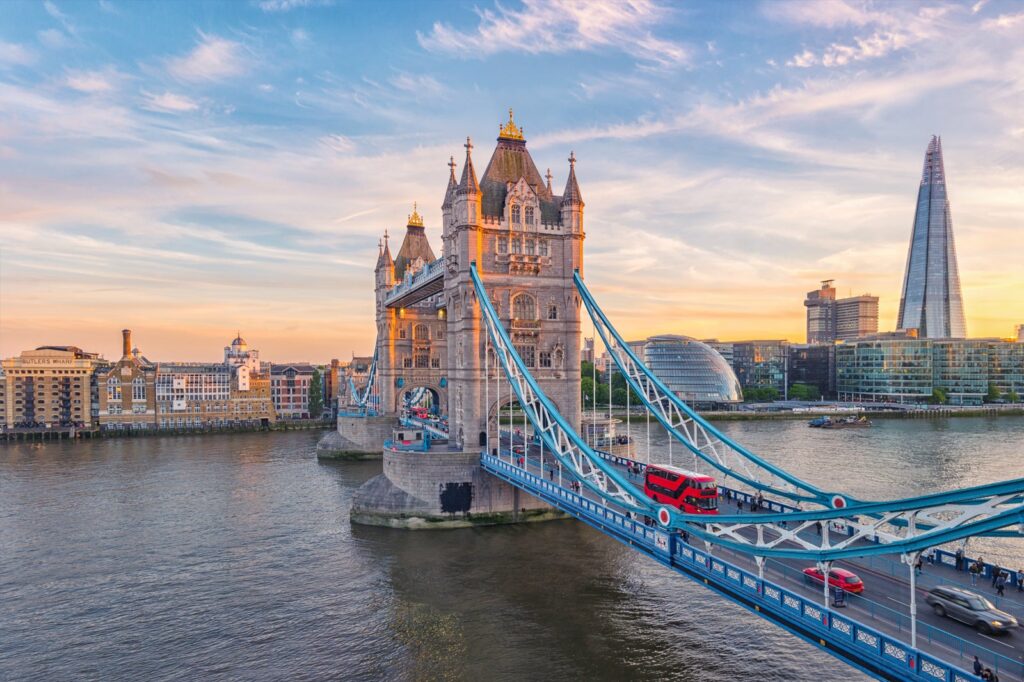 One of the most famous cities in the world and the capital of the United Kingdom, offers a vibrant mix of history, culture, and modernity. At the city's heart lies the River Thames, which flows through London, dividing it into North and South. The Big Ben and Tower Bridge are some of the recognisable symbols of London. Visit Buckingham Palace and the British Museum to learn more about its royal lifestyle and history.
A visit to Kensington Palace is recommended for those seeking a taste of British royalty. This historic royal residence offers insights into the lives of past and present royals, including Queen Victoria and Princess Diana. The palace's beautiful gardens are perfect for a stroll. With its architecture, vibrant city life, and cuisine, London stands among the best places to visit in Europe. Indulge in the appetising street food of London in the local markets and shop all you want from the famous stores in the city.
How To Reach London?
Air: London has several international airports, with Heathrow Airport (LHR) being the busiest and most well-connected. It is approximately 25 km from the city centre.
Train: London is well-connected to other cities in the United Kingdom and Europe by train. The city has several major railway stations, including King's Cross, St. Pancras International, Euston, Paddington, Victoria, and Liverpool Street. It is well-connected to cities like Paris, Brussels, and Amsterdam.
Car: London can be reached by car via major road networks. The city is connected to other parts of the UK through highways and motorways.
Madrid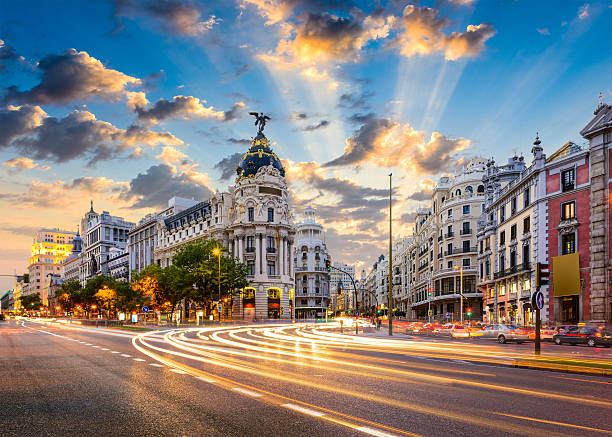 Madrid, the vibrant capital city of Spain, is a cultural and historical hub known for its rich heritage, world-class art, vibrant nightlife, and warm Mediterranean climate. The rich cultural heritage, art, and beautifully landscaped gardens make it one of the best places to visit in Europe. The city is home to numerous architectural gems, with the Royal Palace (Palacio Real) as one of the most prominent.
The city's central square, Puerta del Sol, serves as a popular meeting point and is considered the symbolic centre of Spain. It is also the starting point for the famous Kilometer Zero marker, representing the point from which all distances in Spain are measured. The city offers unforgettable Spanish dishes, tapas, bars, and fine dining establishments. Sample authentic paella and jamón ibérico, and enjoy a refreshing glass of sangria or locally produced wines.
How To Reach Madrid?
Air: Madrid-Barajas Airport (MAD) is the city's main international airport. It is one of the busiest airports in Europe and offers flights to and from destinations worldwide. It is approximately 19 km away from the city centre.
Train: Madrid is a central railway hub, and several train services connect the city to other parts of Spain and Europe. The Madrid Atocha train station is the city's main railway station, providing excellent connections to domestic and international destinations.
Bus: The Estación Sur de Autobuses is the central bus station in Madrid, and several bus companies operate services to and from the city.
Paris
Paris is famous for its timeless elegance, rich history, and artistic charm. Often called the "City of Light," Paris is a global centre for art, fashion, cuisine, and culture. With its iconic landmarks, world-class museums, charming neighbourhoods, and romantic ambience, Paris is surely among the best places to visit in Europe. The city is renowned for its magnificent architectural landmarks. With its Gothic splendour, the Notre Dame Cathedral is a masterpiece of mediaeval architecture on the Île de la Cité.
The Louvre Museum, housed in the iconic Louvre Palace, is a world-class art museum and home to the famous Mona Lisa and countless other masterpieces. Visit the aesthetic cafes to sip a cup of coffee with the famous "croissant." Whether exploring its historical treasures, admiring its artistic masterpieces, or simply enjoying the charming Parisian lifestyle, the city promises an enchanting and culturally rich journey.
How to Reach Paris?
Air: Paris has two major international airports: Charles de Gaulle Airport (CDG) and Orly Airport (ORY). Both airports are well-connected to the city centre by public transportation, including trains, buses, and taxis.
Train: The city has major train stations, including Gare du Nord, a central hub for international trains like the Eurostar that connects Paris with London and Brussels.
Bus: Numerous bus companies operate services to and from Paris, including Eurolines, FlixBus, and Megabus. Buses usually arrive and depart from major bus terminals, such as the Gare Routière Internationale de Paris-Gallieni or the Porte Maillot Coach Park.
Prague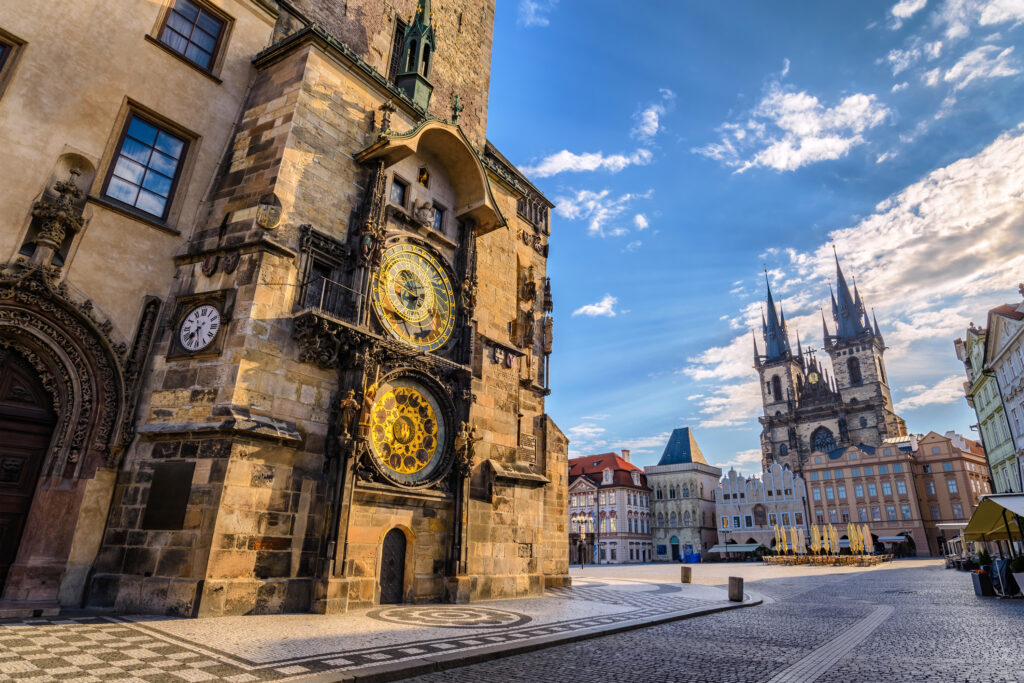 Nestled along the banks of the Vltava River, Prague offers a blend of Gothic, Renaissance, and Baroque architecture that creates a picturesque, fairy-tale-like atmosphere. The city is famous for its historic Old Town (Staré Město), a UNESCO World Heritage site. Prague Castle (Pražský hrad) is a must-visit attraction and one of the largest castle complexes in the world. It houses the impressive St. Vitus Cathedral, where Czech kings were crowned, and numerous other palaces, churches, and gardens.
Indulge in cultural activities like theatres, concert halls, and music venues to enjoy classical music, opera, and ballet performances. Czech cuisine offers a range of hearty and flavorful dishes. Don't miss the opportunity to try traditional Czech specialities such as goulash and trdelník ( a sweet pastry). The vibrant culture, heritage, and atmosphere make Prague one amongst the best places to visit in Europe.
How To Reach Prague?
Air: Prague Václav Havel Airport (PRG) is the main international airport in Prague. It is approximately 17 km far from the city centre.
Train: The city's central train station is Praha hlavní nádraží (Prague Main Railway Station), which is a central transportation hub. High-speed trains such as EuroCity (EC) or InterCity (IC) provide connections to neighbouring countries like Germany, Austria, Poland, and Slovakia.
Car: Prague is connected via well-maintained highways and road networks. The city is well-connected to neighbouring countries, making driving from cities like Berlin, Vienna, or Krakow possible.
Rhodes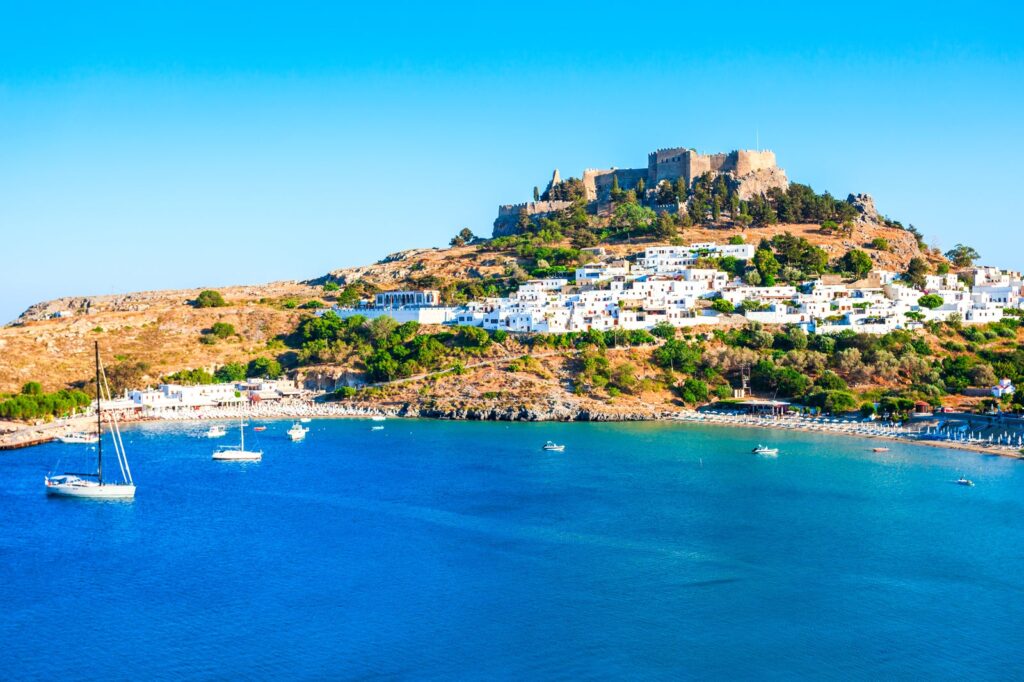 The island of Rhodes is the land of the Old Town, a well-maintained medieval town in Europe. Enclosed within impressive fortification walls, the Old Town is a web of narrow, cobblestone streets lined with ancient buildings, Byzantine churches, charming shops, and cafes. Visit the town to delve deeper into the history & culture of medieval Europe.
Next, explore beautiful beaches, castles, and markets of the island. Enjoy snorkelling, scuba diving, and windsurfing on bright & beautiful beaches. The Mandraki Harbor, with its iconic medieval windmills and the famous bronze statues of the deer, is a focal point of the city. With its mix of ancient ruins, medieval architecture, and vibrant modern life, Rhodes is surely categorised as the best places to visit in Europe.
How To Reach Rhodes?
Air: Rhodes has an international airport, Diagoras Airport (RHO), which receives regular flights from various European cities.
Ferry: Through ferry services, Rhodes is well-connected to other Greek islands and the mainland. Ferries and catamarans operate from Piraeus (Athens) ports and other major Greek islands such as Crete, Kos, and Santorini.
Rome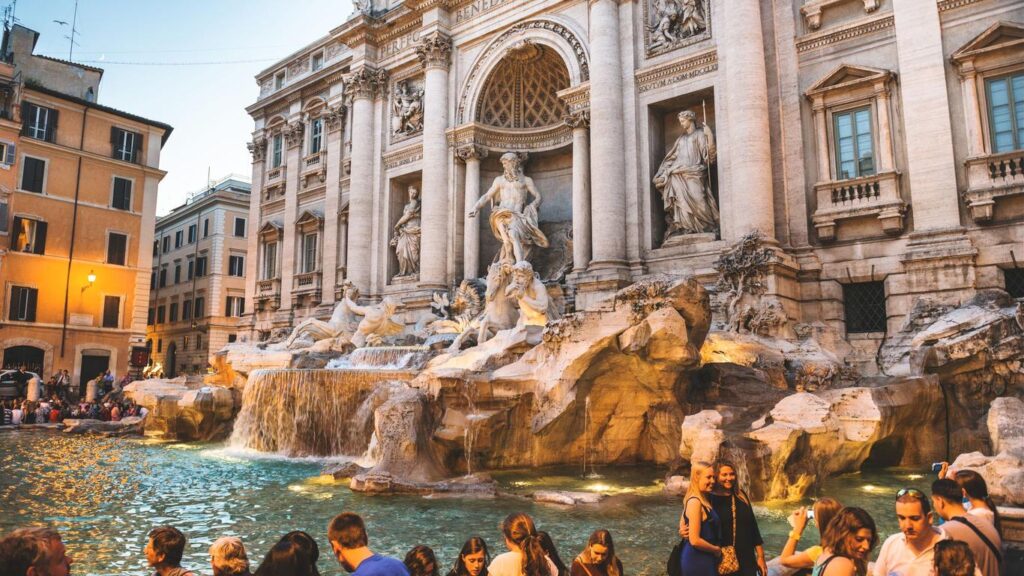 Rome, Italy's eternal city and capital, is a city steeped in history, art, and culture. From iconic landmarks to world-renowned cuisine, Rome uniquely blends old-world charm and contemporary allure. Explore Rome's historic centre, a UNESCO World Heritage site, a charming maze of narrow streets, elegant squares, and historical landmarks.
With its rich history, breathtaking architecture, delectable cuisine, and vibrant atmosphere, Rome stands among the best places to visit in Europe. Indulge in traditional Italian dishes such as pasta, pizza, gelato, and espresso at the local cafes. Explore local markets, such as Campo de' Fiori and Testaccio Market, to sample fresh produce, cheeses, and other delicacies.
How To Reach Rome?
Air: Rome has two major international airports: Leonardo da Vinci Fiumicino Airport (FCO) and Ciampino Airport (CIA). Fiumicino Airport is Rome's main airport, about 30 km southwest of the city centre. It receives flights from major international airlines and is a hub for domestic and international travel. Ciampino Airport, situated about 15 km southeast of the city centre, primarily handles low-cost airlines and charter flights.
Train: The central train station in Rome is Termini Station (Stazione Termini), located in the city's heart. High-speed trains, such as Frecciarossa, Frecciargento, and Italo, offer efficient connections to cities like Milan, Florence, Venice, and Naples. International trains connect Rome to other European cities, including Paris, Zurich, and Munich.
Bus: Rome has a long-distance bus network connecting the city to other Italian and European destinations. Companies like FlixBus, Eurolines, and Baltour operate routes to and from Rome.
Warsaw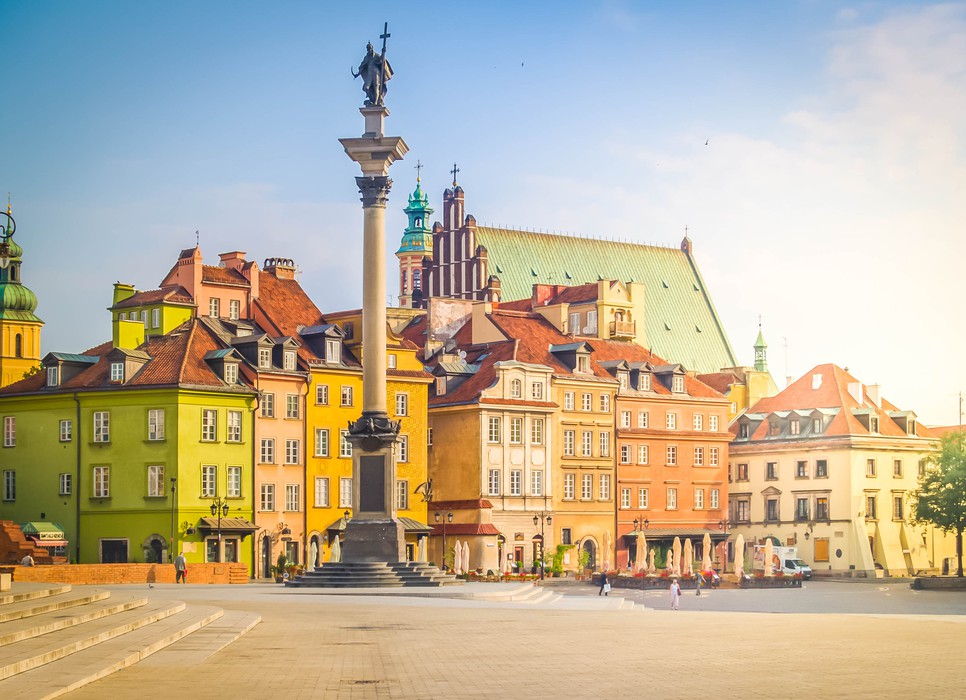 If you want a glimpse of Europe's history, Warsaw can be a learning centre. Warsaw has numerous museums and cultural institutions that delve into the city's history and art. The Warsaw Uprising Museum pays tribute to the city's resistance against Nazi occupation during World War II. At the same time, the POLIN Museum of the History of Polish Jews provides insight into the vibrant Jewish heritage in Poland.
One of Warsaw's most notable sites is the Palace of Culture and Science, a towering building that stands as a city symbol. Enjoy panoramic views of Warsaw from the observation deck on the 30th floor. The building also hosts theatres, cinemas, and exhibition Halls. With its blend of historical significance, modern energy, and cultural richness, Warsaw positions itself as the best places to visit in Europe.
How to Reach Warsaw?
Air: Warsaw has two airports: Warsaw Chopin Airport (WAW) and Warsaw Modlin Airport (WMI). Warsaw Chopin Airport is the primary international airport, about 10 kilometres southwest of the city center. It offers flights to and from major cities worldwide. Warsaw Modlin Airport, situated about 40 kilometres northwest of Warsaw, serves as a base for low-cost airlines, offering connections to various European destinations.
Train: Warsaw has excellent rail connections with other cities in Poland and neighbouring countries. The city's main train station is Warsaw Central Station (Warszawa Centralna), in the city centre.
Bus: Several bus companies operate services to and from Warsaw, such as Polski Bus, FlixBus, and Eurolines. Buses typically arrive and depart from Warsaw's central bus station, Warszawa Zachodnia or Warszawa Stadion, both easily accessible from the city centre.
Final Thoughts
Europe is a continent of stunning natural landscapes, vibrant cities, and charming towns. Europe is filled with different cultures, landscapes, and cuisines, from the Netherlands in the north to Spain in the south. In this blog, we've covered the top 12 best places to visit in Europe, but remember that this list doesn't cover all the scenic places on the continent. Europe has much more to offer, and covering every corner of the continent may take a life's time. Yet, you can visit the top 12 places to capture the charm of the European continent. If you wish to visit these amazing places on a budget, choose Kayak to book great flights at a low price & save on your expenses..