Kolkata, India's cultural capital, exudes a captivating charm with its bustling streets, colonial architecture, and vibrant markets. Home to rich art, literature, and music traditions, this city offers a delightful fusion of old-world charm and modernity. The Hooghly River flowing through adds to its allure, making Kolkata a unique and unforgettable destination.
In addition to the beautiful scenic locations and temples, Kolkata is also home to charming rooftop cafes you must visit for a food & fun retreat. In this blog, we've listed the 11 lovely rooftop cafes in Kolkata that we recommend visiting in the city. So, let's begin!
Top Scenic Rooftop Cafe In Kolkata
Cloud Social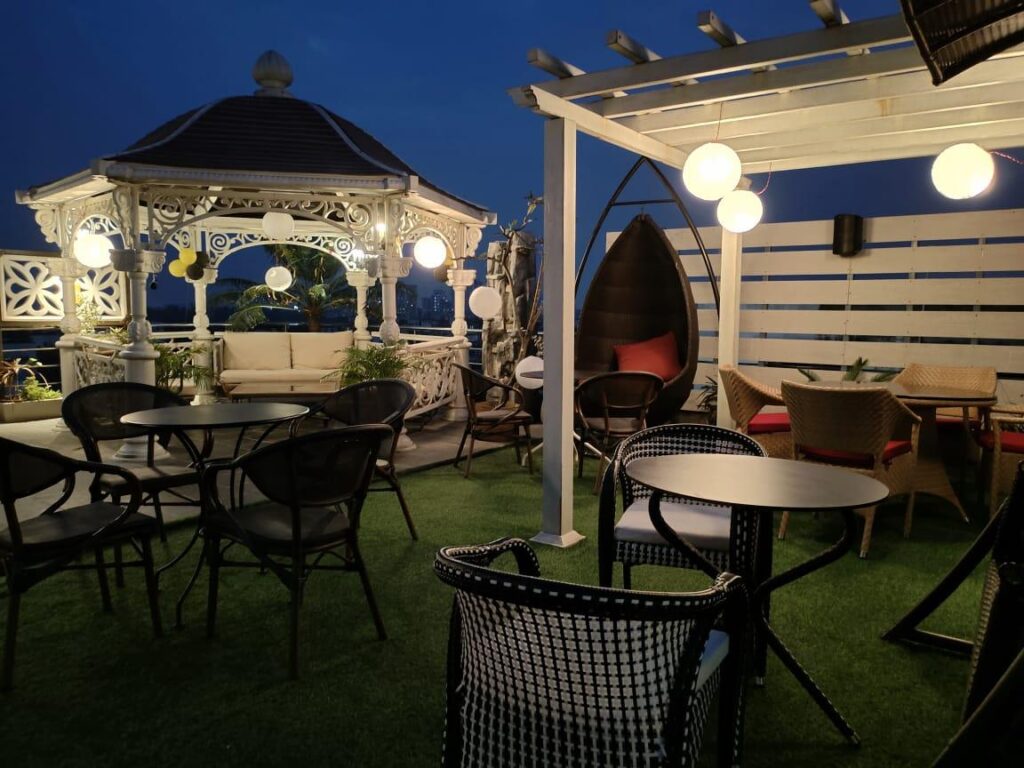 A breathtaking rooftop cafe that takes dining experiences to new heights. Perched atop a prominent city building, it offers stunning panoramic views of Kolkata's skyline and the Hooghly River. The ambience is chic and inviting, complemented by comfortable seating and vibrant decor. Cloud Social serves various dishes, ranging from local flavours to international delights, making it a favourite rooftop cafe in Kolkata for food enthusiasts and Instagrammers. This trendy establishment is a perfect blend of great food, mesmerising views, and a captivating atmosphere, making it an unforgettable destination in the heart of Kolkata.
Timings: 12 am to 11:30 pm
Must-Try Dishes At Cloud Social
Kolkata Kathi Roll: Indulge in the city's iconic street food with a Kolkata Kathi Roll. It typically consists of succulent grilled or sautéed meat (chicken, mutton, or paneer) wrapped in a soft paratha and flavorful sauces and onions.
Cloud Social Platter: Ideal for sharing, the Cloud Social Platter offers a selection of delicious appetisers like crispy chicken wings, cheesy nachos, and other delightful finger foods that perfectly complement your drinks.
Alt Air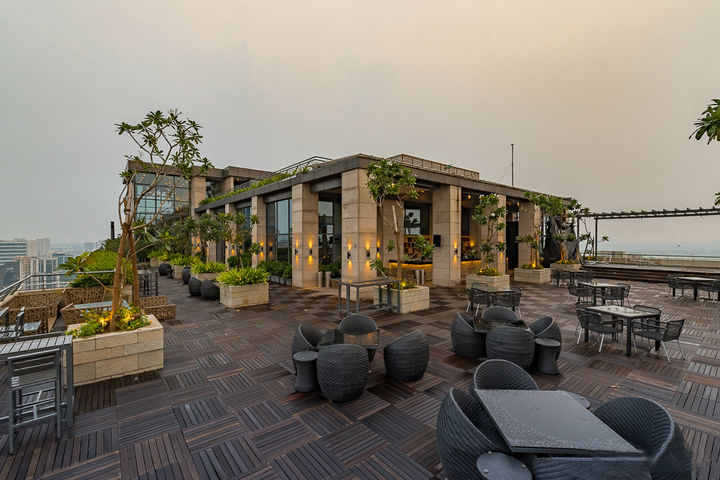 A unique and refreshing hotel with an enticing rooftop cafe in Kolkata located in Bidhannagar. The hotel has 23 bespoke business rooms offering star-category comfort and unique room service options. All rooms have air conditioning, free Wi-Fi, a minibar, and a safe. Some rooms also have a bathtub and a city or lake view. Altair is just a short drive from the airport and major tourist attractions such as the Victoria Memorial Hall, the Indian Museum, and the Howrah Bridge. Relax & vibe at the Alt Air rooftop cafe for a unique experience in Kolkata.
Timings: 12 am to 12 pm
Must-Try Dishes At Alt Air
Tandoori Mushroom Kebab: These tender and juicy mushrooms are marinated in a blend of spices and then cooked in a tandoor, giving them a smoky flavour. They are served with mint chutney and a side of salad.
Dosa: A dosa is a thin crepe made from fermented rice and lentil batter. It is often served with toppings like potatoes, onions, and spices. Altair Kolkata serves dosas with a variety of Indian chutneys and sambars.
Ozora
Ozora offers a vibrant and stylish setting, making it a favourite hangout spot for locals and visitors alike. Situated on a rooftop, it provides breathtaking city skyline views and a chic ambience to enjoy the evenings. The lounge features modern and comfortable seating arrangements, creating a relaxed and inviting atmosphere.
It's the best rooftop cafe in South Kolkata for its excellent selection of cocktails and drinks, offering a wide range of creative concoctions and classics to suit various tastes. They also had a diverse menu with appetisers, main courses, and desserts, presenting a fusion of flavours from different cuisines.
Timings: 10 am to 12 am
Must-Try Dishes At Ozora
Ozora Special Sushi: Enjoy a delightful assortment of fresh and flavorful sushi rolls crafted with various fillings and served with pickled ginger, wasabi, and soya sauce.
Dim Sum Platter: Relish a selection of steamed and pan-fried dim sum featuring an assortment of fillings, making it an ideal dish for sharing and exploring various flavours.
Chocolate Fondue: For a sweet ending to your meal, indulge in rich and decadent chocolate fondue, accompanied by an array of fresh fruits and marshmallows for dipping.
Zucca Lounge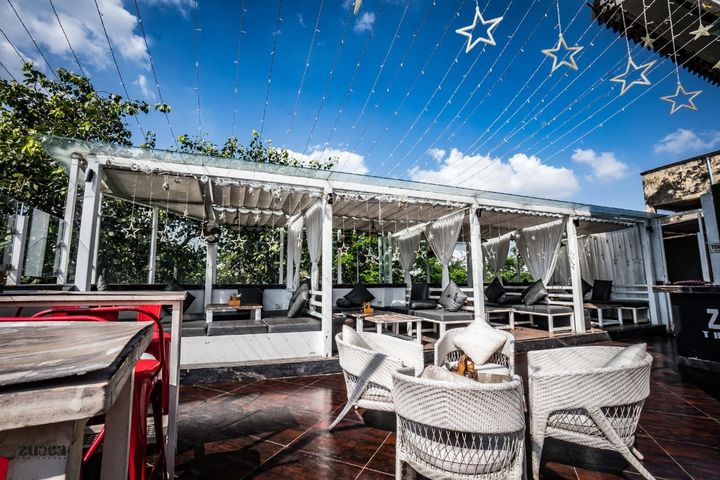 Zucca Lounge is an ambient & luxurious cafe in Kolkata. Designed with a trendy interior, modern decor and comfortable seating, the cafe creates a relaxed and inviting environment to unwind and socialise. This rooftop cafe in South Kolkata is widely famous for its impressive selection of cocktails and spirits, with a skilled team of mixologists crafting innovative and classic drinks to cater to various preferences. It is an ideal place to enjoy multiple beverages, from signature cocktails to premium liquors. Additionally, it features DJ & music events for the visitors to enjoy & vibe at this beautiful lounge.
Timings: 12 pm to 3 am
Must-Try Dishes At Zucca Lounge
Nachos: Enjoy a crunchy and cheesy plate of nachos topped with fresh salsa, guacamole, and sour cream, making it a perfect accompaniment to your drinks.
Penne Arrabiata: Savour the bold flavours of Penne Arrabiata, a spicy tomato-based pasta dish that is comforting and delicious.
Chocolate Brownie with Ice Cream: Indulge your sweet tooth with a warm and gooey chocolate brownie with a scoop of vanilla ice cream.
Also Read: Top Rooftop Cafes in Ahmedabad
Blue & Beyond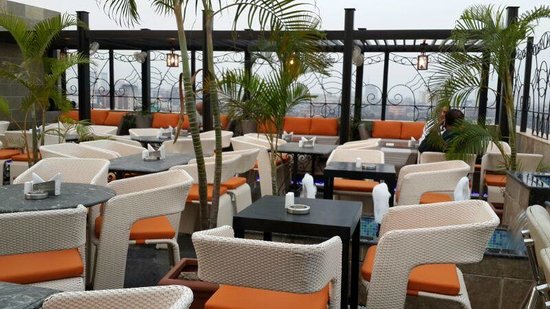 Blue & Beyond is renowned for its captivating setting on the rooftop, offering breathtaking views of the city's skyline and the iconic Howrah Bridge. The establishment provided both indoor and outdoor seating, allowing guests to enjoy the ambience regardless of the weather.
This cafe offers a diverse menu featuring a fusion of flavours from various cuisines. From Indian and Oriental to Continental dishes, Blue & Beyond aims to cater to a wide range of tastes and preferences. They are known for their extensive selection of seafood dishes and grilled delicacies. Its interior, ambience & food make it the best rooftop cafe in Kolkata you shouldn't miss.
Timings: 12 pm to 11 pm
Must-Try Dishes At Blue & Beyond
Thai Green Curry: Experience the aromatic and balanced flavours of Thai Green Curry, a classic Thai dish with your choice of meat or vegetables in a flavorful green curry sauce.
Penne Alfredo: Relish the rich and creamy Penne Alfredo, a pasta dish cooked with a velvety white sauce, cheese, and optional toppings like grilled chicken or vegetables.
The Salt House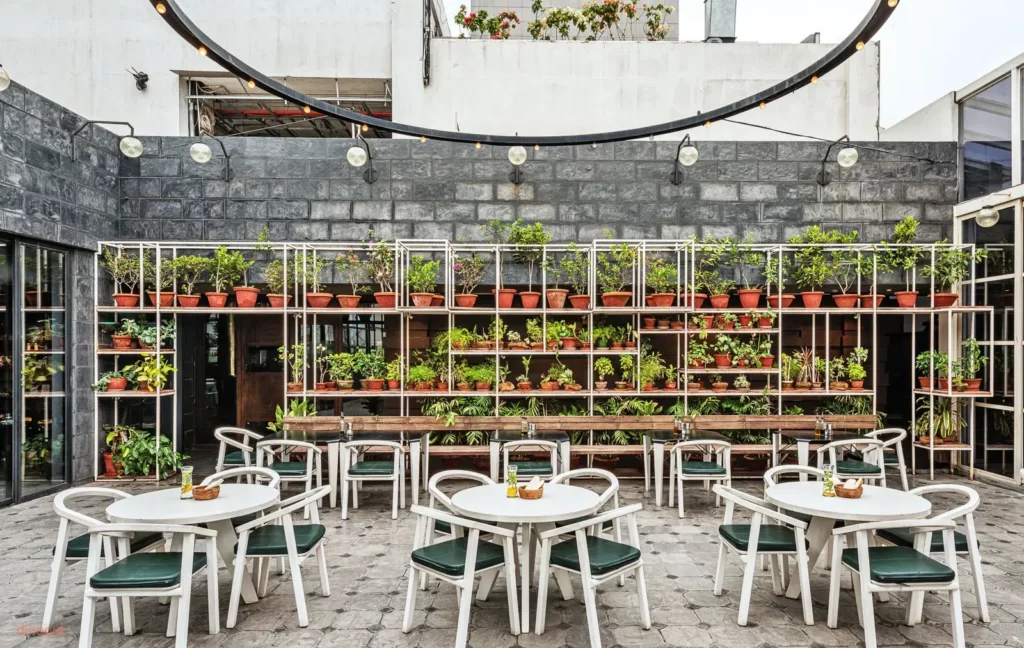 Experience the European interior & vibe at The Salt House. Its contemporary & chic ambience makes it a unique rooftop cafe in Kolkata. The interior boasts the European style & takes you back to the 1800s. Their menu featured diverse dishes, ranging from classic comfort foods to trendy and modern gastropub delights. The Salt House aimed to cater to a variety of tastes and preferences, offering options for both vegetarians and non-vegetarians. There could be no better way to spend your evening in Kolkata than sipping your favourite coffee in this beautiful chic cafe.
Timings: 12 pm to 11:30 pm
Must-Try Dishes At The Salt House
Truffle Fries: Savor the indulgent and aromatic Truffle Fries, featuring crispy fries drizzled with truffle oil and topped with grated Parmesan cheese.
Classic Cocktails: Don't miss out on trying their creative and well-crafted classic cocktails, known for their refreshing and unique flavours.
Cafe Offbeat – Up There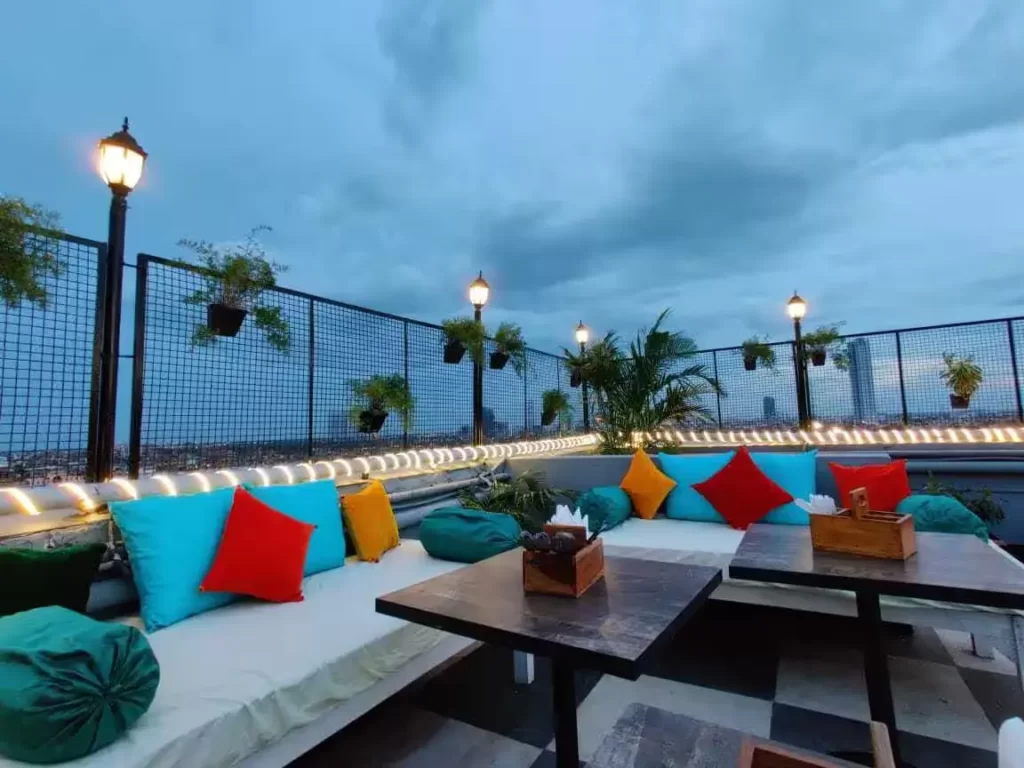 Welcome to the new casual dining cafe in Kolkata. This rooftop cafe serves the city's best view, and the evening witnesses a beautiful sunset. The cafe is an excellent spot to take your bae on a date or with your friends for a casual hangout. Cafe Offbeat serves a mix of international and Indian cuisine and various drinks. The cafe has a calm and relaxed atmosphere, and it is a popular spot for both locals and tourists, which makes it the best rooftop cafe in Kolkata.
Timings: 4 pm to 11 pm
Must-Try Dishes At Cafe Offbeat
Vegetable Biryani: This biryani is made with various vegetables, including potatoes, carrots, peas, and onions. It is cooked with rice and spices and served with a raita.
Chocolate Lava Cake: This decadent dessert has a rich chocolate filling that oozes out when you cut into it. It is filled with a scoop of vanilla ice cream.
31/32 Rooftop Cafe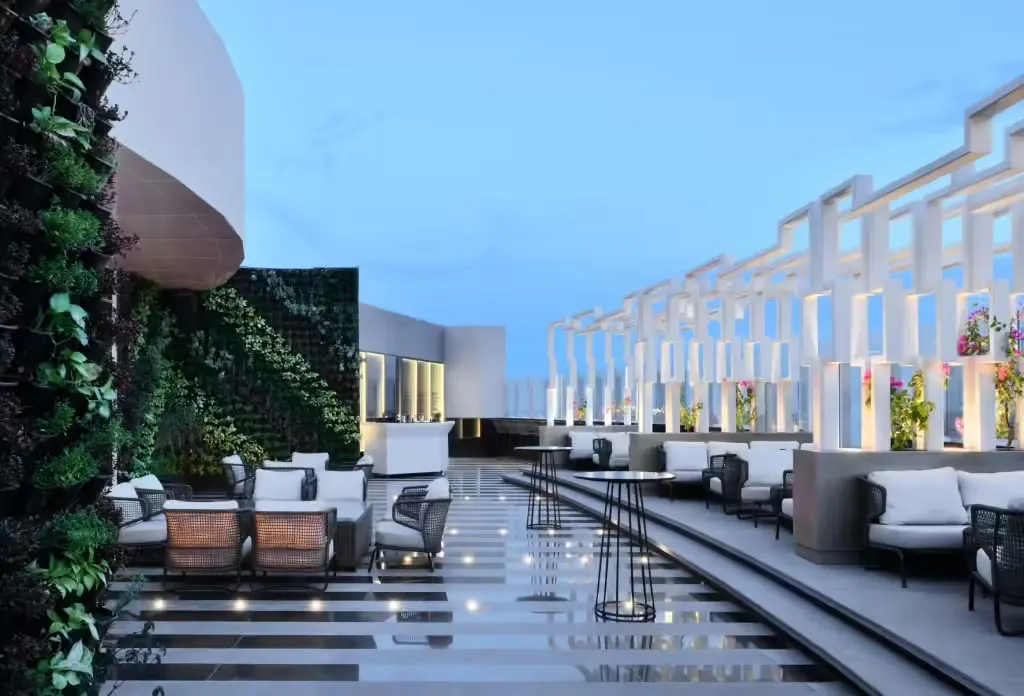 Situated on the 31st floor of Westin Kolkata, 31/32 Rooftop Cafe offers a stunning view of the city. This rooftop cafe in Kolkata is among the best cafes in the city and offers excellent ambience & food to its guests. Their menu consists of a variety of Indian & International cuisines & beverages. If you wish to spend a pleasant evening with your loved ones in Kolkata, we'd recommend visiting the 31/32 rooftop cafe for a great experience.
Timings: 4 pm to 1 am
Must-Try Dishes At 31/32 Rooftop Cafe
Paneer Tikka: This is a classic dish made with marinated paneer (Indian cottage cheese) that is then grilled and served with mint chutney.
Tori Sushi: A Japanese dish with grilled chicken, avocado, and cucumber wrapped in sushi rice and seaweed.
Check Out: The Unmissable Cafes in Bangalore
Noir – The Sky Lounge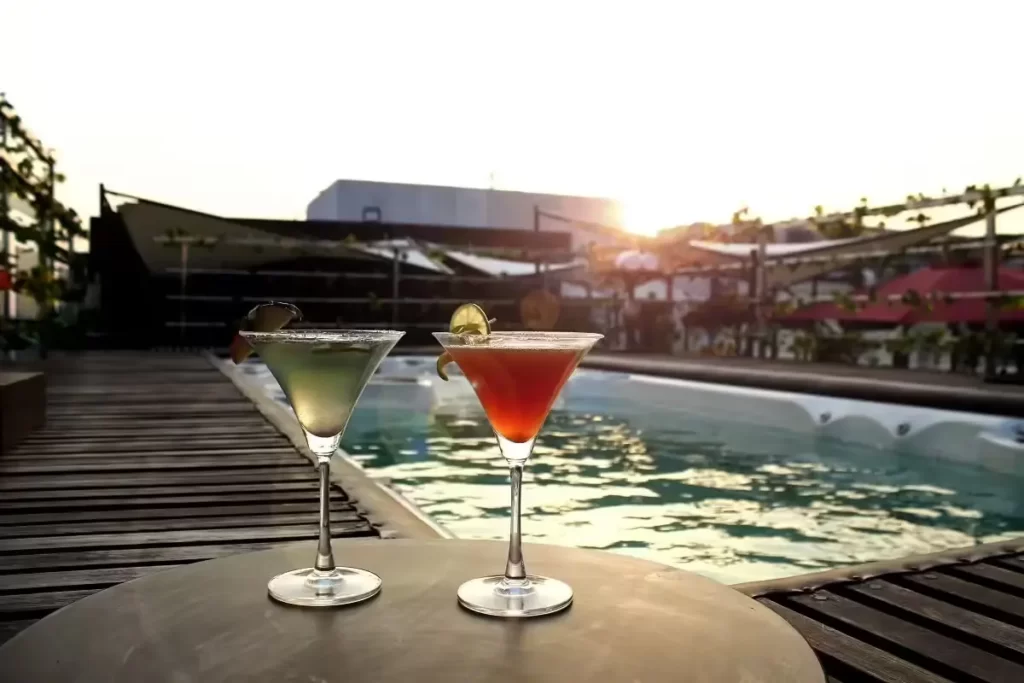 Imagine sipping coconut water while sitting next to an enchanting view above the cityscape; it feels luxurious, doesn't it? Noir Sky Lounge is located on the roof of Golden Tulip hotel and is categorised as the best rooftop cafe in Kolkata for its ambience & decor. Chill and relax at this amazing cafe in Kolkata. Its food & beverage options are mind-blowing & would leave you finger-licking. If you hang out with friends, go on a romantic date, or want to chill with colleagues, this is the perfect place.
Timings: 1 pm to 11:30 pm
Must-Try Dishes At Noir The Sky Lounge
Steamed Dimsum: Filled with a variety of savoury ingredients such as minced meat, vegetables, or seafood, they are carefully wrapped in thin, translucent dough and steamed to perfection. These delectable treats offer a burst of flavour and a delightful dining experience.
Sauteed Vegetable: A colourful and nutritious dish made by quickly cooking a medley of fresh vegetables in a hot pan with a drizzle of oil or butter. The process preserves their natural flavours and vibrant colours, resulting in a deliciously tender and slightly crispy texture, perfect as a healthy side or main course.
The Orient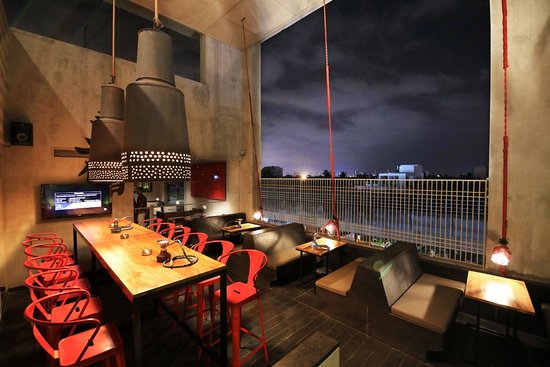 Located at Salt Lake, The Orient offers a classy & elegant ambience to its guests. This rooftop cafe in Kolkata is among the popular destinations for those seeking authentic Chinese and Pan-Asian cuisine. The restaurant offers a diverse menu featuring a variety of delectable dishes, including dimsum, noodles, stir-fries, and more, all served in a pleasant and inviting ambience. Visit The Orient to taste the best Chinese & Pan-Asian cuisine in Kolkata.
Timings: 12 pm to 11:30 pm
Must-Try Dishes At The Orient
Singapore Noodles: A popular Cantonese dish, Singapore Noodles are stir-fried vermicelli noodles with a colourful mix of vegetables and your choice of meat or seafood.
Thai Basil Fried Rice: A flavourful Thai speciality, this fried rice is prepared with fragrant basil leaves, spices, and your choice of protein.
Romaania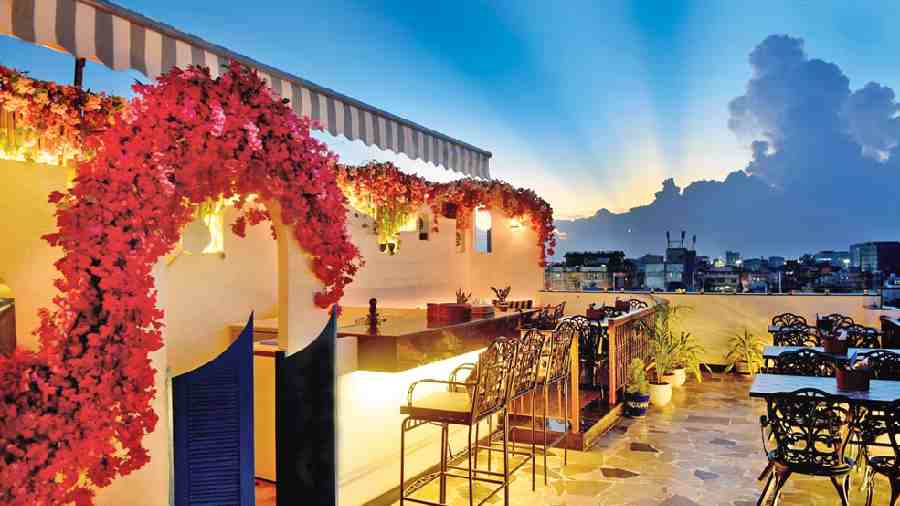 Visit the most Instagrammable cafe in Kolkata, take great pictures and post them to show off this beautiful rooftop cafe in Kolkata. Situated in Bhawanipur, Romania is a must-visit cafe with excellent ambience, lovely decor, and indulgent food. Whether you want to go on a sweet date, hang out with friends or want to have a little family time, this cafe is the most perfect place to be.
Timings: 8 am to 12 am
Must-Try Dishes At Romaania
Grilled veg sandwich: A wholesome delight filled with sliced, seasoned veggies like bell peppers, zucchini, and mushrooms, nestled between whole wheat bread. Toasted to perfection, it offers a delightful blend of flavours, textures, and nutrients, making it a delicious and satisfying choice for veggie lovers.
Lava Nachos: A tantalising appetiser featuring a mountain of crispy tortilla chips smothered in melted cheese, jalapenos, and savoury toppings like seasoned ground beef or pulled chicken. Drizzled with zesty sauces and served hot, these nachos offer an explosion of flavours that'll leave you craving more with every bite.
See Also: The Best Cafes in CP
Final Thoughts
Kolkata's rooftop cafes offer an enchanting escape from the hustle and bustle of the city below. From stunning skyline views to serene ambiences, each cafe offers a unique experience that lingers in your memory. Whether you're a coffee connoisseur, a foodie, or a nature enthusiast, these charming rooftop havens cater to every taste. Explore these hidden gems, soak in the city's beauty, and let the rooftop magic transport you to a world of tranquillity and joy. So, the next time you're in the city, don't miss the opportunity to elevate your dining experience at these must-visit rooftop cafe in Kolkata.